Let's talk about how to open all the potion recipes and get the ingredients.
Genshin Impact Miraculous Potions is a browser event associated with the Triumph of the Mind event, in which it is proposed to take part in the festival and take a place at the darshan booth of Spantamad. Brew potions with the Traveler and Paimon by completing various requests and receive generous rewards.
This guide will show you how to participate in the event, get the ingredients and open all the potion recipes in the Potions Guide.
Event Dates
The Miraculous Potions Event will start at 06:30 May 11, 2023 PT and end at 18:59 20 May 2023 PT< /strong>.
Be careful: the event lasts for several days, so don't put off participating in order to get all the available rewards.
How to start the Miracle Potions event
To brew potions with Paimon, follow the link:
>>> Participate in Miraculous Potions <<<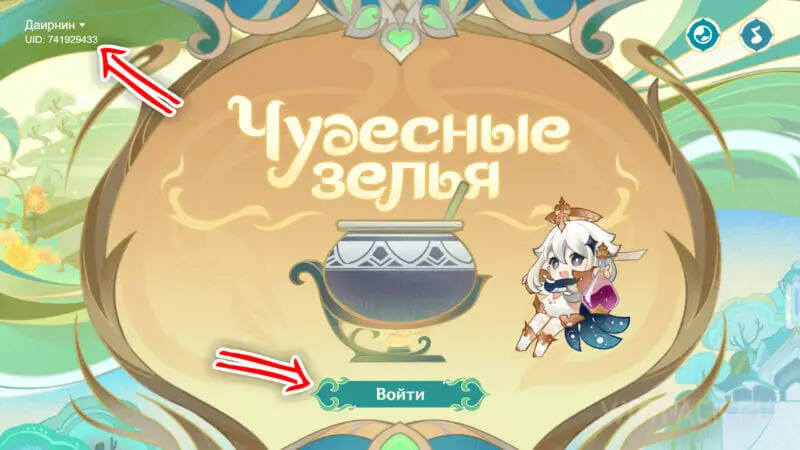 Before starting the walkthrough, log in to your existing HoYoLAB account by clicking in the upper left corner of the screen or make sure that you are in the correct account. Once logged in, click on the "Login" button at the bottom of the window to start brewing potions.
How to brew a potion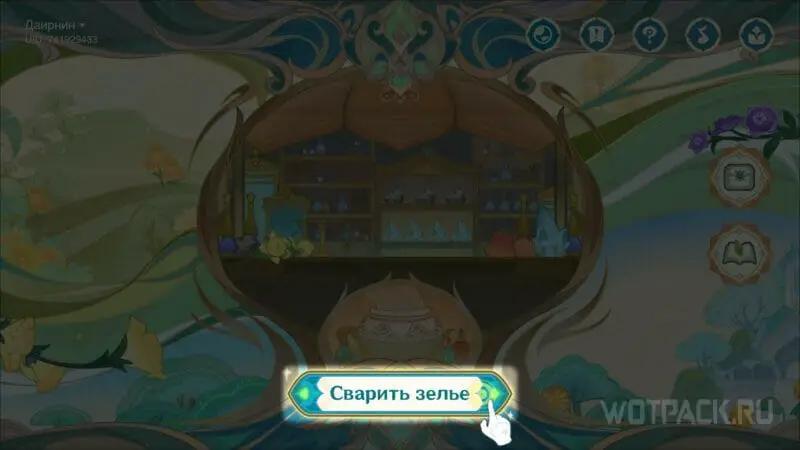 Immediately after the start of the event, the player is offered a short tutorial that will explain how to make all the potions of the event. To start crafting, click the brew potion" button at the bottom of the main screen.
To add ingredients to a cauldron, hold the desired resource and transfer it to any of the free cells above the cauldron. The order in which products are added does not affect the result.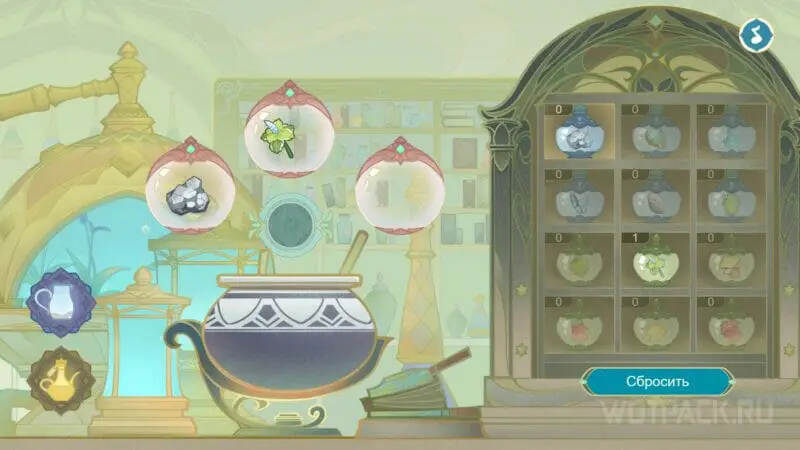 Then add one of the two liquids available: water or oil. Just like the previous resources, transfer the ingredient to a free cell. If a mistake was made during cooking, click the "Reset" button in the lower right corner of the window. All resources added to the pot will return to their places.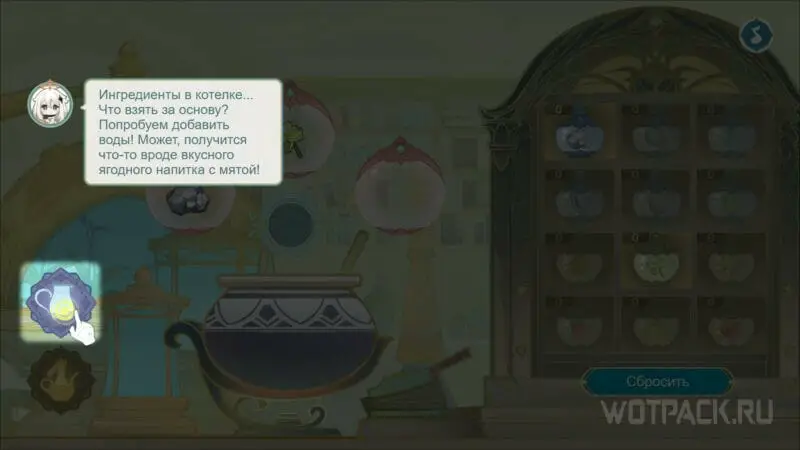 When all the ingredients are inside the cauldron, stir the contents by pressing the stick and moving it left and right for some time. Then light the fire by clicking on the furs under the pot.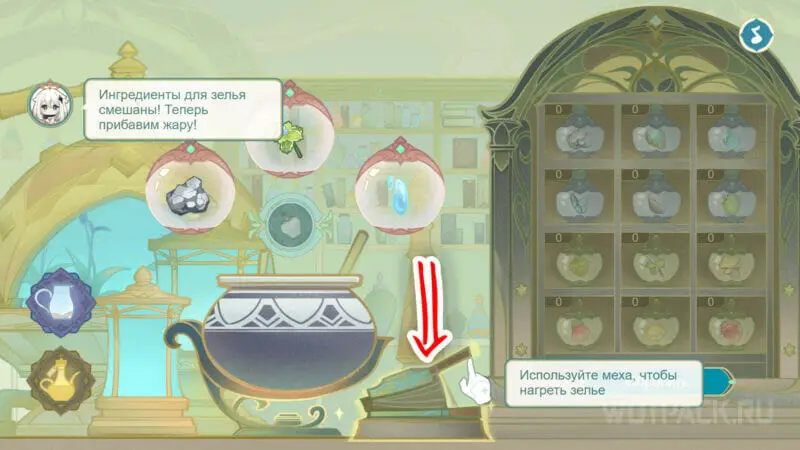 If everything was done correctly, a bottle with a crafted potion will appear in the central cell. Collect it to add the elixir to the Guide.
How to get ingredients
There are two ways to get new ingredients for making potions:
Complete daily quests and claim the reward in the corresponding tab of the main screen.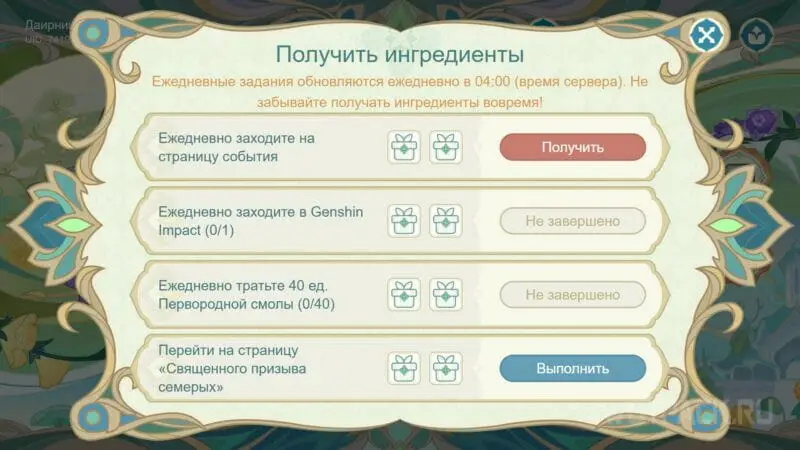 Collect a gift from Saino or Nahida's companions. In total, you have to pick up four sets of ingredients, two from each character. The appearance of a specific hero and resources on a specific day is determined randomly.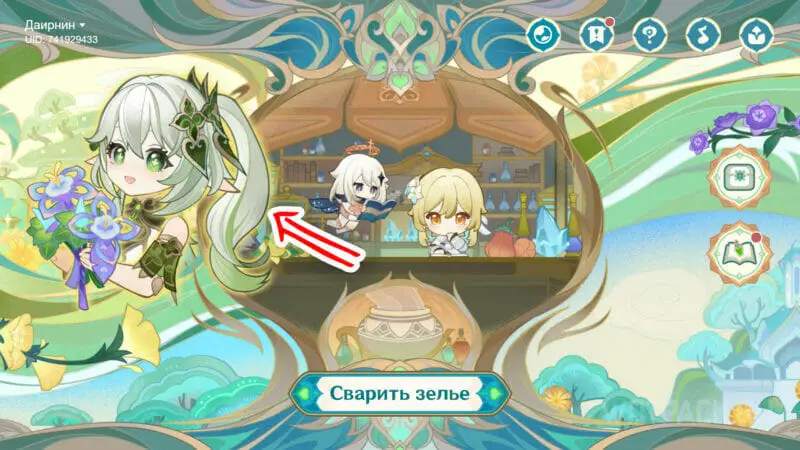 All event potion recipes Miraculous Potions in Genshin Impact Browser Event Walkthrough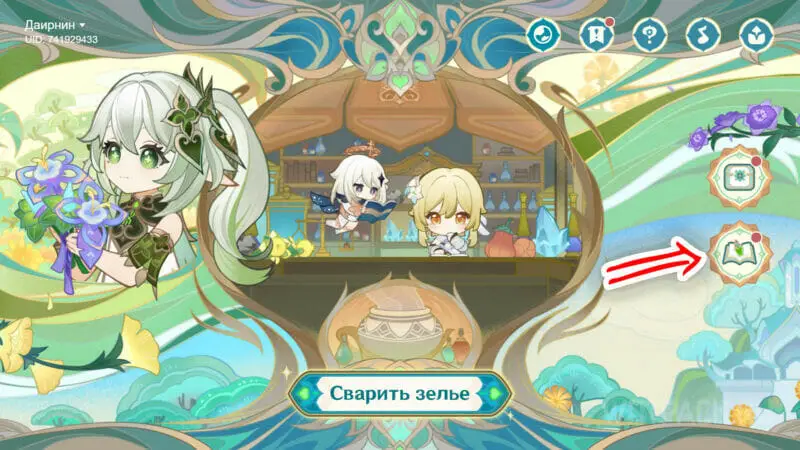 All open potion recipes can be tracked in the tab with the book icon on the main screen of the event. Discovery of each new elixir is rewarded with 1,000 mora for a common potion and 2,000 mora for a special companion potion.
Next, we will look at the recipes for all 16 potions that can be prepared during the event.
< h3>Nahida's Searing Coolness
Nahida's special potion that increases resistance to the twilight heat and can even protect things from getting wet. For cooking, you will need the following ingredients:
white iron;
red fruit;
water.
Life-giving essence Nahids
A special decoction of Nahida, the color of green grass, that can give strength with its aroma alone. It contains:
frog;
agilenach nut;
water.
Saino Sunscreen
A special remedy for the Saino desert dweller, which helps to escape from the harmful effects of sunlight and protects against overheating. Its ingredients are:
sandy wen larva;
mint;
oil.
Decoction of forces from the general mahamatras
The special potion of the Mahamatra General Saino, according to him, instantly gives strength and restores vigor. To prepare it you will need:
glowing belly;
nilotpala lotus;
oil.
Invigorating summer decoction
Basic potion to be made during the mechanics tutorial games. Prepared from:
Cooling Brew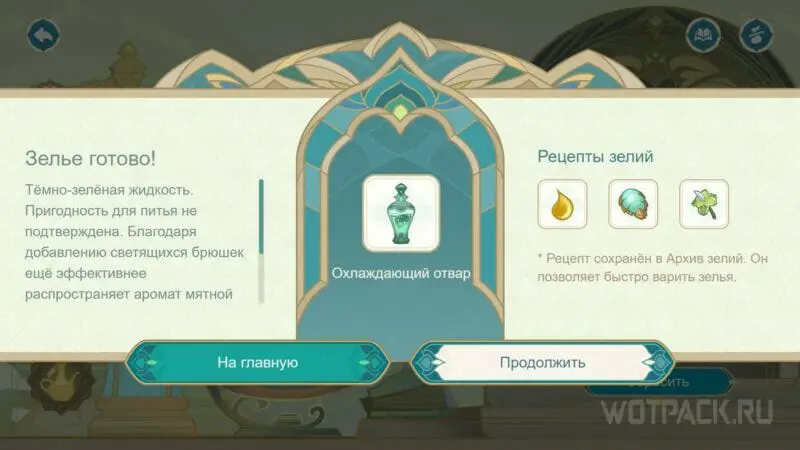 A cooling potion for desert adventurers. To prepare it, you will need:
luminous belly;
mint;
oil.
Essential oil for jewelry
A potion with no practical value. Due to the content of precious ore, it has a beautiful shimmering hue, suitable only for using the bottle as a decoration. Crafted from:
Crystal Fragment;
agilenach nut;
oils.
Fragrance balm
A liquid with a pleasant aroma of spices, which has no special positive properties, but is used as a perfumed balm by the inhabitants of the desert. Can be cooked from:
glowing abdomen;
agilenach nuts;
butter.
Dancing butterflies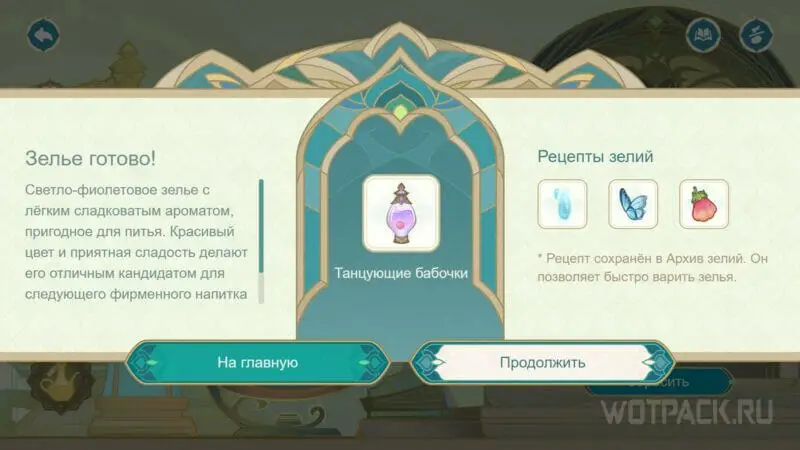 A sweet, fruity drink with a pleasant lavender hue that could become the new signature drink of the Lambada Tavern in Sumeru. To prepare it you will need:
butterfly wings;
zaitun peach;
water.
Sweet dreams blessing
< img class="aligncenter" src="/wp-content/uploads/2023/05/chudesnye-zelja-v-genshin-impact-kak-otkryt-vse-recepty-i-svarit-zelja-588ffb2.jpg" alt= "Miraculous Potions in Genshin Impact: How to unlock all recipes and brew potions" />
A fragrant product that has a beneficial effect on the health of people with sleep disorders. To prepare it, you will need:
crystal fragment;
zaytun peach;
water.
Invigorating mint drink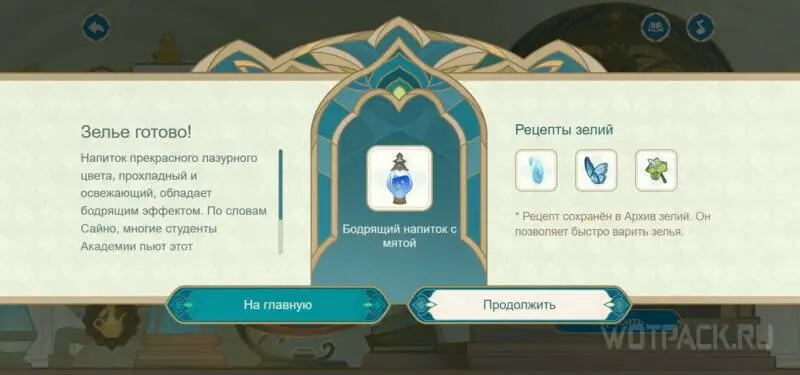 A beautiful azure-colored drink can not only give a feeling of coolness, but also invigorate for a while. Prepared from:
butterfly wings;
mint;
water.
Feeding houseplants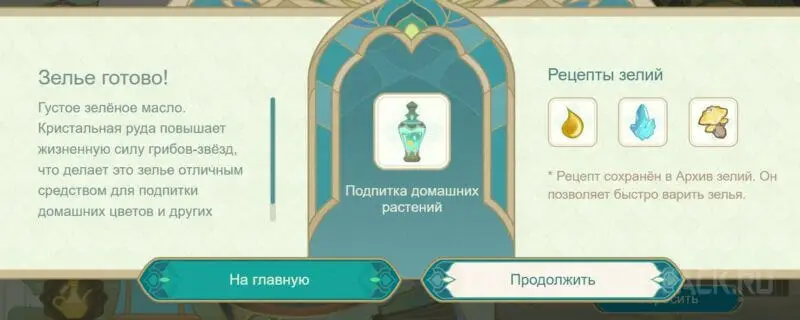 Oil intended exclusively for horticulture. The special properties of the star mushrooms contained in this potion have a beneficial effect on houseplants. This fertilizer is prepared from:
a fragment of a crystal;
a star mushroom;
oil.
Healing decoction
The shimmering yellow decoction is a miraculous medicine that can both heal wounds on the body and cure diseases when taken orally. To create it you will need:
butterfly wings;
star mushroom;
oil.
Potion growth for plants
Mineral fertilizer of yellowish color helps to restore the vitality of withering plants. To make Shimmery Food you will need:
white iron;
star mushroom;
oil.
Sweet Insect Lure
This bright green liquid is easily mistaken for a tasty drink, but this sweet-smelling concoction is actually a bait for desert insects. Its recipe includes:
white iron;
agilenach nut;
water
Soothing oil< /h3>
A mesmerizing reddish-pink potion with shimmering particles is a fairly popular remedy. Exam-tired students take this concoction to cope with anxiety and get ready for work. It includes:
luminous belly;
zaytun peach;
water.
Awards< /h2>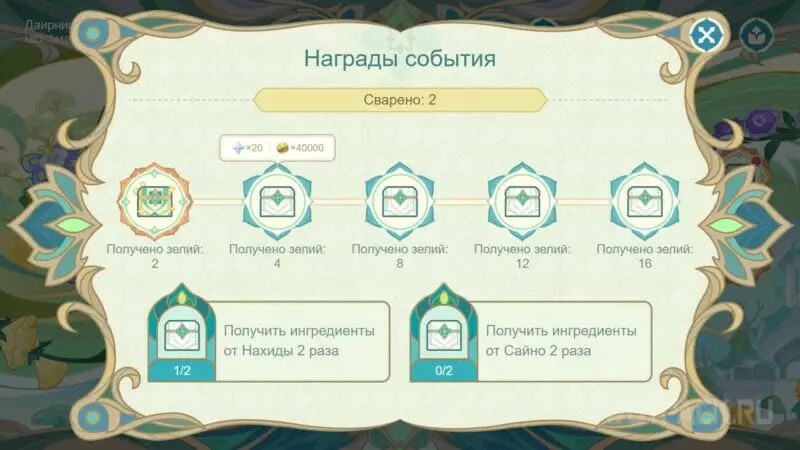 You can collect rewards for completing the event in a special tab with a chest icon on the main screen. For reaching a certain number of brewed potions or received ingredients from companions, a chest with rewards will open. In total, for the complete passage of the event, you can get:
120 Source stones;
110,000 pestilence;
8 Hero Experience books;

< li>4 pieces of Magic Enhancement Ore.
We hope this guide helped you get through the Miraculous Potions browser event in Genshin Impact and unlock all the recipes. If during the passage there were any difficulties, you can tell about them in the comments, the author or other players will definitely try to help. Read other guides in the walkthroughs and guides sections.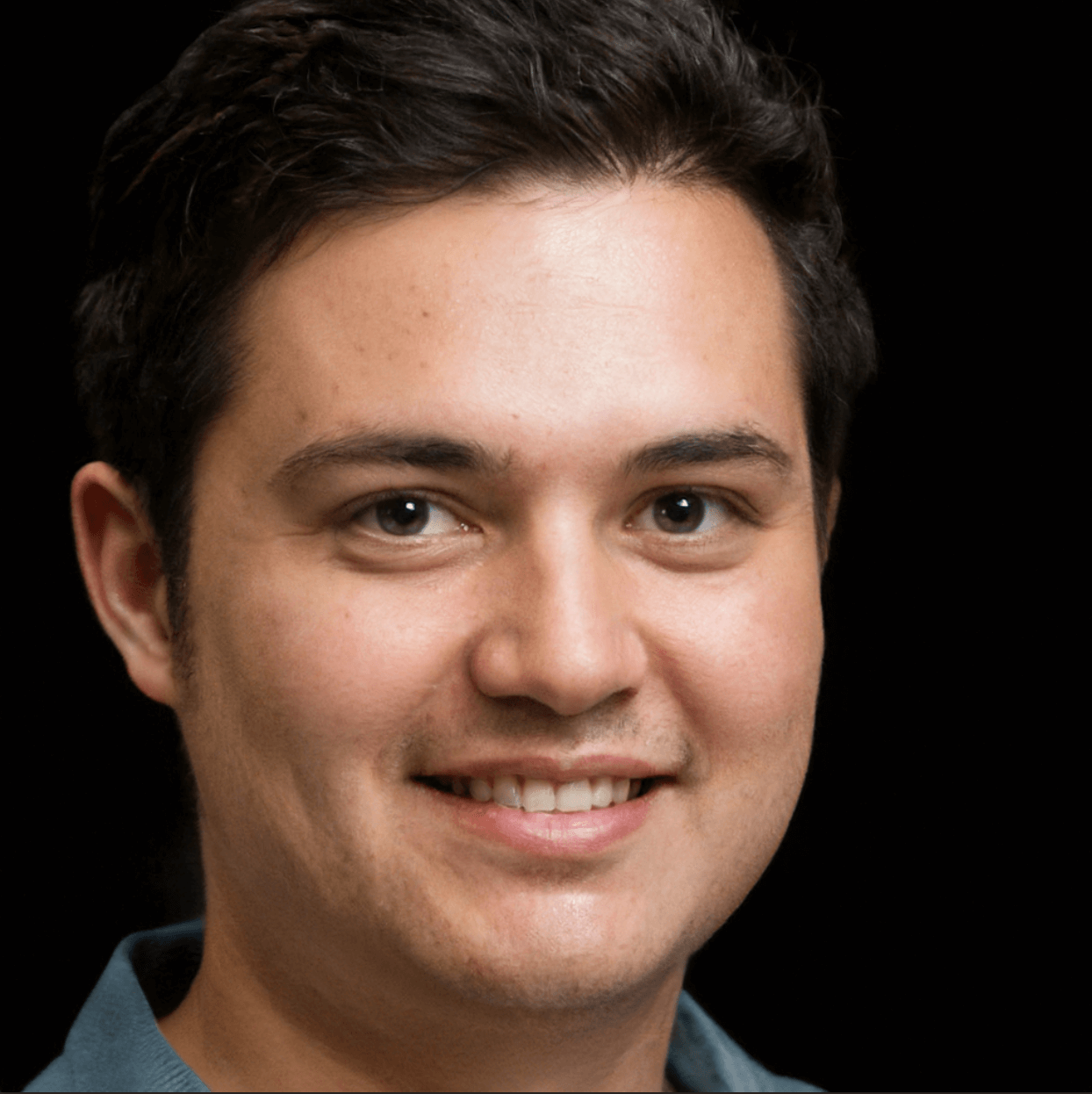 I like to play mobile games. Especially, Mobile Legends Bang Bang and COD Mobile.  I share my game experience. Sometimes I publish guides and tips from other players. So if you'd like to be published on Gameloid, please contact me.