Resources
If you're just starting the game, there's one thing you need to know: Food is the most important resource for you! That is pure gold and you will constantly find yourself needing more.
So do everything that you can to increase your food production: always max level your Farm, invest in research related to food production (even though those valuable points could be better used somewhere else for long term play) and constantly gather food on the world map.
Check your inventory often as well (the Bag) – you will have items there that can give you instant resources and don't be afraid to use them!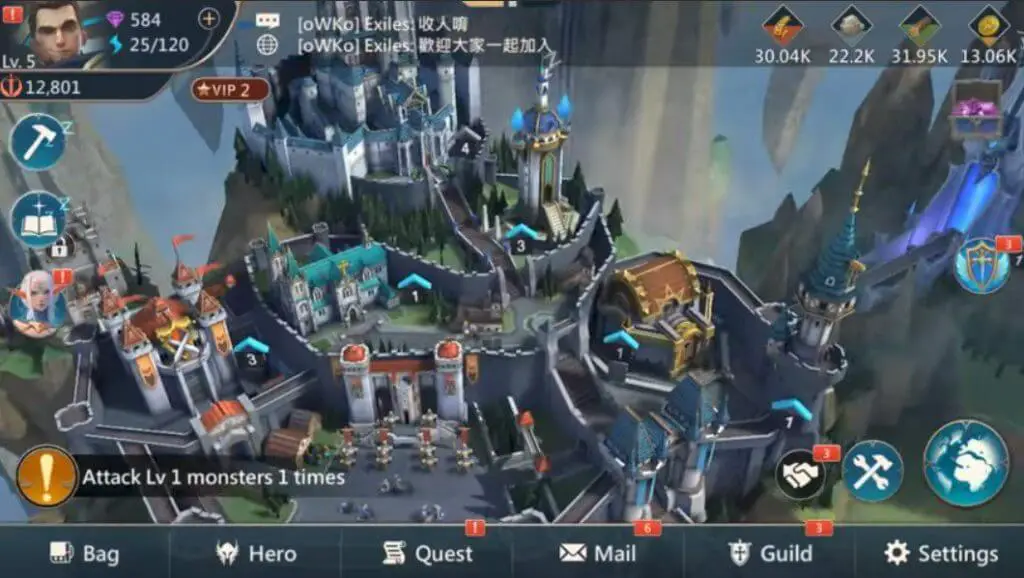 VIP System
There is a VIP system in the game, with VIP points being used to increase your VIP level, which in turn gives you better and more unique boosts.
You can easily get to VIP level 6 as soon as you start playing Mobile Royale. I personally received a special offer that cost me something like 50 cents and gave me a ton of Crystals and VIP points. These offers will probably pop up constantly and you should take advantage of them as you're really spending a little for long term gains.
But even if you don't want to spend the small amounts on those limited special offers, you will still receive VIP points for doing various things in the game – make sure to use them from your inventory as soon as possible, because a higher VIP level comes with a ton of benefits.
Castle
Your Castle is the main structure in the Kingdom and its level decides the maximum level of other buildings and also unlocks new features in the game. However, simply focusing on leveling up your Castle solely and ignoring the other structures is not a great idea.
Once you reach level 6-7 with your castle, I'd recommend not to level it up again until you have upgraded all the other buildings in your kingdom to the maximum level. This ensures that you are ready for a new upgrade and that you are extremely balanced in terms of power and being able to fend off incoming attacks.
An interesting mechanic in the game is that the units you train can have various roles in combat – so you basically train once and are allowed to use those units as you see fit.
This means that you should train them constantly, and maximum numbers at all times because a large army is what you need to do better in this game.
Always train the highest level unit type you have unlocked and try to log in often so that you get a few batches of new troops per day in order to remain competitive. This is extremely important especially early on in the game when you have to build up your army ASAP.
Your inventory aka your bag is usually the place of wonders: you will have all sorts of goodies there, from resource boosters to various types of chests and treasures and other special items.
You get a ton of rewards from a ton of places in the game (from completing missions to attacking monsters to events and everything in between) so it will be difficult to keep track of everything when you get those rewards. But they're all taken and stored in your bag, so make it a habit to visit at least once per day in order to use the important items like VIP points or chests.
You can rush production of buildings, research or troop training at any given point in the game, as long as you have the required items.
My recommendation is to use these as often as possible early on because waiting times increase a lot as you go through the levels. Therefore, your 5 minute boosters mean a lot more during the lower levels and are practically worthless when you have waiting times of several hours.
Therefore, use these boosters often early on and don't hoard them as you don't really have to. But be smart about them and only use as many as you need to get to the point where you can rush production for free (the amount of minutes you can rush for free depends on your VIP level mainly).
Campaign
Try to always complete all the campaign stages that you can complete. These will sometimes unlock new heroes for you and leveling up your heroes to have more options in combat is essential in Mobile Royale.
Even more, play the Elite Campaigns as often as possible in order to get the required pieces to improve your Heroes. These are even better: choose your favorite Hero and keep farming items to increase their power. This is the easiest, cost-free way to improve your might by a ton.
Remember that there's a rock, paper, scissors mechanism in place when it comes to how troops work, meaning that archers beat cavalry, cavalry beats infantry and infantry beats archers. Always look at the enemies you're facing (before starting a fight) and adjust the troops you're placing on the battlefield based on that. Always get the advantage for easier wins!
Whenever you have some stamina points and some time on your hands, attack the monsters nearby with all the army you can spare. Doing so will constantly reward you with all sorts of items that will help you progress faster through the game.
Whenever a monster on the map is killed (health reaches 0), all the guild members receive a special gift – the higher the level of the monster, the better the gift. This is why it is important to be close to your guild mates (more about this below) and work together with them to destroy as many monsters as possible.
When attacking monsters, you have two options available: attack once or attack multiple times. Although the latter sounds like the better opinion and it does save you a lot of time, it's not always the wisest. The reason why I am saying this is that whenever you attack a monsters, you get a damage bonus for your next attack. So attacking once at a time makes each new attack a bit stronger than the previous.
Guild
Being part of an active guild is essential in any MMORTS and Mobile Royale makes no exception. If you find a solid guild with many active members, your progress in the game will be a lot easier.
Take your time to find that solid guild, but once you are confident that you're in the right place, use the teleporter you have and move close to your guild mates. This is essential because it offers you protection when it comes to being attacked, it makes attacking monsters and getting gifts easier and can make village ownership distribution a lot easier as well.
Plus, there will be more benefits from the guild long term, such as a guild-specific research tree and various guild-related events and missions. You need to be in a solid guild if you are serious about this game.
Heroes
Your armies are led by Heroes in Mobile Royale and, even though the mechanics here are not as advanced as in other games since what makes your heroes unique isn't that varied, it still offers you some solid chances of making the game your own and better organizing your troops.
In order to unlock heroes, you need to reach a specific stage in the campaign mode – and then you can farm pieces to upgrade them and make them stronger by completing the Elite stages in the campaign.
Choose your favorite heroes (early on I would go simply for the skills that I enjoy using the most in battle) and focus on getting them as good as possible, by leveling them up to the maximum and using runes to boost their skills.
Pay attention to all the stats and numbers and their specialties (ranged units, infantry or cavalry) as later on, when you have multiple heroes unlocked, you will have to choose the best ones to work on as it will be impossible to have them all in top shape.
Atelier: An interesting feature that the game offers is that of investing your Crystals in order to receive a ton more. At the moment of writing this article, there's an impressive offer (not sure if it's going to last long, though) which gives you an amazing return of 20% per day.
This means that if you block 1,000 Crystals for 24 hours, the next day you will receive 1,200. And so on, which is impressive and allows you to get a ton of premium currency without spending any real money.
Even the 5% offer per day which seems to be the basic is still really solid, so don't forget to constantly take advantage of this amazing feature and invest all the Crystals you don't plan to use immediately in order to boost their numbers.
Diplomatic
You can have diplomatic relations with various other leaders in the game – NPCs, not human players. These are usually trade deals that function on very basic mechanics: you send them the items they need and you receive goodies in turn. The better your relations with a specific faction, the better the rewards.
So make sure that you're always taking part in these diplomatic exchanges and do your best to keep relationships as high as possible. Then, don't forget to actually select the tech bonuses that your diplomatic relations give you (you have the option to choose from more or less, depending on how many factions you have met and your relations with them).
Another interesting mechanic in Mobile Royale is that you can capture villages on the world map – and these villages give you various bonuses as long as they are yours.
In order to make everything easier here, it would be best to simply teleport to where your alliance is: this makes it more difficult for outsiders to take over villages in your area, and you can better organize things with your fellow alliance members, as these villages offer various bonuses which might be more or less useful to a specific player.
Overall, I don't consider these villages to be extremely useful early on, but later on as you need all the resources and boosts that you can get – and when a 1% increase means a ton – they do become an important part of how you play the game, so don't forget about them!
Research is also extremely important in the game, but I don't think that there's a lot to say here. Your research will basically go naturally as you level up all your buildings and you'll most likely research everything before upgrading your tower to unlock new stuff.
I recommend to focus on research that improves food production early on in the game, then switch to researching military-related stuff as soon as you are no longer in constant need of extra food.
These would be our tips and tricks for Mobile Royale.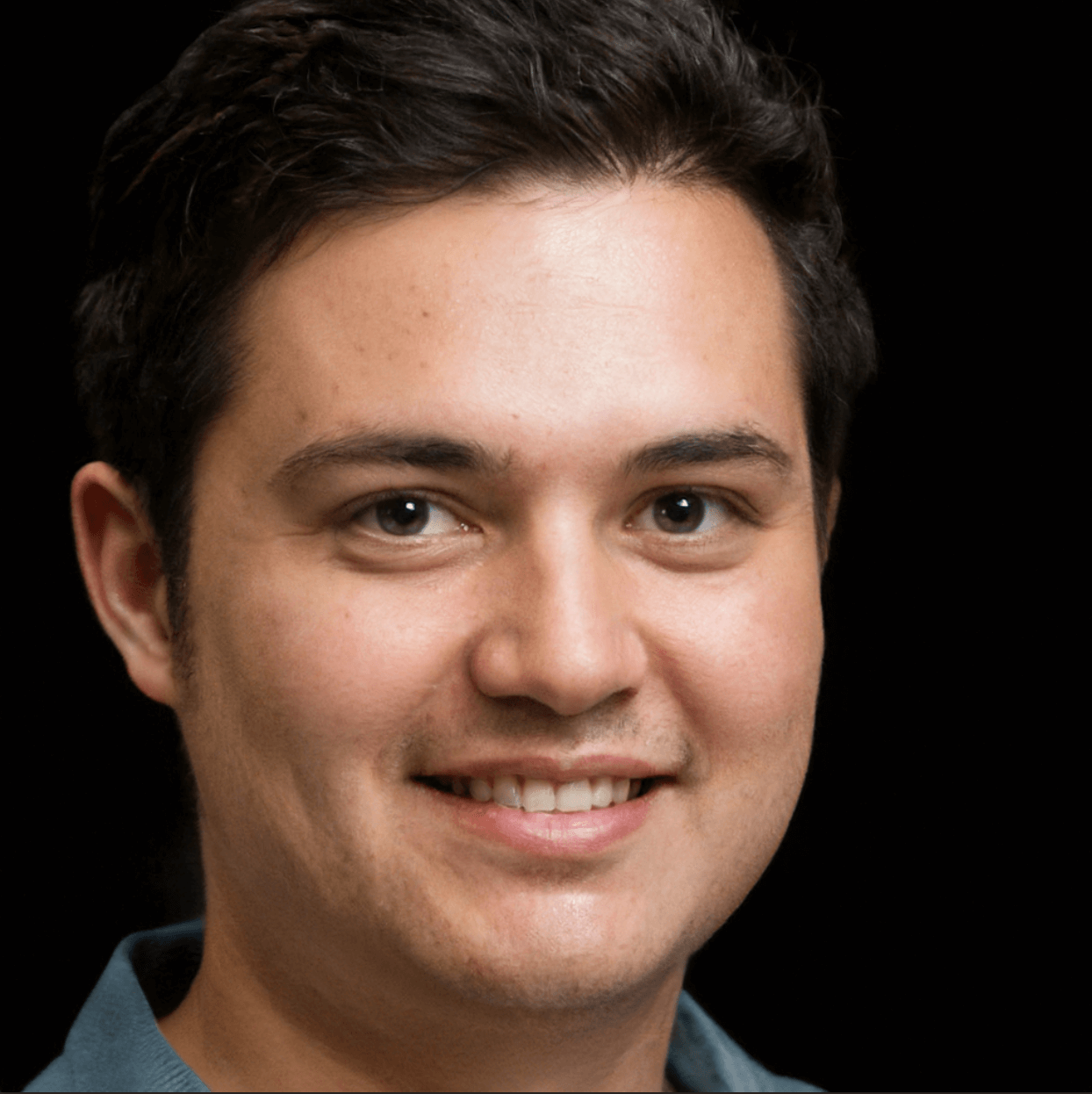 I like to play mobile games. Especially, Mobile Legends Bang Bang and COD Mobile.  I share my game experience. Sometimes I publish guides and tips from other players. So if you'd like to be published on Gameloid, please contact me.