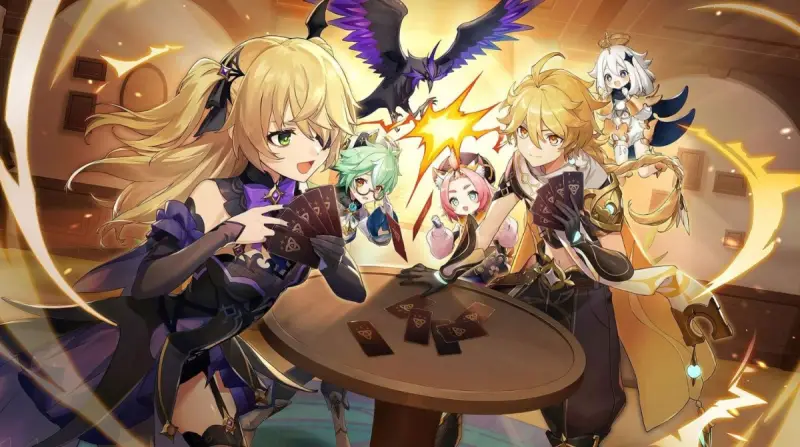 In Genshin Impact, Holy Call of the Seven is a collectible card game (CCG) that will be available to play in Teyvat after version 3.3 is released . Travelers will be able to duel various characters and other players, as well as collect cards, level up and receive various rewards.
This guide provides general information about this card game. You will learn what you need to do to start playing it, about its basic rules and mechanics, as well as where to find new opponents and additional cards.
How to start playing Holy Call of the Seven
< p>Your first step is to complete a world quest called "Come Play the Sacred Call of the Seven", a guide for which will be available after the 3.3 update (December 7).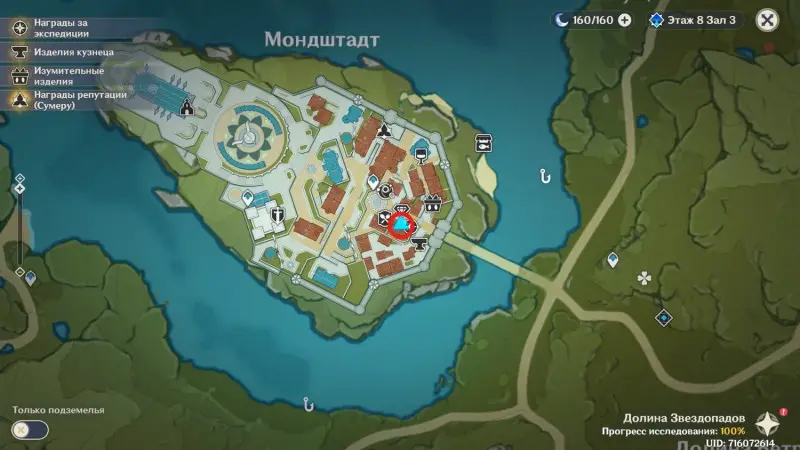 As part of it, you have to go to the Cat's Tail tavern located in the city of Mondstadt and complete the card game tutorial by talking to a cat named Prince. Next, you will need to play one game. After that, you can freely challenge other Travelers and NPCs to duels.
Where to find opponents for a card game
There are several ways to find opponents to play cards. At the first level, you will have to look for them in the open world. There are certain NPCs (including cats and cats) who will gladly play games with you. Their location will be specified in our separate guide.
Once you rank up, you will be able to duel masters who will visit the Cat's Tail Tavern on a weekly basis. As a reward, you will receive card experience and luck coins.
In addition, it will be possible to invite registered participants to the duel using a special invitation board installed in the above institution. By winning these games, you can get various character and talent cards.
Plus, you'll need to occasionally play with Prince, passing the tests for exaltation. They will help you increase the level limits, which in turn will open up access to new maps, mechanics and enemies.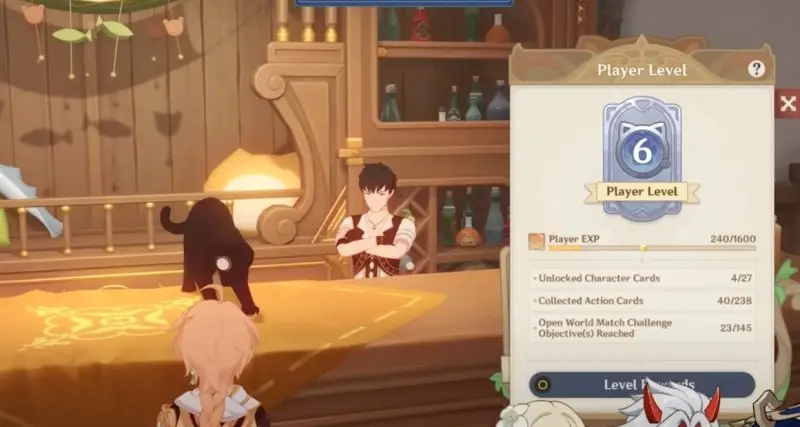 How to duel another player
After reaching a certain level, you will be able to challenge other Travelers to a duel using the same invitation board in the Cat's House tavern. Apparently, the opponents are randomly selected from users who are in the game and also want to play a game right now.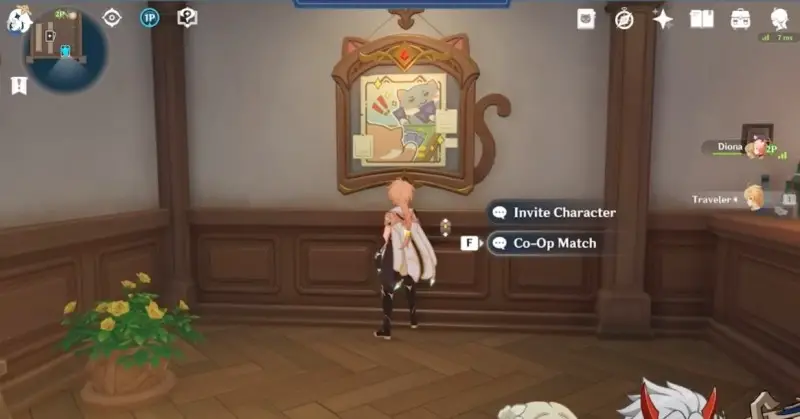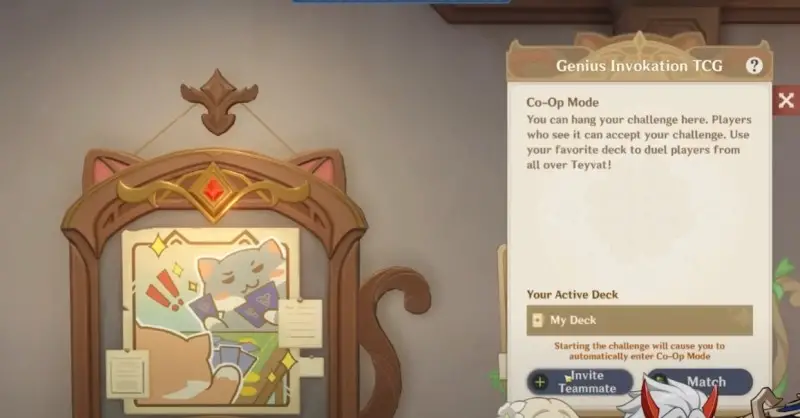 However, we note right away that there are no awards or penalties for winning or losing in such matches. The developers also do not plan to introduce multiplayer rating tables, so all fights between players are held only for the sake of "fun". However, they can help you objectively evaluate the strength of your deck.
How to get cards for Holy Call of the Seven
Of course, in order to successfully play CCG, you will need special cards, and the more of them, the better. However, before looking at all the ways to expand your deck, we'll list the main types of cards:
Character cards are your main fighting force. It is they who will need to attack and defeat enemy cards. To do this, you have to use three abilities: normal strikes, elemental skills and elemental explosions.
Action Cards – Required to trigger certain effects. They, in turn, are also divided into types: equipment cards (strengthen certain heroes), event cards (instantly activate one-time buffs or debuffs) and support cards (give permanent buffs).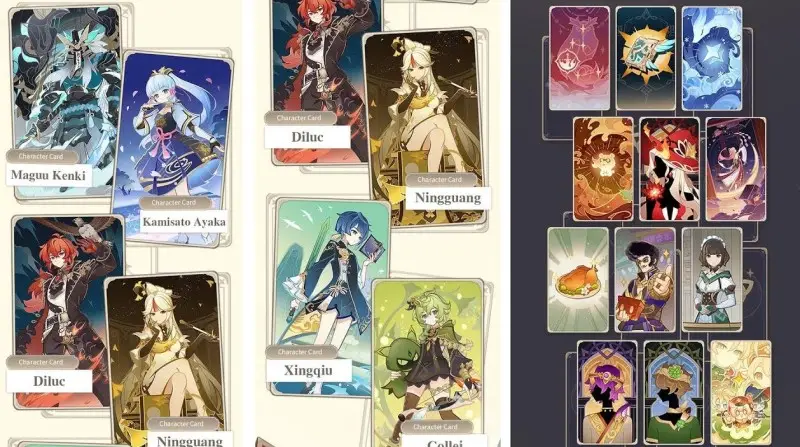 Beating an opponent with character cards alone will not work, so action cards should also be paid attention to when building your own deck.
Increase card experience
By completing challenges in matches with characters found in the open world, receiving cards and winning duels, you will receive card experience points. Once you reach a certain value, you can increase your player rank by talking to the Prince in the tavern.
Your reward will be source stones and additional cards. In addition, new challenges will appear in the tavern, and you will be able to challenge more experienced players to a duel. You can upgrade your skill to level 10 at the most.
Card Shop
The main source of new action cards in the game. To study his assortment, you need to talk with the Prince and select the appropriate line of dialogue. You can purchase dozens of different equipment, event and support cards in it. Lucky coins earned during duels are used to purchase.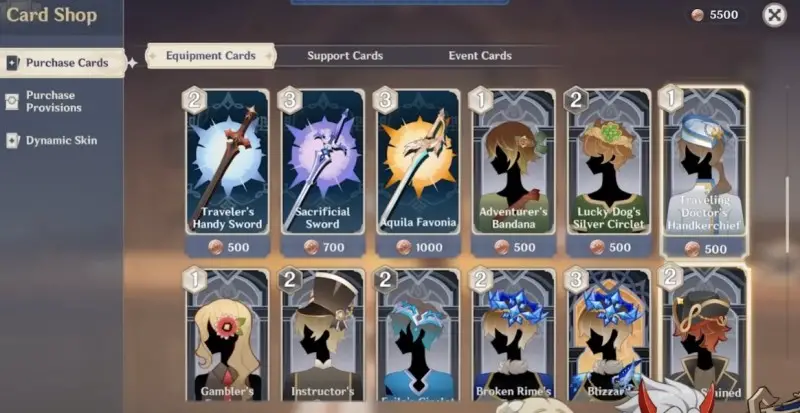 It also sells shirts and holographic character card designs. The latter change the appearance of cards, giving them animations and adding new effects when performing elemental explosions.
Win cards in duels
To get character cards, you will need to challenge certain NPCs that you can encounter in the open world or in the Cat's Tail. A separate guide will list all game cards and how to get them.
How to play Sacred Summon of the Seven
h2>
Sacred Call of the Seven is a turn-based collectible card game based on the existing mechanics of Genshin Impact (we are talking about elemental reactions and a variety of characters with their own unique abilities). Players will have to collect cards, create decks and fight against opponents, defeating them and receiving many unique prizes.
Preparatory stage
First of all, you will need to choose three character cards that will become your main combat units on the playing field. Your main goal will be to defeat the opponent's three hero cards. The health of the fighters is indicated in the upper left corner of the cards – when all three of the life bar drops to zero, you will win.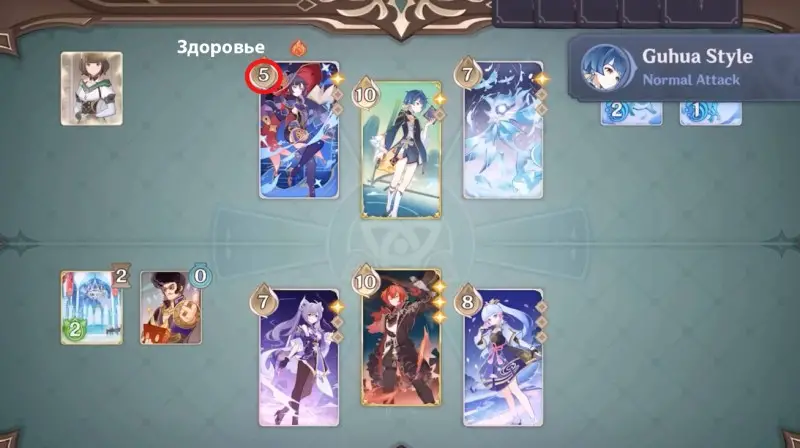 The rest of the cards will be randomly drawn from your deck. You can replace them later with elemental dice. We advise you to build your deck in such a way that your characters can get the most out of action cards. Plus, when choosing heroes, you should take into account elemental reactions, which we have discussed below.
Roll elemental dice
Before starting a new round, you will need to roll eight elemental dice, each of which can represent one of the seven elements in the game (Dendro, Pyro, Hydro, Electro, Anemo, Geo and Cryo), as well as an additional universal element. Dice are needed to perform various actions within your turn, namely:
Attacking opponent's cards.
Changing active characters.
Using different cards actions to get useful bonuses.
In addition, after the first roll, you can choose any number of elemental dice to save the result, and reroll the rest to get more beneficial elements for yourself.
Action Phase
It is during At this stage, you will be able to attack your opponent using elemental dice. At the same time, the element of the die should correspond to the element of the character, that is, Dilyuk, for example, needs Pyro dice to strike. The Universal Die is unique in that it can be used to cast abilities of any element.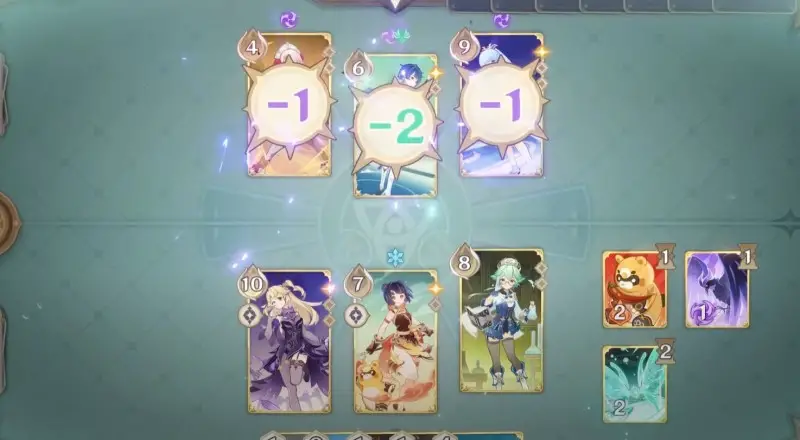 When you have used up all your elemental dice, you may pass the turn to your opponent by drawing two extra cards from your deck.
Elemental Reactions
Don't forget that in this TCG, just like in the regular Genshin Impact, you can create different reactions by combining certain elements with each other. Thus, you can deal additional damage and apply debuffs to enemy characters. The table below shows all possible reactions and their effects (the list will be expanded in the future).
Elements
Reactions and Effects

Pyro

Electro

Overload – Deals +2 extra damage when activated.

Crio

Hydro

Freeze – Freezes the opponent's active cards, preventing them from performing an attack on the next turn.

Anemo + Pyro/Electro/Hydro/Cryo

< /td>

Disperse – Spreads the element and deals damage to cards. It also triggers elemental reactions based on elements of nearby cards.
How to build a deck
Given the above information, we strongly discourage you from placing three characters of the same element on the battlefield, as in this case you will not be able to create elemental reactions. You should also decide in advance on the reactions that you plan to create in order to build game tactics based on them.
K for example, you can take Hydro and Cryo characters to create Freeze and strengthen them with Anemo fighter. Action cards in the deck must increase the effects of the indicated elements. In this case, even though the cards received will be random, they will still benefit you.
In the future, we will prepare a guide to the strongest decks in the game, where we will indicate which characters are best combined with each other, and how you can increase their effectiveness with support cards.