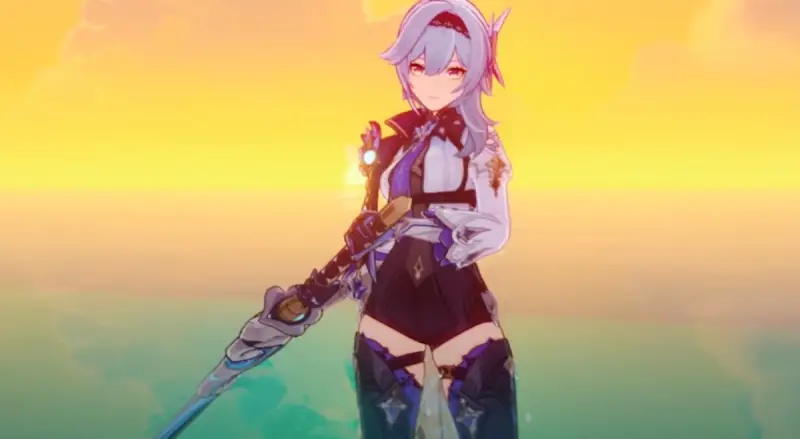 In Genshin Impact, Akuomaru is a 4-star two-handed sword. It can significantly buff characters that deal primary elemental burst damage. In this guide, we will tell you where to get and how to upgrade this weapon, which heroes will suit it the most, and in which units you can get the most out of it.
How to get Akuomaru
This two-hander can only be obtained from the weapon banner "Deity Incarnation". At the moment, there is no way to get it in the standard Prayer. Also, the claymore cannot be crafted at the blacksmith. Akuomaru was available in patches 2.2, 2.5 and 3.3.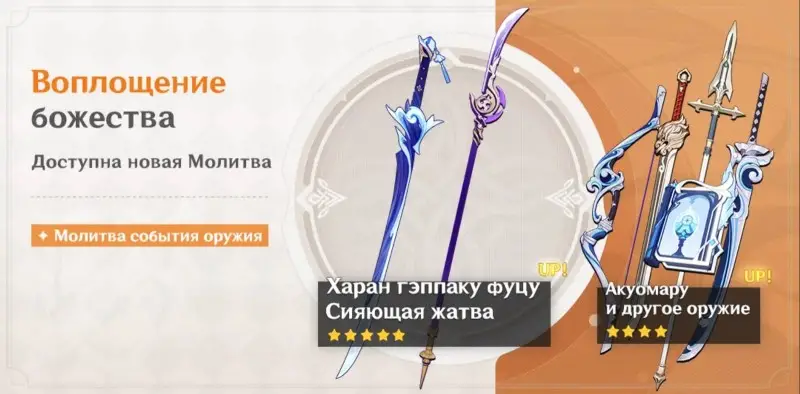 Akuomaru's main stats
Claymore rarity: 4 stars.
Basic attack value: from 42 to 510.
Additional stat: 9% to 41.3% attack power.
Akuomaru's Passive: Claymore wearer's ultimate damage is increased by 0.12%-0.24% of the sum of ultimate costs of all heroes in the party. The damage bonus that can be obtained in this way cannot exceed 40%-80%. Thus, with the cost of the ult of all characters at 320 units, the damage bonus received from the passive will be 38.4%. At Awakening Rank 5, it will reach 76.8%.
How to Ascend Akuomaru
The table below shows the materials required to Ascend a Claymore at different stages.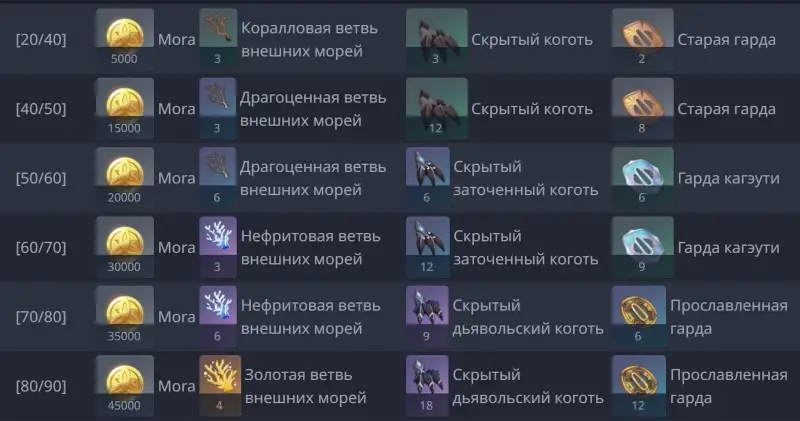 As a result, in addition to 605 units of Magic Enhancement Ore, to fully exalt the claymore you will need:
These items can be obtained in the following ways:
Precious Branch of the Outer Seas can be obtained in the Will Dungeon "Call of Flowing Sand" on Monday, Thursday and Sunday.
Hidden Claw, Hidden Sharpened Claw, and Hidden Devil Claw are a drop from the Rift Wolves found on Tsurumi Island, Inazuma, Enkanomiya, and Underground Rift Mines. They can also be purchased with Stardust or crafted with Alchemy.
The Old Guard, Kageuchi Guard, and Illustrious Guard drop from Nobushi and Kairagi, which are found throughout much of Inazuma. These materials can also be purchased with stardust or created using Alchemy.
The exact location of all opponents can be found on the Teyvat interactive map.
How to awaken Akuomaru
To increase the awakening rank of a claymore, you need to get duplicates of it in the same weapon banner.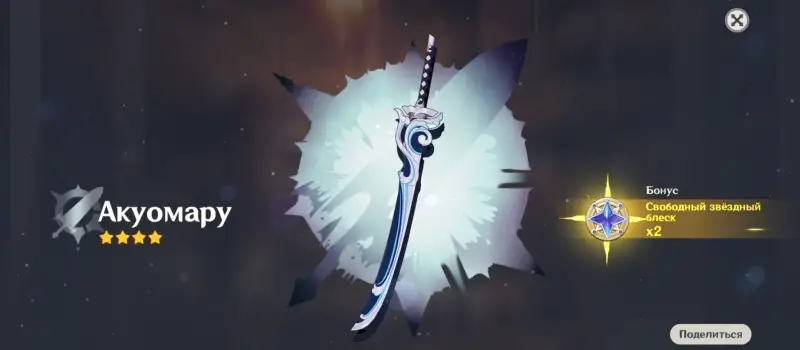 Which heroes Akuomaru is suitable for
The claymore will be the most suitable option for those characters who rely on the damage of the ultimate. In addition, you should pay special attention to the cost of elemental explosions of each party member in order to effectively use the passive of the sword.
Akuomaru will be a good option for equipping the following heroes:
< tr> Character
Benefits

Eola
Has a powerful ult with a cost of 80 units. The percentage of attack power in the bonus stats will increase the damage of all character attacks. Claymore shows itself especially effectively, starting from the third rank of awakening. In this case, it will be especially useful to put Raiden in a squad with Eola, who not only increases the damage from Eola's ultimate herself, but also has one of the most expensive ultimates in the game.

Chun Yun
Can deal a lot of damage with his ultimate, which means the claymore will contribute a lot to his total damage.

Bay Doe
Has a long and expensive ult costing 80 units, which increases the value of the claymore's passive, and an additional attack will increase the character's overall damage.
< /tr>

Xin Yan
She Akuomaru is suitable for the role of an ult-procaster, especially with the presence of the second constellation, which increases the chance of a critical hit of the ult by 100%.

Dehya
Not a bad option if using a mercenary as an ult-procaster. In this case, she will be able to deal increased damage with her elemental explosion. She will also benefit from the sword's secondary stat.
For other heroes, such as Diluc and Razor in particular, you can find much more suitable options.
How to play with Akuomaru
Since Claymore increases elemental burst damage, it will be most beneficial in the hands of those heroes who rely on the damage from their ult in their mechanics. However, it is desirable that the character has a high enough energy recovery rate to ult on cooldown.
In order to get the most out of using the sword, you need to pay special attention to selection of squad members, giving preference to heroes with expensive elemental explosions. Their cost can vary from 40 to 90 units. Raiden and Yae Miko currently have the most expensive ults in the game.
But do not forget about squad synergy: a harmonious team with an ult cost of 60 units will show a much higher result than mismatched heroes with ults for 80 units.