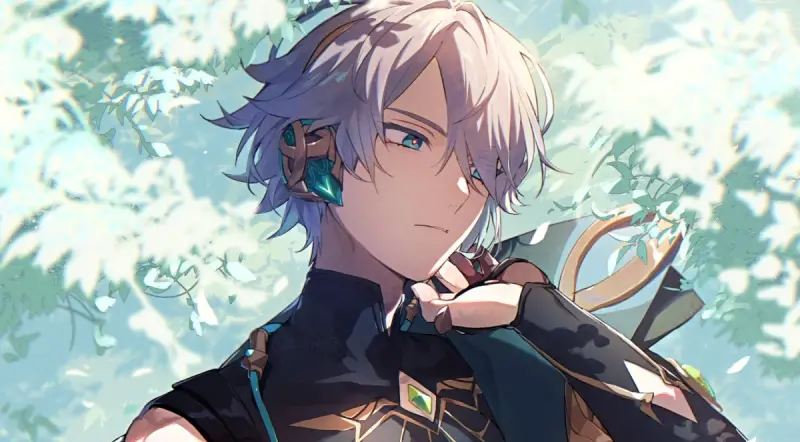 In Genshin Impact, al-Haytham is a 5-star character who possesses Dendro God's Eye and wields an excellent one-handed sword. In a group, he can act as the main damage dealer. In this guide you can find out about his best builds, weapons and artifacts, as well as the most optimal commands for him.
Don't miss the best Black Friday deals!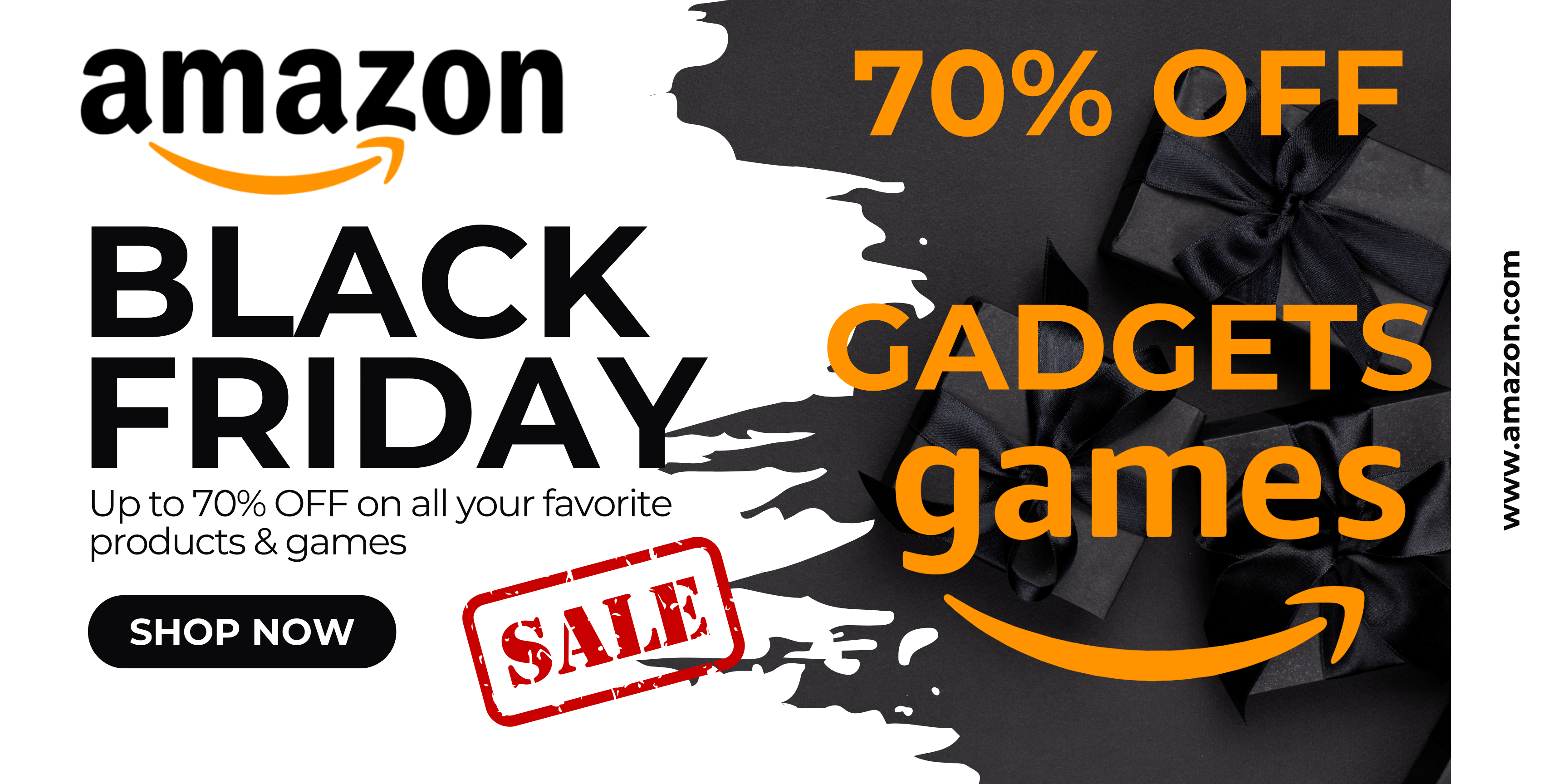 Note: The secretary of the Twilight Academy has not yet been officially released, so the data presented here is based on information received as part of the beta testing. If necessary, we will update the guide when the hero appears in the game. In addition, his banner with an increased drop rate will be launched in update 3.4.
Al-Haytham Main Features
How to get al-Haytham
In the first phase of update 3.4, this swordsman will appear in the banner, which will increase the chance of his drop. Thus, it will be possible to get this character only with the help of Prayers. Unfortunately, miHoYo has never hosted an event that rewards a 5-star fighter, so you won't be able to get al-Haytham for free.
Al-Haytham's stat progression
The table below shows how a character's base stats change as they level up.
< td>50%
< td>80
< td>28.8%
Level
Basic HP
Basic Attack
Basic Defense
Dendro Damage Bonus
Crit Chance Hits
Crit. damage
1
1039
24
61
0%
5%
50%
20
2695
63
159
0%
5%
50%
40
5366
126
314
7.2%
5%
60
8659
203
507
14.4%
5%
50%
11777
276
690
21.6%
5%
50%
90
13348
313
782
5%
50%
Advantages and disadvantages of al-Haytham< /h3>
Thanks to his unique abilities, the secretary of the Academy is perfect for destroying both strong single opponents and large groups of enemies. Its main advantages include:
It has a relatively high base attack, defense and health, which greatly simplifies its use as a main damage dealer.
Can create Dendro's infusion, meaning all his normal attacks begin to deal damage to Dendro, which helps to permanently apply the appropriate status to enemies, thereby facilitating the triggering of reactions. Increasing Dendro's damage bonus when ascending a hero makes this feature even more useful.
Perfectly combines with Pyro, Electro and Hydro sub-DD and supports that help him in creating various Dendro reactions.
Thanks to the passive, the damage from his elemental explosion and elemental skill begins to scale not only from the attack power, but also the mastery of the elements, which makes it possible to significantly increase the damage inflicted by him with the proper selection of weapons, artifacts and the team.
Using the Dash of an elemental skill, the character can quickly climb ledges and other hard-to-reach places, making it easier to gather materials and explore the world.
Allows you to get more weapon elevation materials with your passive.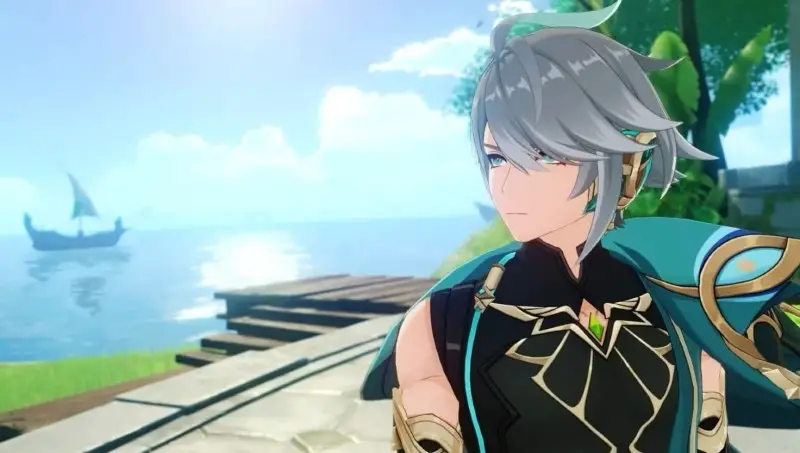 However, it was not without a few drawbacks, some of which come straight from its advantages:
It does not pair well with characters that belong to the elements that do not interact with Dendro: Geo, Crio and Anemo. True, there are a few exceptions to the rule – they mainly concern supports that give powerful buffs to the main damage dealer. These include, for example, Zhong Li, Kazuha and Laila.
Elemental skill and Elemental Burst have a rather long cooldown (18 seconds). In addition, the hero's ult is very expensive (70 units), so he may need a battery or equipment that increases energy recovery.
It may be difficult to build an optimal build, since it will be necessary to increase attack power, crits at the same time and mastery of the elements.
Al-Haytham's abilities
When performing a normal Abductive Argument attack, the secretary performs up to 5 blade strikes, and when charged, makes a couple of quick sword swings, consuming a little stamina. In the event of an air attack, it lands on the ground, dealing splash damage.
After casting the elemental skill Universal: Form Enhancement, the swordsman dashes forward, dealing damage to nearby Dendro enemies and creating a Mirror of Light. If you long press the skill button, the player can choose which direction the character will dash in.
When the E-shka is activated, one Mirror of Light will spawn. If at that moment there were no mirrors on the battlefield, then one additional light mirror appears. These objects have the following properties:
When equipped, all normal, air and charged hits deal damage to Dendro that cannot be canceled by other infusions.
When these hits hit enemies, the mirrors perform a Projection Attack, dealing area damage to Dendro based on the number of mirrors active.
A maximum of three mirrors of light can exist at a time. Each of them in turn disappears 4 seconds after the appearance. They will all be lost if al-Haytham leaves the battlefield.
If you activate the elemental explosion "Special Field: Phenomena Interconnection", then the character will deal multiple damage to Dendro over a wide area. If there are mirrors on the field, they will all disappear, increasing the number of times the damage is dealt with the ult. Two seconds after the ability is cast, 3/2/1/0 new mirrors spawn if 0/1/2/3 mirrors were consumed, respectively.
Not to mention the special passive skills of this talented Twilight secretary:
Law of Reductive Override – When crafting weapon elevation materials, it has a 10% chance to spawn an additional gizmo.
Adjustment for four reasons – Air and Charged Hits can each spawn one Mirror of Light. This effect occurs every 12 seconds.
Unravel Mysteries – Elemental Explosion and Projection Attack damage is increased by 0.09% per Elemental Mastery. However, the bonus cannot exceed 90%.
Al-Haytham Constellations
To open them, you need Character Luck, which can be obtained by dropping hero duplicates. Given the low chance of getting 5-star fighters, then you will need a lot of money and time to unlock all the constellations. However, even without them, al-Haytham is able to perfectly fulfill his main role.
If you are still aiming to open the constellations, then we advise you to try to get C4 or C6: the first allows you not only to increase the damage of the hero, but also to strengthen his squad, and the second significantly strengthens the character, increasing his crits. All constellations are described below:
Intuition – Reduces the cooldown of an elemental skill by 1 second when a projection attack hits an enemy. The effect can occur no more than once every 1 second.
Controversy – When you create a Mirror of Light, the hero's elemental mastery increases by 50 points for 8 seconds. The bonus can stack up to four times. Each level has its own timeline. The effect occurs even if there is a maximum number of mirrors.
Denial – Increases the level of the elemental skill by three. Max level: 15th.
Interpretation – when using the ult, each mirror spent increases the elemental mastery of other team members by 30 units for 15 seconds, and each mirror created increases al-Haytham's Dendro damage bonus by 10% for 15 seconds.
Insight – Elemental explosion level increases by 3. Max level: 15th.
Structuring – after reaching the maximum number of mirrors on the battlefield, the hero's critical damage is increased by 70%, and the chance of landing a critical hit by 10%. The effect lasts for 6 seconds and is extended by the same amount of time if re-activated.
How to play as al-Haytham
This character is great for creating various Dendro reactions, however has two playstyles: the first makes him closer to the ult-procasters (they deal the main damage with an explosion of elements, and then they usually go "into the pocket"), and the second turns him into a hyper carry.
Let's consider the first option first. The rotation in this case will look like this:
If you have sub-DD and supports that can impose elemental statuses on enemies and buffs on main-DD outside the field, be sure to use their abilities.
Use al-Haytham's elemental skill to get Dendro Infusion and two mirrors of light at once.
Next, use a charged attack to get a third mirror of light.
Hit enemies multiple times with elemental Dendro-infused normal attacks to deal massive Projection Strike damage.
Then activate an elemental blast to deal 10x Dendro's AoE damage.
Finally, switch back to sub-DPS to trigger new Dendro reactions and finish off the remaining enemies while al-Haytham's cooldown is on.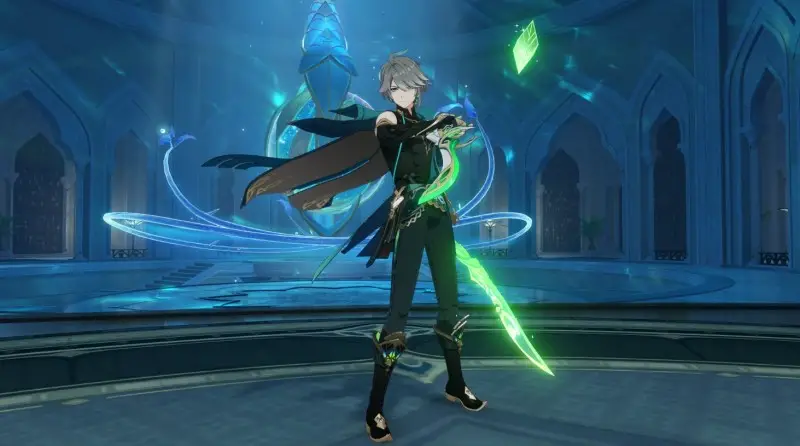 In the second option, the secretary of the Academy is on the battlefield almost all the time, so he needs secondary damage dealers and support characters, whose skills work out of pocket, much more. The rotation will look like this:
If you have sub-DD and supports that can apply elemental statuses to enemies and buffs to main-DD off the field, be sure to use their abilities.

< li>Next, immediately apply an elemental burst of al-Haytham, sacrificing the potential damage from it, in order to immediately get 3 mirrors of light. Strike your enemies with normal attacks, dealing increased damage to them with Dendro projection strikes.

When the original 3 mirrors are gone, summon additional ones with an elemental skill. By the time they disappear, the ult should already be updated, so you can use it again. However, we advise you to re-use secondary DPS and supports before doing this to set the stage for creating Dendro reactions.
As for the charged attack, you can hold it in case the mirrors are gone, and the hero's skills have not yet been restored. As a result, you will be able to maintain Dendro's infusion with the hero almost all the time.
However, no one bothers you to use both styles of play even within the same battle. This is especially true when the 4th Constellation is open. With it, you can increase the MS of other squad members in the first rotation to increase reactions after using the ult and switching to other DPS, and in the second – to increase the damage of al-Haytham himself.
The best builds for al-Haytham< /h2>
The best weapon
In order for al-Haytham to play his role to the maximum, it is necessary to give him a one-handed sword with an additional characteristic for attack power, crits or elemental mastery. Of course, the hero should also benefit from the passive ability of the blade. The table below lists all eligible weapons.
Name and Rarity
Stats (level 1-90)
Passive

Light of the Leaf Cut (5 stars)

Crit Damage: 19.2~88.2%

Basic Attack: 44~542

Increases critical strike chance by 4%. Normal strikes that deal elemental damage increase the damage of your Light Attacks and Elemental Skills by 120% of your MS. After 28 activations of the effect or after 12 seconds, it will disappear. The bonus occurs every 12 seconds. Signature for al-Haytham, so it's perfect for both of his playstyles, greatly increasing the character's damage.

< p>

Precious Pool (5 Stars)

Crit Chance: 9.6%~44.1%

Basic Attack: 44-542

Increases the heroine's health by 20%~40% and grants an attack bonus of 1, 2%~2.4% of her maximum health. Increases the chance of critical damage and survivability of the hero, so hyper carries are great. The passive increases attack power, which is useful for any build.

< /p>

Haran Geppaku Futsu (5 Stars)

Crit Chance. Hit Rate: 7.2~33.1%

Basic Attack: 46~608

Increases damage bonus to all elements by 12~24%. When elemental skills are activated by other team members, the owner of the sword receives the 1st level of Spike Wave. The maximum you can get is 2 levels. The effect occurs every 0.3 seconds. If the hero uses their elemental ability, all Spike Waves are consumed, with each level increasing normal hit damage by 20~40 percent for 8 seconds. Has a high base attack and greatly buffs normal attacks, so a hyper carry is great.

Fog Breaker (5 Stars)

Crit Damage: 9 .6~44.1%

Basic Attack: 48~674

Grants a 12~24% elemental damage bonus. Dealing elemental damage with normal attacks or elemental explosions grants special seals that grant up to an additional 56 percent bonus to elemental damage. A good blade for al-Haytham, with high ATK, much-needed crits, and a very useful passive that the academy secretary can easily activate with Dendro infusion.

Oath of Freedom (5 stars)

Elemental Mastery: 43~198

Basic Attack: 46-608

Increases damage dealt by 10~20 percent and accumulates talismans of inspiration, even if the character is not on the battlefield. After collecting two talismans, they disappear, increasing allies' normal and charged damage by 16% and attack power by 20%. Increases the damage from the hero's ult and elemental skill, and also strengthens his allies. A great option for a procaster who often sits "in his pocket", waiting for the rollback of abilities. Crits will have to be gained from artifacts.

< /p>

Harbinger of the Dawn (3 Stars)

Critical Damage: 10.2%~46.9%

Basic attack: 39-401

Increases critical strike chance by 14%~28% while above 90% health. With a good shield, the passive of the sword will be active almost all the time, which will significantly increase the damage of al-Haytham. In the case of a full awakening of the sword, the total damage of the character may be even higher than when using some 5-star blades. You can ignore the low basic attack, since the damage from the hero's abilities scales more from the MS.

Black Sword (4 stars)

Crit. hit rate: 6~27.6%

Basic attack: 42~510

Increases damage from normal and charged hits by 20%. Dealing critical damage with these hits restores health equal to 60% of Attack Rating. The effect occurs every 5 seconds. All of its elements benefit al-Haytham. The vampirism effect also allows you to do without a healer in the command for the Budding reaction.

Tokabo shigure (4 stars)

Elemental Mastery: 36~165

Basic Attack: 42~510

If a mob is successfully hit, one of them gains the Cursed Umbrella status for 10 seconds. It only appears once every 15 seconds. If an enemy dies while affected by the specified effect, its cooldown time is instantly updated. A character using this sword deals 16%~32% more damage to cursed enemies. A good free option for the procaster, increasing the damage from the hero's skills and the reactions he creates. His passive helps a lot when fighting powerful single opponents.

Wooden Blade (4 stars)

Energy regen: 6.7~30.6%

Basic attack: 44~565

When the elemental reactions Exacerbation, Burning, Growth, Vegetation, Stimulation, Blooming and Budding occur, a Seed of Consciousness appears near the hero, which lasts 10 seconds. The fighter who picks up this seed gains 60~120 Elemental Mastery for 12 seconds. The seed can spawn once every 20 seconds. The bonus does not stack, but is activated even if the weapon carrier is not on the battlefield. A good free option that you can craft yourself. It will be especially useful if you are constantly lacking energy to use the expensive al-Haytham's ult. In addition, it will increase his elemental mastery, increasing Dendro's reactions.

Xyphos Moonglow (4 Stars)

Elemental Mastery: 36~165

Basic Attack: 42-510

Every 10 seconds, increases the character's Energy Recovery by 0.035% for each point of their Elemental Mastery. The effect lasts 12 seconds. Nearby allies receive 30% of this bonus. The buff stacks if the weapon is wielded by other party members. Like the previous blade, it increases the hero's elemental mastery and energy recovery, helping him use his elemental blast on cooldown and increasing his reactions.

Steel Sting (4 stars)

Elemental Mastery: 36 ~165

Basic Attack: 42-510

When you deal elemental damage, all damage is increased by 6 percent for 6 seconds. The effect occurs no more than once every second and stacks up to two times. A good free blade, the passive of which will work almost all the time thanks to Dendro's infusion of the character. His secondary stat will increase the damage of his skills and the reactions he generates.
Best Artifacts
If al-Haytham is the only Dendro character in the squad, then we highly recommend giving him a full set of "Memories of the Deep Forest" artifacts, 2 parts of which increase Dendro's damage bonus by 15%, and 4 parts – if hit by an ult or elemental skill, reduce resistance enemy to Dendro damage by 30% for 8 seconds. The bonus is activated even if the character is not on the battlefield. It can be found in the Spire of Lonely Enlightenment dungeon.
If you have a Dendro sub-DD or a support, it is best to give the above set to him by collecting a full set of Gilded Dreams for al-Haytham, 2 parts of which increase elemental mastery by 80 units, and 4 parts increase attack power by 14% for each fighter in a unit with the same god's eye and elemental mastery by 50 points for each hero with a different element. The effect occurs every 8 seconds and occurs even if the wearer of the set is not on the battlefield. It can also be obtained from the Spire of Lonely Enlightenment.
If you don't have a full set of Gilded Dreams, you can temporarily combine it with other artifacts that increase elemental mastery, such as Instructor, Wandering Ensemble or "Flower of Paradise Lost". The first two drop from elite bosses, while the last one can be obtained from the City of Gold dungeon.
As for the main characteristics of the artifacts, then take the hourglass for elemental mastery, the bowl for the Dendro damage bonus (or elemental mastery), and the cap (crown) for the chance of a critical hit/critical damage in a ratio of 1 to 2. The priority of choosing additional attributes is as follows way: Crete. damage > Crit chance. hits > Elemental Mastery > Energy restoration.
The best commands for al-Haytham
We already noted above that this character goes well with Electro, Pyro and Hydro heroes, especially if they are able to impose elemental statuses outside the battlefield. He will also need a second Dendro fighter to create a resonance and wear "Memories of the Deep Forest".
You should also not forget about good shieldmen, which can belong to other elements that do not interact with the Dendro element, for example, Zhong Li ( Geo) or Laila (Cryo). The optimal units are shown in the table below.
< td class="center">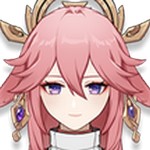 Yae Miko
Main DPS
Secondary DPS
Secondary DPS/Support
Support

Al-Haytham

Nahida

Jung Li (Kuki Shinobu)

Al-Haytham

< p>

Xing Qiu (Ye Lan)

< img class="aligncenter" src="/wp-content/uploads/2023/01/al-hajtam-v-genshin-impact-gajd-na-luchshie-bildy-36d044d.jpg" alt="Al-Haytam in Genshin Impact: best build guide" />

Raiden

Yao Yao

< p>

Al-Haytham

Xing Qiu

Fischl

< /p>

Shinobu Cookies

Al-Haytham< /p>

Lisa

Nahida

Jung Li

Al-Haytham

Bei Dou

Nahida

Zhong Li

Al-Haytham

Fischl

Nahida

Kokomi

Al-Haytham

Raiden

Kazuha

Kokomi

Al-Haytham

Nil

Nahida

Kokomi

< /td>
Leveling al-Haytham
How to improve skills
You have to search and collect many different materials, namely :
Teachings, Instructions, and Philosophies on "Wit" – Looted Tuesdays, Fridays, and Sundays in the Tower of Ignorance dungeon.
Faded, Banded, and Goldweave Red Silk – Dropped from Deserts, purchasable with Starlight, or crafted with using Alchemy.
Mirror of Mushin – drops from the weekly boss Seki no Kami.
Crown of Insight – can be obtained during events, as well as by leveling the Sacred Sakura, the Tree of Permafrost and the Tree of Dreams .
If we talk about the priority of pumping abilities, then it is recommended to pump ordinary strikes, an elemental skill and an elemental explosion at the same time up to about the 6th level. After that, if you prefer to use the hero as a procaster, then first get his ult to the maximum, and then finish off E-shka and simple attacks.
If you plan to play through infusion, keeping al-Haytham on the battlefield all the time, then first of all increase his normal attacks, and only then pump the elemental skill and elemental explosion.
How to raise a character
Get ready to search and collect a large number of different materials. Below is a list of them and how to get them.
First Ascension (Level 20; 20,000 mora) – 1 Nagadus Emerald Shard, 3 Sand Wen Grubs, 3 Faded Red Silks
Ascension 2 (Level 40; 40,000 mora) – 3 Nagadus Emerald Fragments, 2 Pseudo Stamens, 10 Sand Wen Larvae, 15 Faded Red Silks , 4 Pseudo Stamens, 20 Sand Wen Grubs, 12 Banded Red Silks
Fourth Ascension (Level 60; 80,000 mora) – 3 Nagadus Emeralds, 8 Pseudo Stamens, 30 Sand Wen Larvae, 18 Banded Red Silks
Fifth Ascension (Level 70; 100,000 mora) – 6 Nagadus Emeralds, 12 Pseudo Stamens, 45 Sand Wen Larvae, 12 Goldweave Red Silk
Sixth Ascension (Level 80; 120,000 mora) – 6 Precious Nagadus Emeralds, 20 Pseudostamens, 60 Sand Wen Larvae, 24 Goldweave Red Silk
You can get Nagadus Emeralds from Feathered Mold and Hypostasis Dendro. Pseudostamens can be obtained from the boss Unut Setekh, who lives in the Sumeru Desert. Sand Wen larvae are a local curiosity of Sumeru. In a separate guide, we will indicate their location.