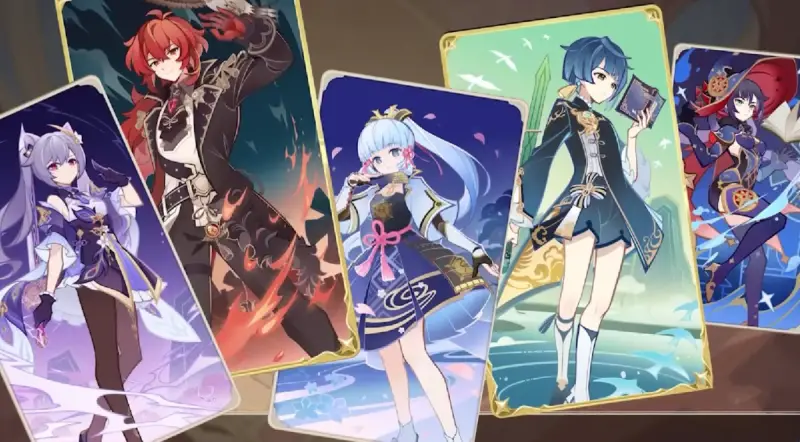 In Genshin Impact, Character and Action Cards are special items required for the Holy Call of the Seven Collectible Card Game. There are over a hundred of these cards that can be obtained in a variety of ways. The more you have, the more flexible your deck will be.
In this guide, we will tell you about all the varieties of cards and their features. You will also find out who you need to duel with to get new cards.
All types of cards for the Holy Call of the Seven
There are two main types of cards for this CCG: character cards and action cards. Both varieties are used in the action phase.
Character cards
Your main units are on the game board. It is they who will need to attack and defeat enemy hero cards. To do this, you need to use three abilities:
Normal strikes – cost 1 dice of the same element as the character, or 2 dice of any other element. Gives 1 energy when used.
Elemental Skill – Costs 3 dice of the same element as the character. Gain 1 energy when used.
Elemental Explosion – Costs 4 dice of the same element as the character and 3 energy.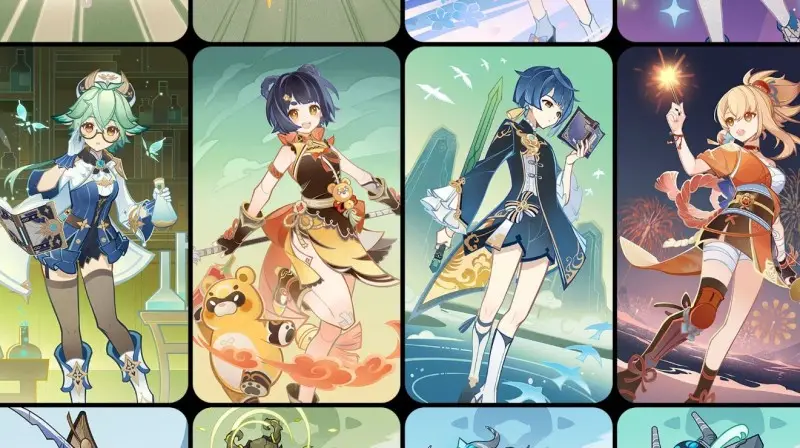 Action Cards
Used to gain certain bonuses or debuffs. They are divided into three subcategories:
Equipment cards are attached to a specific hero and increase his parameters. You will be able to equip your character with a weapon, artifact, or other type of equipment.
Event cards, when used, immediately activate one-time effects, for example, allowing you to draw 2 cards from a pile.
Support cards appear in the corresponding area on the game board and have a permanent effect while they are on the field. For example, you will definitely get 2 dice corresponding to the element of the active hero.
Winning an opponent with character cards alone will not work, so finding action cards should be given no less attention than finding hero cards.
All Ways to Earn Holy Call of the Seven Cards
There are several ways to earn new character and action cards, some of which will be available to you immediately, while others will be available only after leveling up. Next, consider each method in more detail.
Player Level Up
Participating in duels with various characters, completing additional tasks in duels and getting new cards, you will receive card experience points. After reaching a certain amount, you can increase your player level by chatting with the Prince in the Cat's Tail Tavern.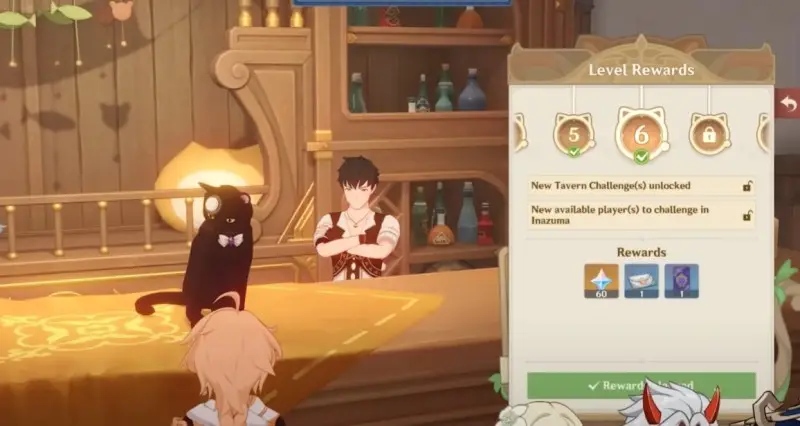 Your reward will be primogems, invitations, and new cards. You can upgrade to a maximum of level 10. These should not be confused with the ranks that are gained by completing the Ascension Challenges.
Player's Guide
After completing the tutorials, you will unlock access to the Player's Guide. It will present various tasks, completing which you will receive lucky coins, source stones, action cards and other types of rewards.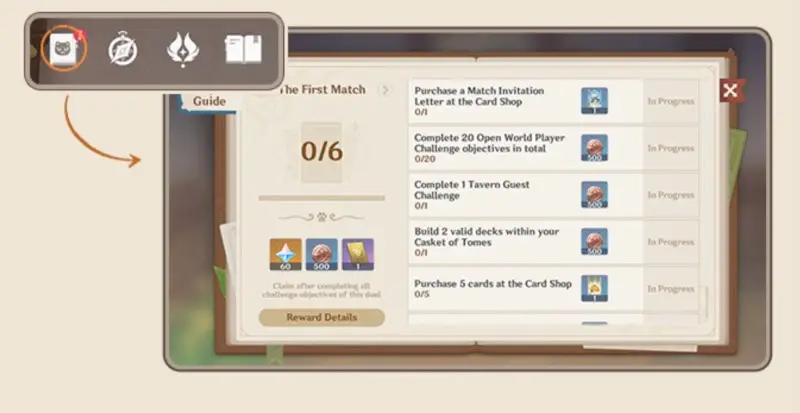 Card Shop
The main source of new cards in Genshin Impact. To study his assortment, you need to talk with the Prince and select the appropriate line of dialogue. You can purchase dozens of different character cards, equipment, events and support in it. Lucky Coins earned by dueling and completing quests in the Player's Guide are used to purchase.
It also sells card backs and holographic designs for character cards. The latter change the appearance of the cards, giving them animations and adding new effects when performing elemental explosions.
Dueling with characters
To get character cards and their talents, you will need to challenge certain NPCs to a duel , which can be encountered in the open world or in Cat's Tail (weekly guests or guest heroes).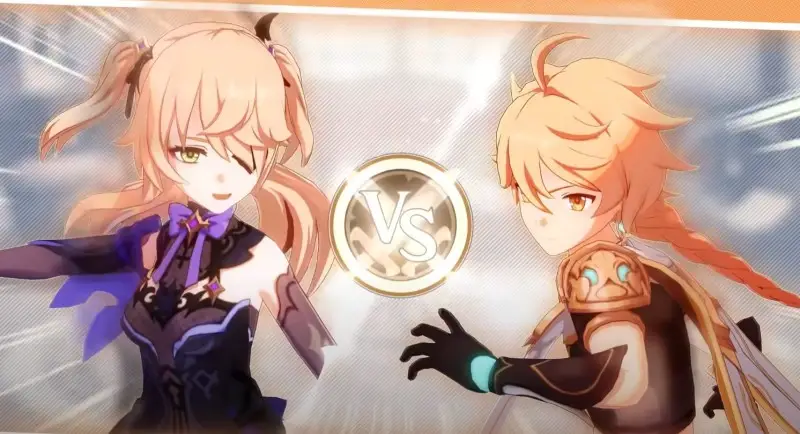 How to get all the Sacred Call of the Seven cards
Character cards
Currently, there are 27 such cards in the game. They represent not only playable heroes, but also some elite enemies and bosses. The table below lists their elements, characteristics, and how to obtain them.
| Character | Element< /th> | Weapon type | Statistics | Getting |
| --- | --- | --- | --- | --- |
| Dilyuk | Pyro | Two-Handed Sword | | |
| Xiang Ling | Pyro | Spear | | |
| Bennet | Pyro | One-Handed Sword | | |
| Eimiya | Pyro | Bow | | |
| Barbara | Hydro | Catalyst | | |
| Xing Qiu | Hydro | One ​​handed sword | | |
| Ayaka | Cryo | One-Handed Sword | | |
| Gan Yu | Cryo | Bow | | |
| Dion | Cryo | Bow | | |
| Keiya | Cryo | One-Handed Sword | | |
| Chong Yun | Cryo | Two-Handed Sword | | |
| Noelle | Geo | Two-Handed Sword | | |
| Ning Guang | Geo | Catalyst | | |
| Collei | Dendro | Bow | | |
Equip cards
This includes cards with weapons, artifacts, tools, and talents that can be equipped with characters, increasing their characteristics or giving them additional effects. Some of them can only be used with specific heroes.
The table below shows all cards with weapons: their type, buffs they give, and how to obtain them.
< td>
Name
Type
Effect
Receive

Magic Guide

Catalyst

Ceremonial Memoirs

Catalyst

Sky Atlas

Catalyst
< /td>

Raven Bow

Bow

Ceremonial Bow

Bow

Skywing

Bow
< /td>

White Iron Sword

Two-Handed Sword

Ceremonial Two-Handed Sword

Two-Handed Sword

Wolfbane

Two-handed sword

White Brush

Spear
< /td>

Stone Spear

Spear

Celestial Axis

Spear

Sword of the Traveler

One-Handed Sword

Ceremonial Sword

One-Handed Sword

< img class="aligncenter" src="/wp-content/uploads/2022/12/vse-karty-svjashhennogo-prizyva-semeryh-v-genshin-impact-kak-poluchit-ab765d2.jpg" alt="All cards of the Holy summoning seven in Genshin Impact: how to get " />

Falcon Sword

One-Handed Sword
< /td>
The table below shows all cards with artifacts, showing the buffs they give and how they can be obtained.
Name
Effect
Get

Adventurer's Bandage

Lucky Silver Crown

Healer's Handkerchief

Wine-Stained Tricorne

< /td>

Lost in the Blizzard

Echo of Frost Shards

Exiled Crown

Instructor Cap

Gambler's Earrings

Heart of the Deep

Smoldering Witch Hat

Burning Scarlet Witch

< /td>

Thundercaller's Crown

Thunderous Roar of Fury

Emerald Hunter's Wreath

< /td>

Emerald Shadow

Lone Basalt Mask

Archaic Stone

Laurel Crown

Memories of the Deep Forest
Support Cards
The table below shows all support cards, their bonuses and how they can be obtained.
| Name | Effect | Receive |
| --- | --- | --- |
| Paimon | | |
| Honey Sauce Chicken | | |
| | | |
| < p> | | |
Event Cards
They come in several types. Special cards can drop out at the very beginning of the duel. Their effects and getters are listed in the table below.
| Name | Effect | Get |
| --- | --- | --- |
| Strategist | Draw 2 cards | |
Resonance cards can only be used if you have two characters of the same element on your team.
These are all Holy Summon of the Seven cards available in Genshin Impact at the present time. We will definitely update the guide as soon as new playing cards appear in the game.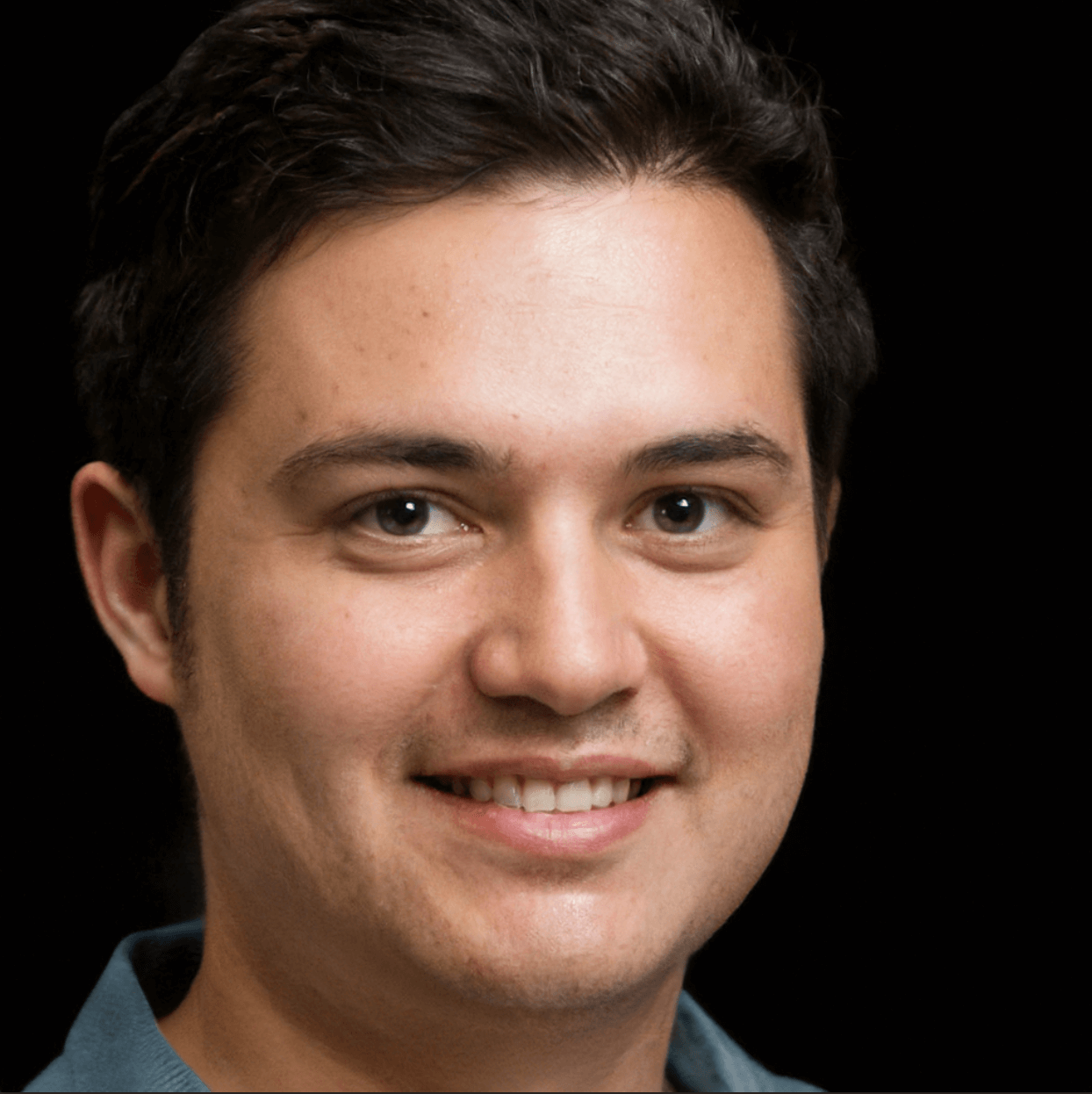 I like to play mobile games. Especially, Mobile Legends Bang Bang and COD Mobile.  I share my game experience. Sometimes I publish guides and tips from other players. So if you'd like to be published on Gameloid, please contact me.