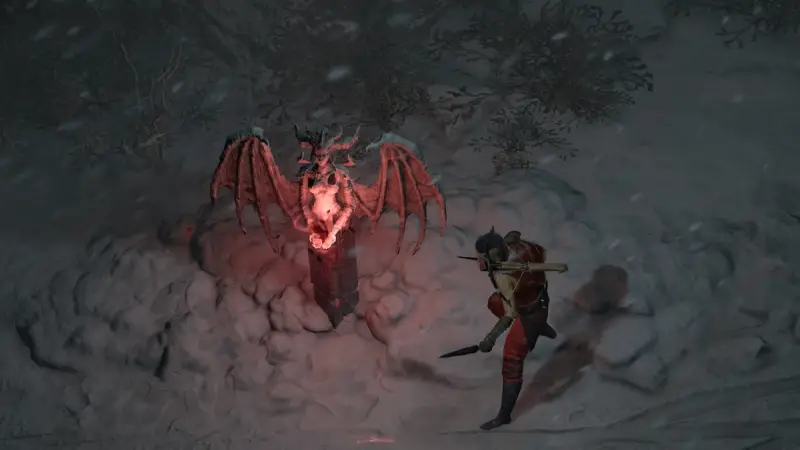 In Diablo 4, Lilith's altars are special objects that can be found to boost character stats and increase renown. They are scattered throughout Sanctuary, but are not marked on the map in any way, so finding them on your own is much more difficult.
In this guide, we will tell you exactly where you can find all the altars of Lilith, showing their exact location on the map, and also we will tell in detail about what exactly these statues give the players, and why it is so important to find them all.
What Lilith's altars give in Diablo 4
These objects allow you to significantly strengthen not only the hero who discovered them, but also all other characters (even seasonal ones) of one account (during the selected mode: normal or heroic). Each Altar of Lilith found can give them one of the following bonuses:
Strength +2 points.
Dexterity +2 points.
Intelligence +2 points .
Willpower +2 points.
Maximum number of whispering obols +5.
Improvement point +1.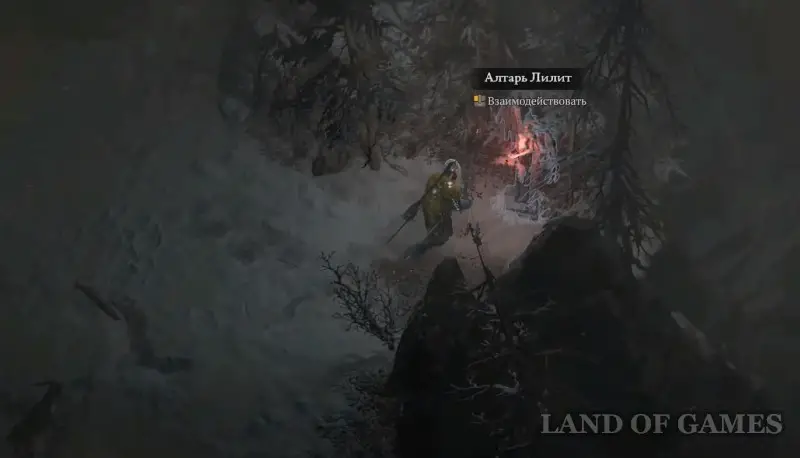 Buffs are not randomly selected, but are attached to certain altars, so finding all the statues in a particular region will give you a fixed amount of stat points.
Fame
We add that for the discovery of each altar of Lilith, they give 10 fame points. This parameter is a unique scale that is inherent in each region. You can view its value in the rewards menu – to do this, go to the world map and click on the "View rewards" button in the upper right corner of the screen. Here you can also see how many statues you have already found.
Why raise awareness at all? The fact is that reaching certain thresholds of this indicator, your current character and all the heroes of the account will receive a variety of bonuses, including gold, experience points and skill points. We will cover this mechanic in more detail in another guide.
Where to find all Lilith's altars in Diablo 4 (Map)
At the moment, there are 160 statues in Sanctuary, which are evenly distributed across all 5 regions. Once you find them all, each fighter on your account will receive the following stat boosts:
Strength +70 points.
Dexterity +66 points.

< li>Intelligence +68 points.

Willpower +68 points.
Maximum obols +100.
Improvement point +4.
Known +1600 points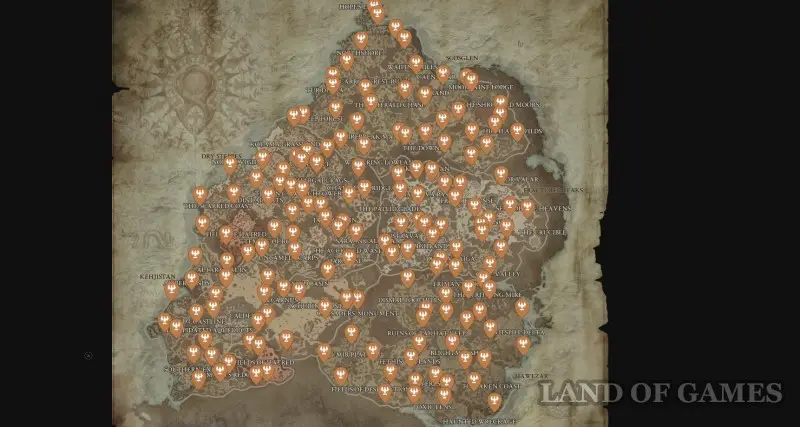 Fortunately, all altars have a fixed location, so in the places we have listed below, you are guaranteed to find the objects you need. We advise you to keep an interactive map of the world in front of your eyes in order to better navigate the terrain. Next, we will take a closer look at each region separately.
Altars of Lilith in the Shattered Peaks
In total, 28 statues of the demoness can be found in this territory. The map below shows their approximate location. Below, we will explain in more detail how to find all the altars of Lilith in this area.
Altar of Lilith 1
Location: Uncharted Highlands
Bonus: Agility +2 points
It can be found in the specified area, near the settlement of Nevesque. You will most likely find this statue during the starting story missions.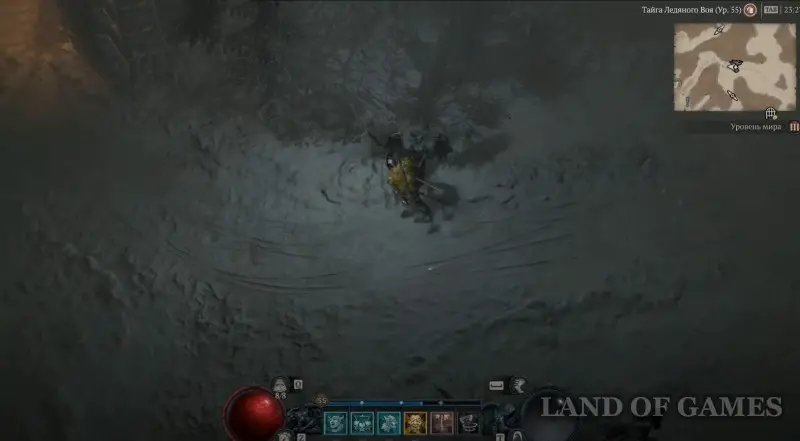 Altar of Lilith 2
Location: Uncharted Highlands
Bonus: Strength +2 points

< /ul>

It is hidden among the fir trees in the Icehowl Taiga. Just explore the indicated place well, and you will definitely find the right object.

Altar of Lilith 3

Location: Uncharted Highlands
Bonus: Agility +2

Go to the East Passage of the indicated area, climb the ledge, and to the right of the tent, surrounded by trees, you will find a statue. There may be enemies nearby.

Altar of Lilith 4

Location: Uncharted Highlands
Bonus: Intelligence +2 points

Can be found southwest of Kiowashad. Your path will pass through an arsonist post led by an elite Marauder. The statue sits right at the foot of the cliff and merges into it, so it can be easily overlooked.

< /p>

Altar of Lilith 5

Location: Pale Grove
Bonus: Max Obols +5

It can be found among the withered trees located on frost path in the specified area.

Altar of Lilith 6

Location: Pale Grove
Bonus: Agility +2 points

< /ul>

Located next to a rock and hidden behind some trees, making it difficult to see from a distance. There may be crowds of enemies nearby, so be careful.

Altar of Lilith 7

Location: Pale Grove
Bonus: Willpower +2 points

Go to the northern part of the specified area, go up Miller's Hill and look for a small wooden building here. Inside there will be a chest and the statue you need.

Altar of Lilith 8

Location: Nostrava
Bonus: Intelligence +2 points

After moving to the specified area, enter the building in the northeast, go through it, using the hole in the wall, and look for the statue a little ahead near the cliff.

Note that in order to gain access to the altar, you will first need to go through the event of this location by chatting with the priestess in the temple.

Altar of Lilith 9

Location: Sarkovsky Pass
Bonus: Max Obols +5

Go to the marked area and among the trees near the snowy road you will find a statue demoness.

Altar of Lilith 10

Location: Sarkovsky Pass
onus: Strength +2 points

Can be found in the northeastern part of the indicated area, not far from a group of enemies. The statue stands at the foot of the cliff.

Altar of Lilith 11

Location: Sarkovsky Pass
Bonus: Intelligence +2 points

Can be found on the edge of a cliff near the road. The statue blends in with its surroundings, so it can be quite difficult to see it from afar.

Altar of Lilith 12

Location: Sarkovsky Pass
Bonus: Willpower +2 points

Hidden among the trees right next to the road at the foot of the cliff. You will immediately see the statue due to its characteristic red glow. Be careful as there are enemies roaming nearby.

Altar of Lilith 13

Location: Kor Dragan
Bonus: Willpower +2 points

Go to the marked area and climb the fortress wall. You will find a statue near the edge of the fence to the east.

Altar of Lilith 14

Location: Ice expanse
Bonus: Agility +2 points

< /ul>

It can be found next to the cart on the edge of the cliff in the specified area. You should go to the right of the main road. Break the cart to get to the statue.

Altar of Lilith 15

Location: Icy expanse
Bonus: Intelligence +2

Go to the southwestern part of the marked area, go around the rock and look for a statue next to various junk, on the edge of the cliff.

Altar of Lilith 16

Location: Icy Expanse
Bonus: Strength +2 points

It is located on a hill, which leads to a narrow path in the marked area. Just walk across it and you will see the statue at the end.

Altar Lilith 17

Location: Icy Expanse
Bonus: Willpower +2 points

It stands on a small branch off the main road, not far from the snow-covered Christmas trees. Be careful as there are enemies roaming nearby.

Altar of Lilith 18

Location: Ice expanse
Bonus: Max obols +5

Go to the next branch of the main road. At the bottom of the tents among the trees you will find the statue you need.

Altar of Lilith 19

Location: Malnok
Bonus: Strength +2 points

Enter the building near the notice board in the village and you will find a statue inside. Note that in order to gain access to it, you will first need to go through the local event, that is, take control of the fortress (recommended level is not lower than 20th).

Altar of Lilith 20

Location: Celestial Throne
Bonus: Strength +2

Go right from the main road to the edge of the cliff. Near the snowy cliff you will find the statue you need.

Altar of Lilith 21< /h3>

Location: Sky Throne
Bonus: Intelligence +2

It is hidden in a small hole in the rock, so it can be difficult to find it. There are also groups of enemies roaming around, so be careful.

Altar of Lilith 22

Location: Heavenly Throne
Bonus: Agility +2 points

< /ul>

Go to the northern part of the indicated area and approach the very edge of the cliff. Next to the ruins you will find a statue.

Altar of Lilith 23

Location: Storm Valley
Bonus: Agility +2 points

< /ul>

Go to the northwestern part of the specified area, go along the narrow path and among the fir trees you will see a statue. There may be enemies near it.

Altar of Lilith 24

Location: Storm Valley
Bonus: Willpower +2

Move to the east-central part of the specified area and look for the statue near the wooden buildings and trees.

Altar of Lilith 25

Location: Storm Valley
Bonus: Intelligence +2

It can be found to the right of a small pool at the foot of the mountain. The statue stands among the trees, next to the chest.

Altar of Lilith 26

Location: Taiga Dobrev
onus: Max whispering obols +5

It is located on a hill next to the chest. The statue is hidden among the trees, so it can be easily overlooked.

Altar of Lilith 27

Location: Taiga Dobrev
Bonus: Willpower +2

Head to the southern part of the indicated area and go down from the main road. In a small alcove of the rock you will find the statue you need.

Altar of Lilith 28

Location: Taiga Dobrev
Bonus: Willpower +2 points

Found in a cave located in the southeastern part of the indicated area. It gets light from the hole, so it's pretty easy to spot.

Altars of Lilith in Skosglen

In total, 34 statues of the demoness can be found in this territory. The map below shows their approximate location. Below, we will explain in more detail how to find all the altars of Lilith in this area.

Altar of Lilith 1

Location: Upland Wilds
Bonus: Intelligence +2 points

Go to the southern part of the indicated area , walk along a small natural bridge and find the statue at the foot of the cliff. Be careful, as creepy followers of Lilith roam nearby.

Altar of Lilith 2

Location: Upland Wilds
Bonus: Willpower +2 points

Hidden behind trees in the Dead Forest. Look for the statue near the rocky plateau.

Altar of Lilith 3

Location: Upland Wilds
Bonus: Strength +2 points

< /ul>

Hidden on the east edge of the target area among the trees in the Dead Forest.

Altar of Lilith 4

Location: Upland Wilds
Bonus: Strength +2

It can be found in the northern part of the indicated area near rocks and trees.

Altar of Lilith 5

Location: Upland Wilds
Bonus: Agility +2

Go to the northwestern part of the indicated area and follow the narrow path. When you reach the river, you will find the desired statue in the water.

Altar of Lilith 6

Location: Upland Wilds
Bonus: Strength +2 points

Look north of the obelisk that triggers the event. The statue is located on the edge of a cliff near the river.

Altar of Lilith 7

Location: Misty Wastes
Bonus: Intelligence +2 points

Hidden in a small corner near dilapidated walls in the Daudur Peat Bogs southwest of the Well of Healing.

Altar of Lilith 8

Location: Misty Wastes
Bonus: Willpower +2 points

While in the Valley of Blood, follow the narrow path to the east, and at the end of the path you will find the desired statue.

Altar of Lilith 9

Location: Misty Wastes
Bonus: Strength +2 points

Head to Loch Raet, located in the west of the specified area and on a narrow path near the stones you will find a statue.

Altar of Lilith 10

Location: Moordain's Hut
Bonus: Willpower +2 points

In the marked area, go west and look for the statue in a small corner hidden by trees (you have to duck to get through). You can use Wind Wildtree as a guide.

Altar of Lilith 11

Location: Shore
Bonus: Willpower +2 points

< /ul>

Go to the eastern part of the area (Fiabre), climb the ledge and look for a statue on the hill.

Altar of Lilith 12

Location: Shore
Bonus: Strength +2

Descend into the Ragged Shoals and enter the ruined sanctuary where you will find the statue.

Altar of Lilith 13

Location: Shore
Bonus: Willpower +2 points

Go to the western part of the indicated area, to Torvstraat and look for a wooden shack there. Inside it you will find a statue. Be careful, as you may be attacked by Blood Marauders.

Altar of Lilith 14

Location: Hills
Bonus: Strength +2 points

Travel to the Spirit Valley, located in the northwestern part of the indicated area. There, near the chest and the ruins of the building, you will find a statue.

Altar of Lilith 15

Location: Hills
Bonus: Agility +2

Go to the Vicious Fissure in the south-central area. The statue is hidden behind the branches of a large tree.

Altar of Lilith 16

Location: Hills
Bonus: Agility +2 points

Go to Bealath's Rise in the southwest of the specified area and look for the ruins of a stone building near the Well of Healing. Inside it you will find a statue. Be careful, as bloodletters can attack you.

Altar of Lilith 17

Location: Emerald Fields
Bonus: Strength +2 points

Go to the Emerald Meadows, located in the southeast of the specified area, and go into the grove. Here, among the trees, you will find the statue you need.

Altar of Lilith 18

Location: Emerald Fields
Bonus: Intelligence +2 points

Head to the Shady Forest located in the northwestern part of the area and look for the statue near the edge of the cliff.

Altar of Lilith 19

Location: Emerald Fields
Bonus: Agility +2 points

Go to the Old Clearing, located in the northwestern part of the indicated area, and find the statue surrounded by trees. Be careful as bandits may attack you.

Altar of Lilith 20

Location: Howling Hills
Bonus: Willpower +2 points

Reach Bronagh Reach, located in the southern part of the specified area, and go along a narrow path, in the branch of which you will find a statue among the trees.

Altar of Lilith 21

Location: Howling Hills
Bonus: Strength +2 points

< /ul>

Go to the Wailing Shore in the center of the marked area and you will find the statue in the trees to the left of the main road.

Altar of Lilith 22

Location: Howling Hills
Bonus: Intelligence +2

Head to the Ancestral Heights located in the northern part of the area. In the canyon, look for the statue near the foot of the cliff.

Altar of Lilith 23

Location: Light of Hope
Bonus: Strength +2

Climb aboard the ship in Cursed Cove, then zip-line to the ledge on the right. Here you will find the statue you need.

Note that in order to gain access to this stone figure, you will first need to complete some part of the area's story quest, within which you will have to find the way to the lighthouse.

Altar of Lilith 24

Location: North Shore
Bonus: Strength +2

Go to the Grotto of the Powerless Storm, located in the eastern part of the specified area, and look for a statue on the coast, right next to with water.

Altar of Lilith 25

Location: North Shore
Bonus: Agility +2 points

< /ul>

Head to the Cursed Ledges in the northern part of the area and look for the statue on the water near the giant bones and the chest. There may be enemies nearby, so be careful.

Altar of Lilith 26

Location: North Shore
Bonus: Intelligence +2

Go to the Old Mines, located in the western part of the location, and look for a statue in an open wooden building.

Altar of Lilith 27

Location: North Shore
Bonus: Agility +2 points

Get to the Drying Creek, located in the southwestern part of the location, and look for a statue next to the river. Be careful as this is where a Firewalker Lycan might pounce on you.

Altar of Lilith 28

Location: Deep Thicket
Bonus: Agility +2

Head to Duin Carr, located in the northern part of the specified area, and follow the narrow path to the west. Here, next to the cliff, you will find a statue.

Altar of Lilith 29

Location: Deep Thicket
Bonus: Intelligence +2 points

< /ul>

It is hidden in the Woods of the Ancients among the trees, not far from the abandoned tent. Be careful, as we can be attacked by stinging midges.

Altar of Lilith 30

Location: Deep Thicket
Bonus: Agility +2 points

< /ul>

Go to Basil's Reach and head down into the cave. At the end of it you will find a chest and a statue. Immediately after activating it, you can be attacked by Filthy Heralds of the Mother and their minions.

Altar of Lilith 31

Location: Dulra Tour
Bonus: Intelligence +2 points

Get to the Deadbark Thicket, and then go to Tour Dulra, go through the ruins and jump over the gap into a dilapidated tower. Here you will find the statue.

To get to the desired area, you will have to complete the story mission of the area, which can take up to 20 minutes of real time.

Altar of Lilith 32

Location: Western Lowlands
Bonus: Willpower +2 points

Go to the Cutthroat Grove located in the southwestern part of the specified area, and find the statue among the trees near the main road.

Altar of Lilith 33

Location: Western Lowlands
Bonus: Willpower +2 points

Go to the Lagland Bog, located in the southeastern part of the said area, and find the statue just below the main road. Watch out, as the Wrapping Stranglers can pounce on you.

Altar Lilith 34

Location: Western Lowlands
Bonus: Agility +2

Go to Elders' Highlands and look for the statue among the trees.

The guide is in the process of being written…