5 letters in Tinkoff is a special promotion from the bank, made in the form of a game where you need to guess words. The more words you can guess, the more valuable the rewards you will receive (for example, 60 correct answers will give you 50% cashback in Ozon). In this article, we will tell you how to take part in this event, explain its rules and give answers to all questions.
How to participate in the game 5 letters from Tinkoff
The bank regularly restarts this promotion. For example, now it will last from October 6 to December 20 of the current year. To participate in it, you only need to fulfill two conditions, namely:
Become a Tinkoff client, if you are not already one. Note that anyone can open a free account with this bank.
Download the Tinkoff mobile app.
Next, open the program, go to the "Services" tab in the bottom menu, scroll down the page a little and click on the "5 letters" icon. Note that you need to guess the words every day, so do not forget to open the application daily.
< p>
Below we will indicate all the correct answers for each day. If you want to understand this game and guess the words yourself, then study our guide to it, presented at the end of the article.
5 letters in Tinkoff: answers for today
November 9< /h3>
Correct word:
November 8
Correct word:
November 7 (today)
Correct word: GRAM
November 6
Correct word: PLAYER
< img class="aligncenter" src="/wp-content/uploads/2022/11/answer-na-igru-5-bukv-v-tinkoff-s-6-oktjabrja-po-20-dekabrja-cad5473.jpg" alt="Answers to the game 5 letters in Tinkoff (October 6 to December 20)" />
November 5
Correct word: ENAMEL
November 4
Correct word: SALUTE
3 November
Correct word: INCOME
November 2
Correct word: PROSE
November 1
Correct word : JEGER
October 31
Correct word: PUMPKIN
October 30
Correct word: CHEMISTRY
29 October
Correct word: LETTER
October 28
Correct word: TARIFF
October 27
Correct word : MOUTH
October 26
Correct word: TAXI
October 25
Correct word: WASTE
October 24
Correct word: BATON
October 23
Correct word: POSTER
October 22
Correct word: RUBLE
October 21
Correct word: COOK
October 20
Correct word: SUM
October 19
Correct word: MODEL
October 18
Correct word: ADVANCE
October 17
Correct word: EVENING
October 16
Correct word: SUCCESS
October 15
Correct word: CONTRIBUTION
October 14
< p>Correct word: EXCHANGE
October 13
Correct word: CASTLE
October 12
Correct word: TANGO
October 11
Correct word: PARAGRAPH
October 10
Correct word: ARCHIVE
October 9
< p>Correct word: LEADER
October 8
Correct word: YOUTH
October 7
Correct word: EXCHANGE
October 6
Correct word: BUCKET
How to guess words in 5 letters Tinkoff
Your task will be to guessing a certain word (it is always a noun), consisting of 5 letters. You will only have 6 attempts, but you can always use hints in the form of highlighted letters:
If the letters are written on a gray background, then they are not in the correct word.
If the letters are written on a white background, then they are in the correct word, but you made a mistake with their position.
If the letters are written on a yellow background, then they are in the correct word and located in the right place .
We add that in words instead of "Yo" it is always written "E". In addition, words can contain two identical letters, for example, GRAMM has two letters "M".
Awards and prizes for guessing words of 5 letters
Giving the correct answers, you can get different prizes. The first award is given out for 1 guessed word, the second – for another 5 words, the third – for another 10 words, and so on. Of course, the most delicious offers are given only for the maximum number of correct answers.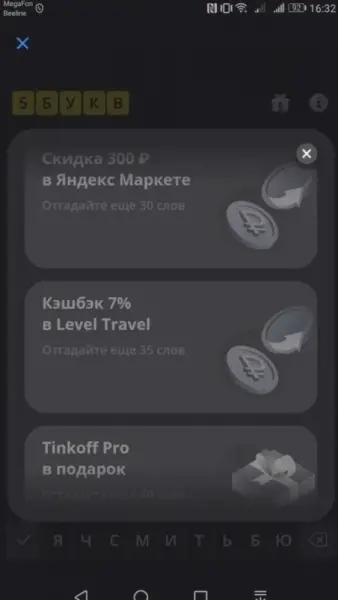 To get most of the rewards, you need to log into the bank application every day, turning it into a kind of daily ritual. Otherwise, you can miss the most interesting proposals. The table below shows all prizes and the number of words needed to open them.
Number of additional words
Reward Type
Service
Guess 1 more word
Cashback +3%
Technique
Guess 5 more words

< td class="center">Cashback 5%

Yandex.Food
Guess 10 more words
40% cashback
Evie
Guess 15 more words
5% cashback
Dodo Pizza
Guess 20 more words
Cashback +10%
LitRes
Guess 25 more words
+10% cashback
Theatres
< td class="center">Guess 30 more words
300 rubles discount
Yandex.Market
Guess 35 more words
7% cashback
Level Travel
Guess 40 more words
Gift
Tinkoff Pro
Guess another 45 words
Cashback +10%
Fuel
< td class="center">Guess another 50 words
Cashback +10%
VkusVill
Guess another 55 words
Shares up to 1000 rubles
Investments
Guess another 60 words
50% cashback
Ozon
We hope that this information will help you find all the answers to the 5 letters game in Tinkoff and get maxi small prize.