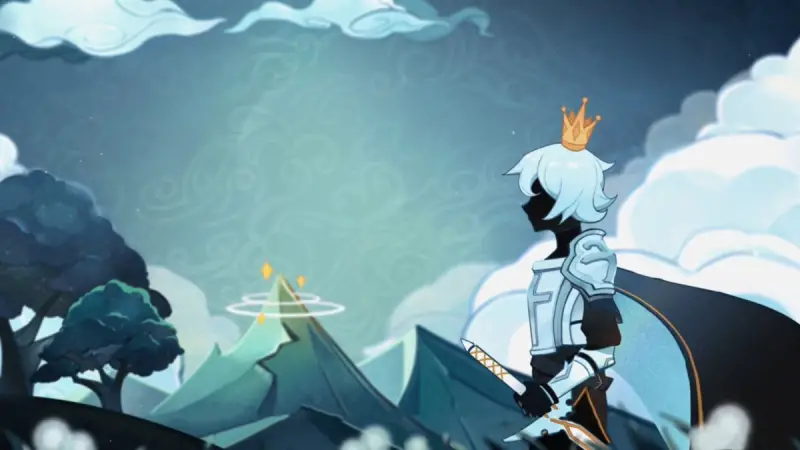 The Genshin Impact Battle Pass is a system that allows travelers to earn rewards for their in-game activity. BP opens at 20 Adventurer Rank and guarantees rewards for all players, regardless of whether they invest in the game or not.
Don't miss the best Black Friday deals!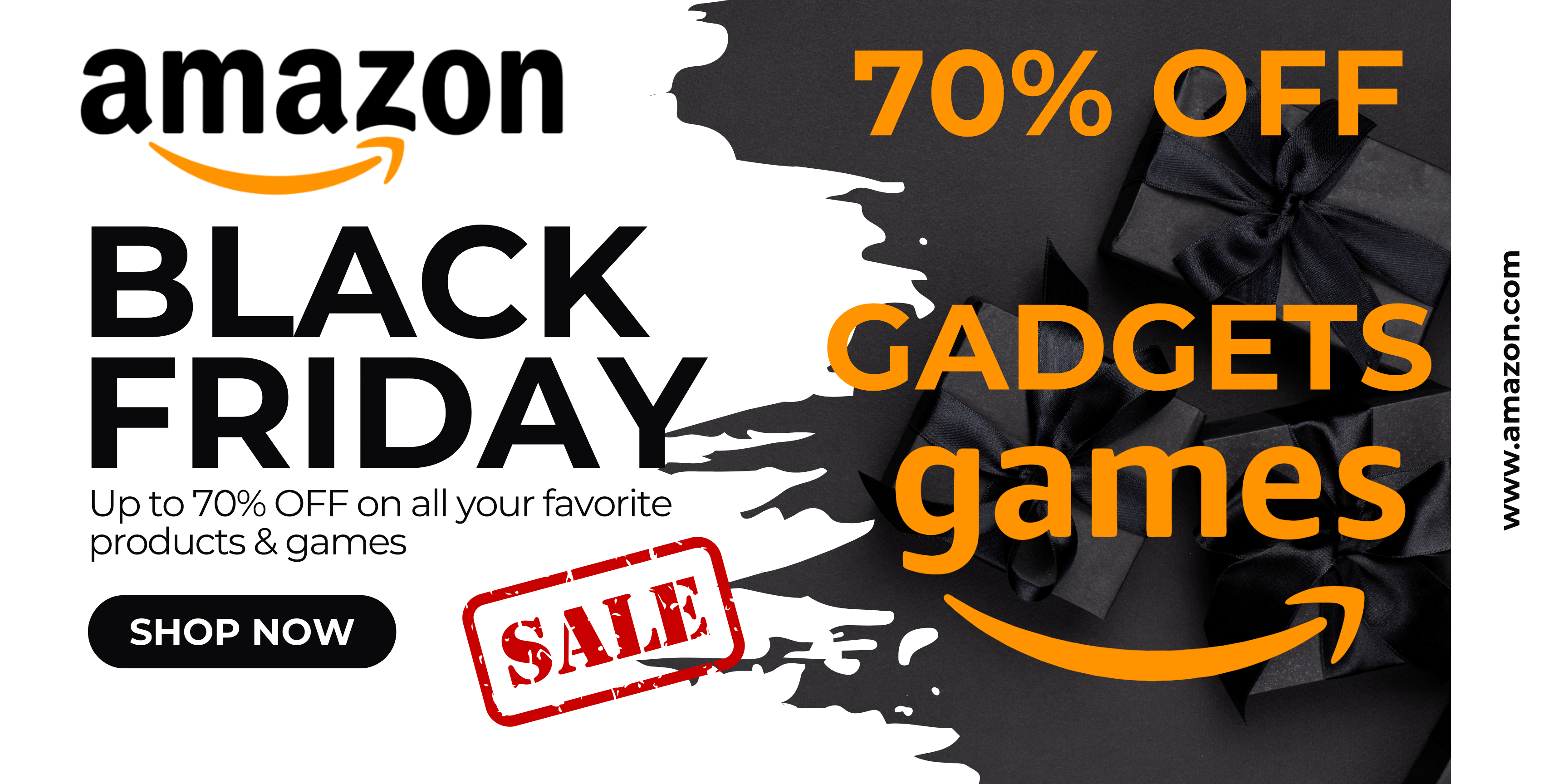 In this guide, we described in detail the mechanics of the Battle Pass, as well as talked about paid and available all BP versions to all players.
Combat Pass Overview
How to unlock the Battle Pass
Gamers can simply go to the appropriate menu. There are four ways to do this: via the button in the upper corner of the screen, via the shortcut wheel (Tab by default), via pressing the F4 key (by default), or via the Paimon menu.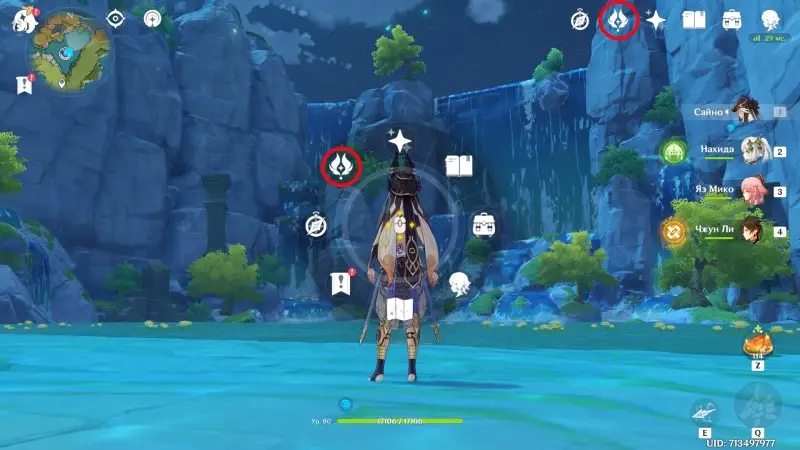 How the Battle Pass works
The Battle Pass is a progress bar with 50 levels that reset every season, allowing travelers to collect new rewards every 40 days.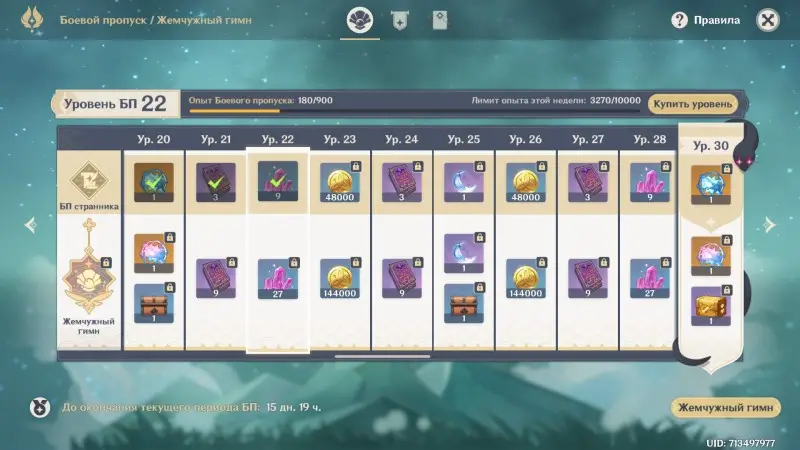 To reach new levels and rewards, players need Battle Pass Experience. It can be obtained by completing tasks that are updated once a day/week/40 days. It takes 900 experience points to reach one level of BP. You can get no more than 10 thousand XP per week, but there is an exception: tasks marked with [Event] increase the level of BP, but do not count towards the limit, i.e. they can be used to level up even when the limit is already reached.
You can also buy BP levels with Source Stones. To do this, click the "Buy Level" button to the right of the progress line and select the desired number of levels. Buying each level costs 150 primogems.
Paid and free versions of the Battle Pass
Initially, the free version of the Battle Pass is available to travelers, and the rewards are presented from the "Wanderer BP" line. If desired, players can purchase its paid version: Pearl Anthem or Pearl Choir. The first one will unlock all the bottom row rewards and allow you to select any special weapon (after level 30), while the second one will unlock all the Anthem rewards, as well as an additional 10 levels of the Battle Pass, a special drawing for the Kettle of Serenity and a name card unique for each season.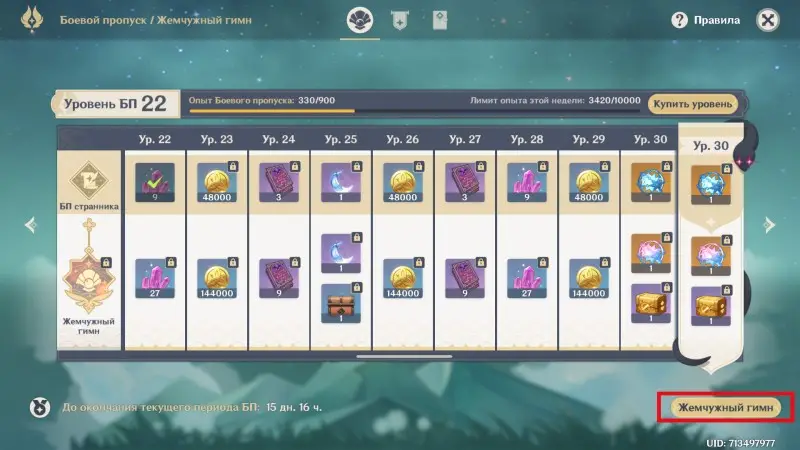 You can purchase a paid version of the BP in the Pearl Anthem tab of the same name using a bank card or any other method available in the game. The Pass can be purchased at any time, but it will only be valid until the end of the current season.
Battle Pass Missions
The BP missions tab consists of three sections: daily, weekly, and current season objectives , and progress in these sections is reset when the server is updated in a day/week/season, respectively.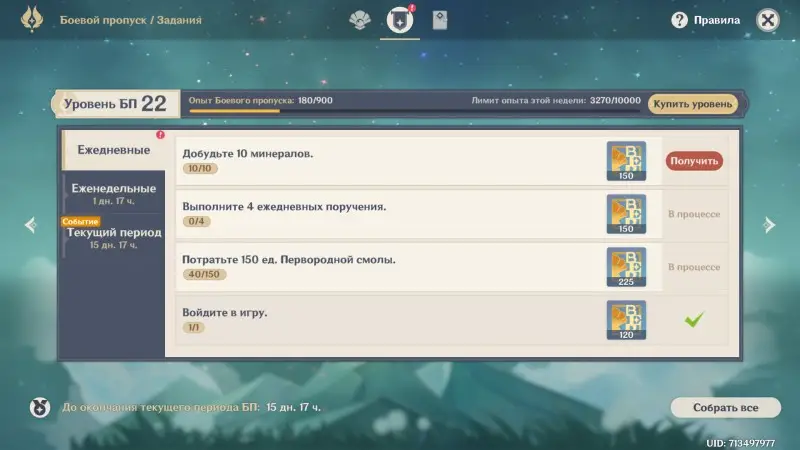 Daily quests give the least experience, but given their frequent updates and easy completion, they should not be ignored.
Total There are four daily quests in the BP: enter the game, complete all daily quests, spend 150 units of Elemental Resin and get 10 of any minerals.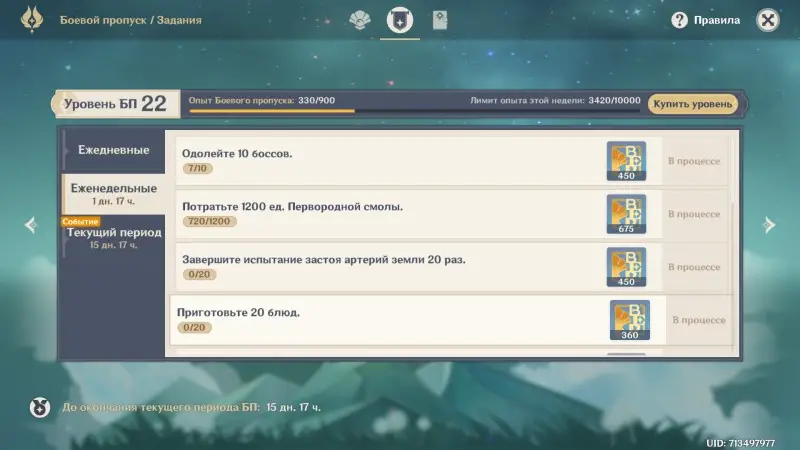 Weekly quests give a lot more experience, but they are not as easy and fast to complete as daily ones. As new content is introduced into the game, tasks may be added and removed.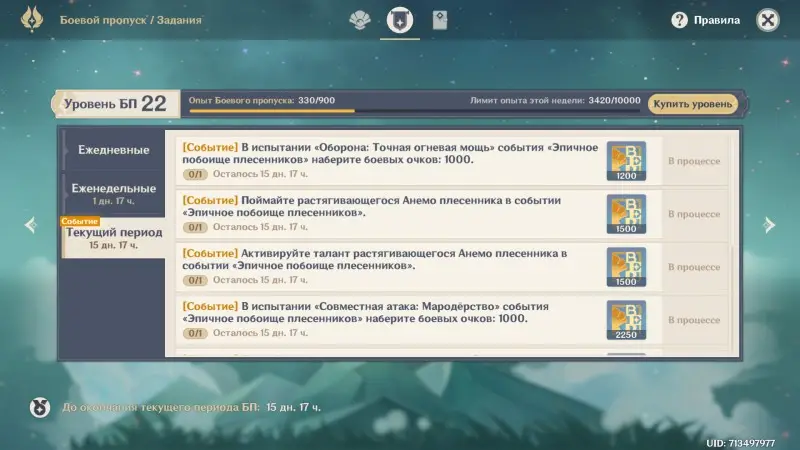 Current period quests, or seasonal quests, only contain two permanent sources of experience: for performing 50 prayers and for collecting 12 stars in the Twisted Abyss. All other tasks are Events that can be completed through the passage of in-game events. They give the highest amount of experience, and their number varies depending on the events currently in the game.
Battle Pass Rewards
In the BP system, there are two lines with rewards: available to everyone on the Wanderer BP line and rewards on the Pearl Anthem line for those who have purchased the paid version.
In addition to the general rewards, Pearl Anthem gives 9 chests with talent books: 6 with instruction books for two different regions (i.e. 3 per region), 2 with philosophy books for different regions, and 1 weapon chest from BP.
Clearly everything you can see the awards in the picture below.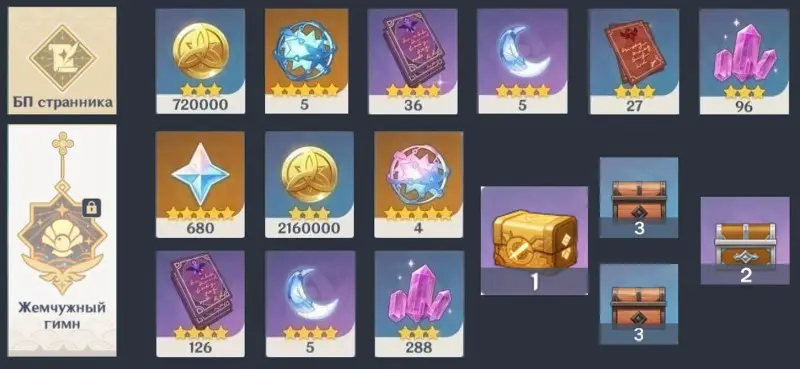 Battle Pass Weapons Overview
Purchasing a Pearl Anthem or a Pearl Choir as a weapon, you can get a bow, a catalyst , spear, two-handed or one-handed sword. All these types of weapons are 4-star, but they have excellent passives, and as additional stats they have a chance of critical damage.
Black Sword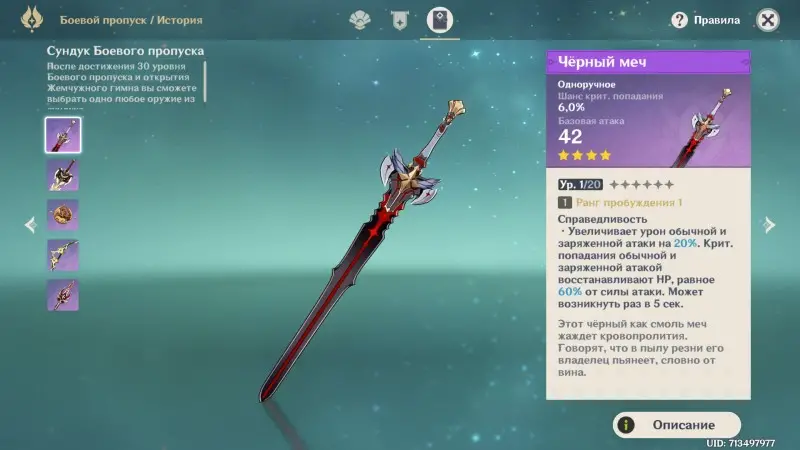 The black sword is a one-handed blade. His passive ability increases the damage of normal and charged attacks, which makes him an excellent choice for the main damage dealers of the squad, for example, for Ke Qing, Ayato, Ayaka or Jinn. Moreover, critical hits with regular and charged attacks can restore the health of the character equipped with this sword once every 5 seconds, which reduces the need to take a healer into the squad.
Dragonbone Sword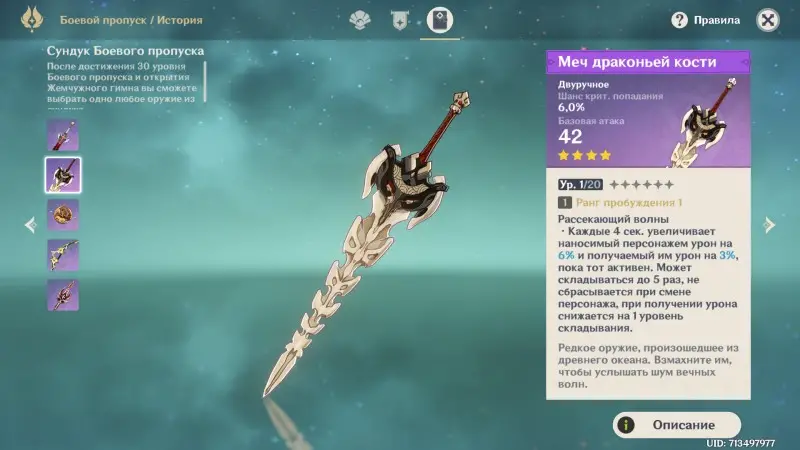 The Dragonbone Sword is a two-handed sword. His passive ability, on the one hand, increases the damage dealt by the character, and on the other hand, makes the character more vulnerable to enemy attacks. Damage dealt can be increased by a maximum of 30-50%. In connection with the second part of the passive, it is better to take a character with a shield into the squad, and the claymore itself can be put on the main or secondary DD. The weapon will suit Itto, Dilyuk, Noelle well. Bei Dou, Eole, Razoru and Xin Yan.
Sun Pearl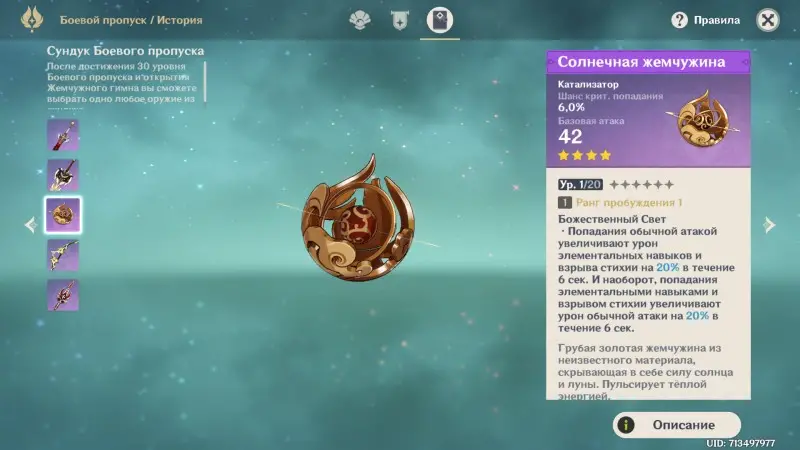 The Solar Pearl is a catalyst. Her passive ability amplifies elemental blast and elemental skills by hitting an enemy with normal attacks, and enhances normal hits with elemental skill hits and elemental blasts. Given that many Catalysts use charged attacks and are not affected by the weapon's passive, Solar Pearl is usually chosen when there is not enough chance of a critical hit. It will suit top damage dealers like Ning Guang, Yan Fei, Yae Miko, Klee, and Nahida.
Green Onion
The green bow is a ranged weapon. If the character hits an enemy with a Normal or Charged Attack, the Bow's Passive has a 50% chance to create a Cyclone that will pull enemies in and deal damage. This weapon is suitable for both main damage dealers and supports; for example, it can be placed on Tartaglia, Gan Yu, Eimia, Tignari or Fischl.
Mortal Kombat
Mortal Kombat is a spear, and its passive ability increases the character's attack power depending on how many enemies surround it. Since the maximum attack power increases when there is only one enemy nearby, it is best to go to bosses with this spear. The high percentage of critical hit chance makes Mortal Kombat a good weapon for top damage dealers such as Saino, Raiden, Hu Tao, Xiao, Zhong Li, Rosaria, and Xiang Ling.