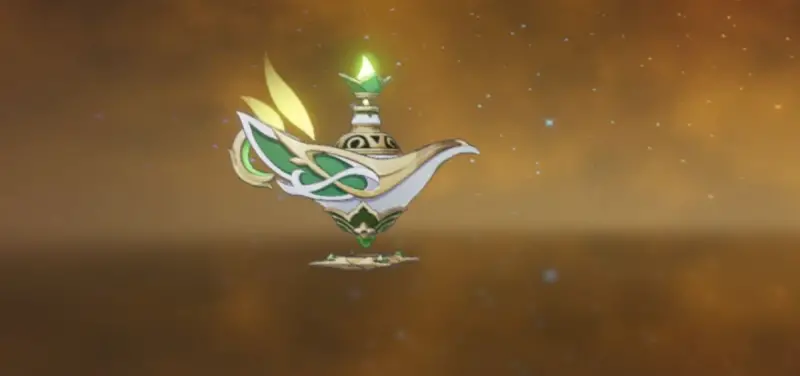 Dreams of a Thousand Nights in Genshin Impact are a legendary catalyst that was introduced in Patch 3.2 as a signature for Nahida. Our guide will give you all the details on how to get this weapon, where to get the materials to upgrade it, and which heroes it will suit.
How to get the Dream of a Thousand Nights
Get it 5- star weapons can only be obtained with the help of event prayers in the weapon banner "Incarnation of the Deity". The catalyst is currently temporarily available in version 3.2.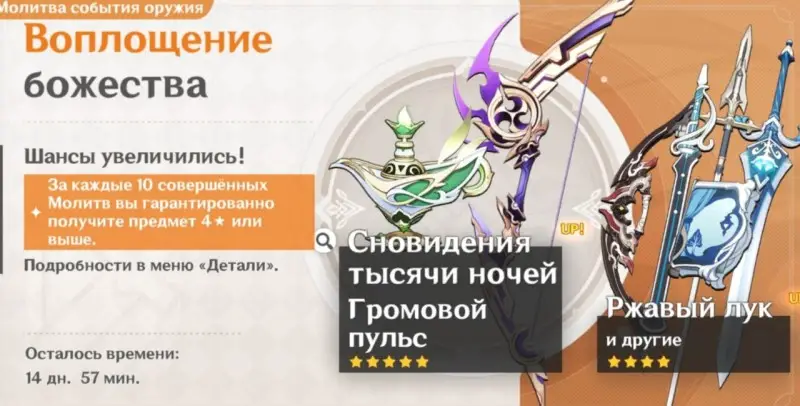 A Dream of a Thousand Nights
Rarity: 5 Stars
Basic Attack: 44–542
MS: 58–265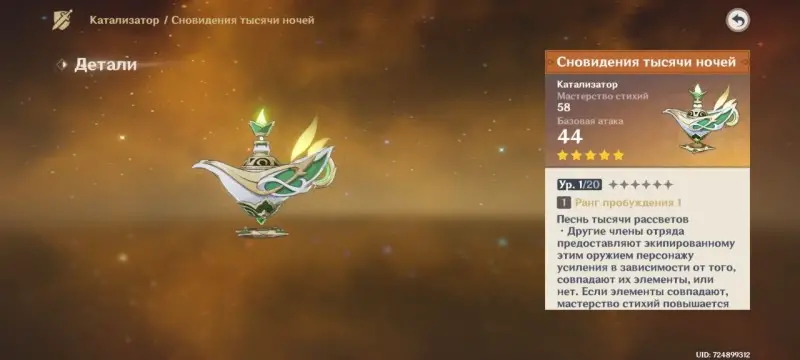 Passive ability: depends on the elements of other heroes on the team. If they match a Catalyst Carrier, the Catalyst Carrier receives 32–64 Power. MS. If the elements are different, the Catalyst with this weapon takes an additional 10-26% elemental damage. Bonuses can stack up to 3 times, and also if other characters in the squad also carry this weapon. Finally, the MC of all party members except the owner of the catalyst is increased by 40.
How to upgrade Dreams of a Thousand Nights
Below is a table with all the materials needed to upgrade Dreams of a Thousand Nights.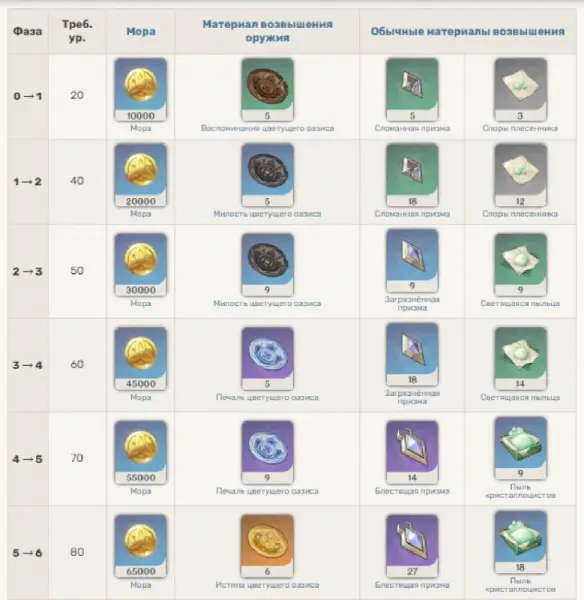 The bottom lines are the total amount of materials needed to fully ascend the weapon. If you are just planning to knock out this catalyst, we advise you to immediately stock up on resources. They can be found in the following locations:
Blossoming Oasis Resources (Memories, Mercy, etc.) – in the Tower of Contemptible Pride dungeon (Sumeru) on Tuesday, Friday and Sunday.
Prisms – after defeating the Primordial Constructs in the Sumeru Desert (map with their location – below).
Mold Spores, Luminous Pollen and Crystalcyst Dust – in Sumeru and the Rift, after the battle with molds (map with specific locations is presented on the second picture).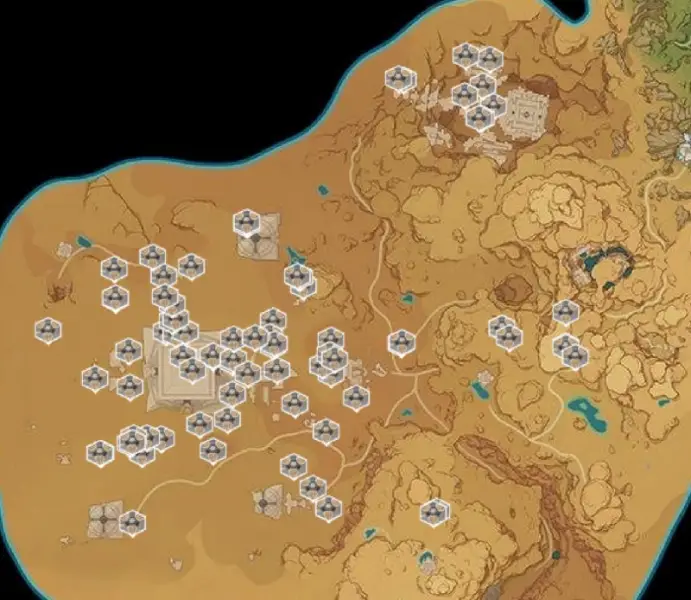 How to awaken Dreams of a Thousand Nights< /h3>
Like many other weapons, this Catalyst can be awakened by duplicates, which all drop in the same Manifestation of the Divine banner.
In addition, for each new awakening, you will need more and more pestilence: from 2 to 16 thousand.
Which character to give Dreams of a thousand nights
Weapons should be given to the catalysts playing in packs from reactions. It is good for both damage dealers and supports, as it buffs both the carrier and the entire squad. Let's take a closer look at who is better to give this catalyst.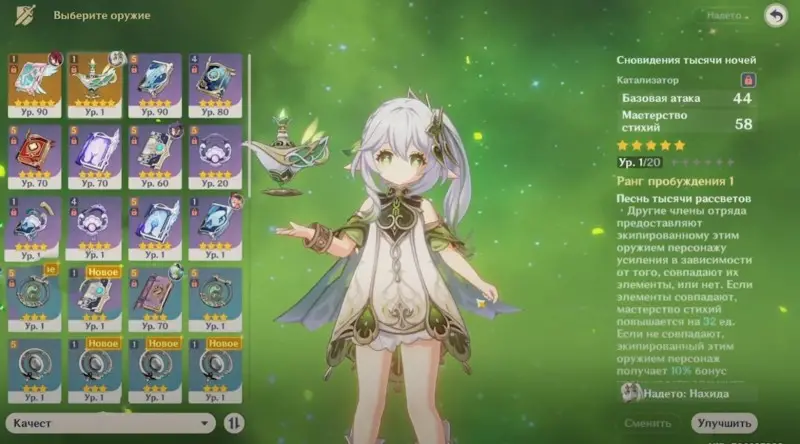 Nahida. First of all, of course, the weapon is great for the Dendro Archon, whose damage largely depends on the level of MS.
Sucrose. As a support, Sucrose with this catalyst is great for buffing a squad and greatly increasing reaction damage.
Lisa/Yae Miko. The heroines of one element – Electro – needing MS during the reaction Catalysis (Dendro + Electro + Dendro/Electro).
Kli/Yan Fei. Two more similar heroes with the Pyro element. The Catalyst, by increasing MS, will increase the damage of the Vapor and Melt reactions. In this case, you will definitely have Hydro and/or Cryo characters in your squad, which will also give you an elemental damage passive.
How to use Dreams of a Thousand Nights
Given the characteristics of the catalyst's passive, the most important thing when playing with it is to collect the right pack. First, focus on the reactions you want to play. This is already 2-3 characters with different elements, that is, a good bonus to elemental damage. For the last character, we recommend taking a hero of the same element as the weapon bearer: this will not only add a little MC, but also give elemental resonance.
< /p>
For example, if you take a squad consisting of Nilu, Nahida (uses Dreams of a Thousand Nights), Kollei and Kokomi, then on the 1st awakening of the weapon and when it is fully pumped Dendro, the archon will receive a 20% bonus to the elemental damage and +297 Elemental Mastery, which will, of course, greatly increase Nahida's damage output. In addition, the MC of all other party members will increase by 40 points.
If we talk directly about the use of the catalyst, then there is nothing difficult, since its passive does not require additional actions to activate.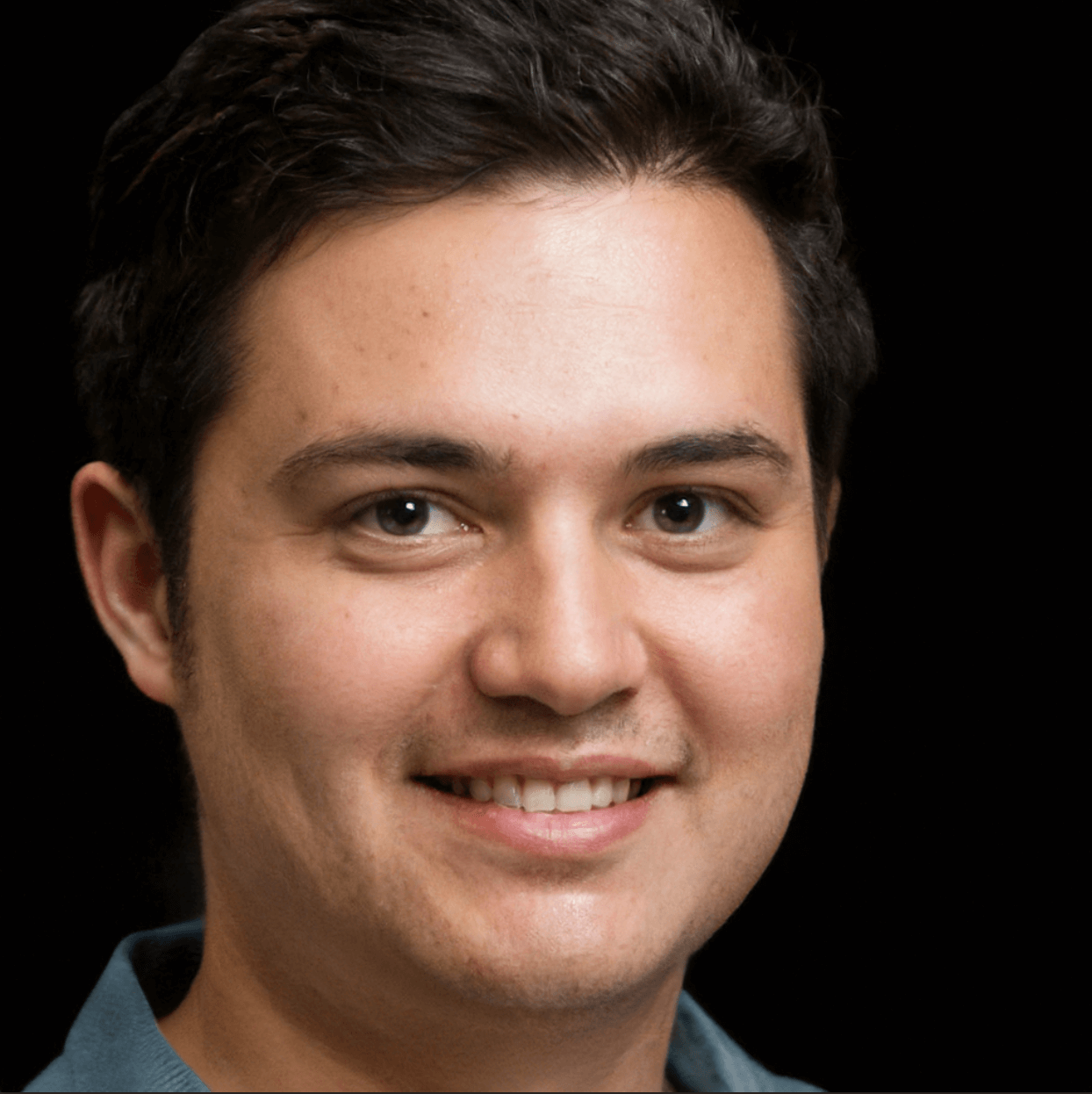 I like to play mobile games. Especially, Mobile Legends Bang Bang and COD Mobile.  I share my game experience. Sometimes I publish guides and tips from other players. So if you'd like to be published on Gameloid, please contact me.