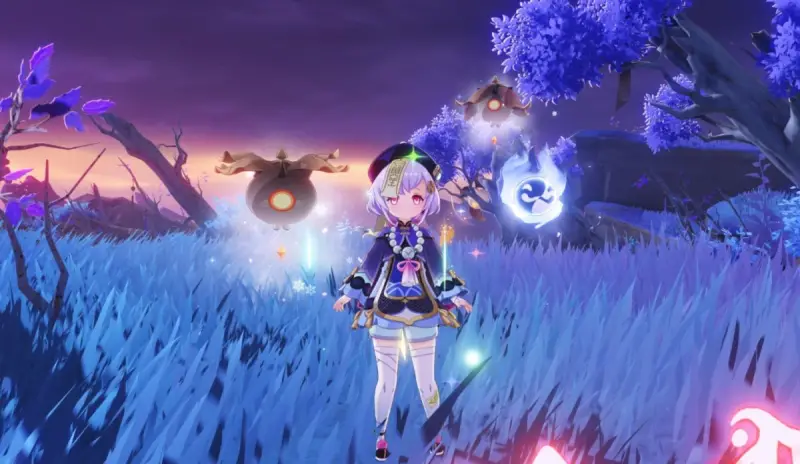 In Genshin Impact, Ghosts are common enemies and distant relatives of slimes that drop the Ghost Shells, Hearts, and Cores needed to pumping certain characters and weapons. In this guide, we will tell you how to fight ghosts, where to find them (with the best places to farm), and what exactly they are for.
How to kill ghosts in Genshin Impact
< h3>Characteristics and types of ghosts
At the moment, six types of these creatures can be encountered in the game world: Anemo, Cryo, Electro, Geo, Hydro and Pyro ghosts. Each of them has high resistance to their natural element, but at the same time they do not impose this element on themselves, that is, if you hit Spectrum Pyro with a water attack, then the Steam reaction will not occur.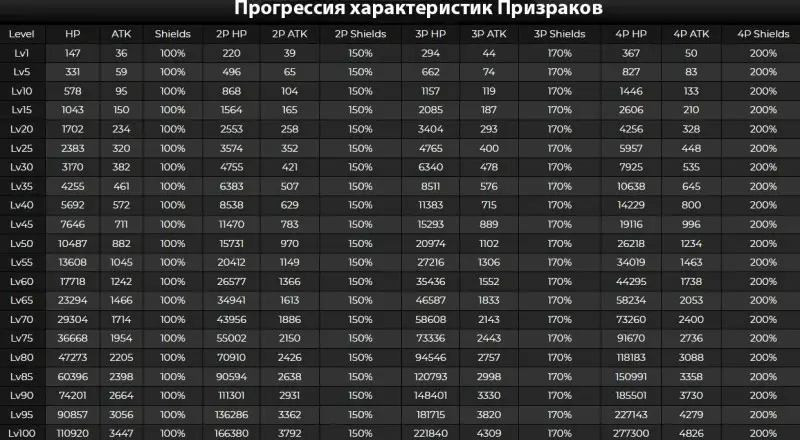 At the same time, in terms of health, basic attack and shields, these opponents do not differ from each other in any way. The picture above shows the progression of the characteristics of ghosts from level 1 to 100 depending on the number of players in the team.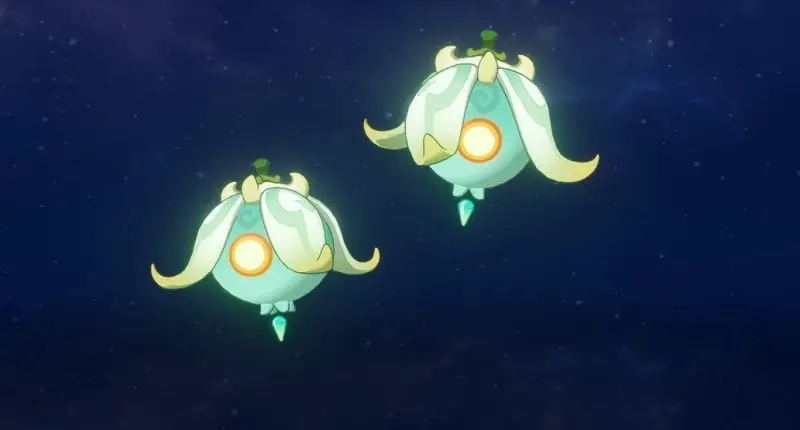 Hydro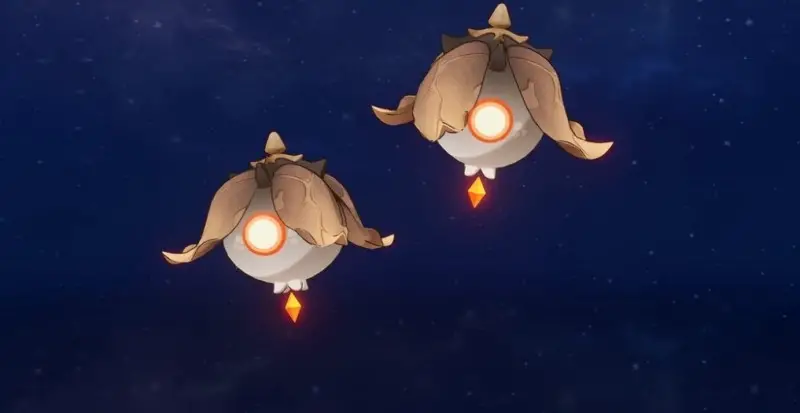 Geo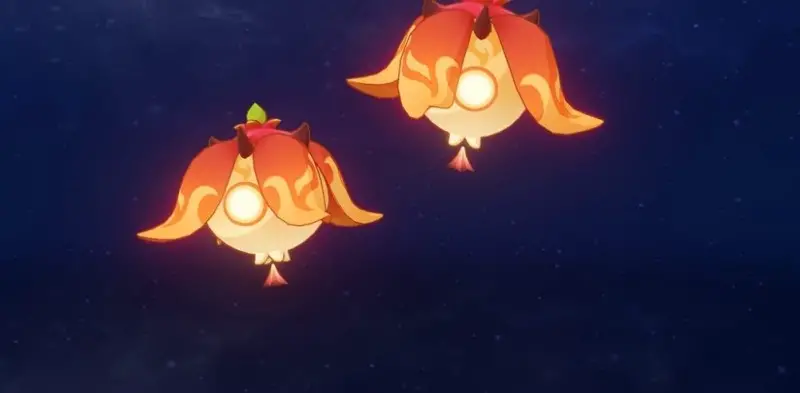 Cryo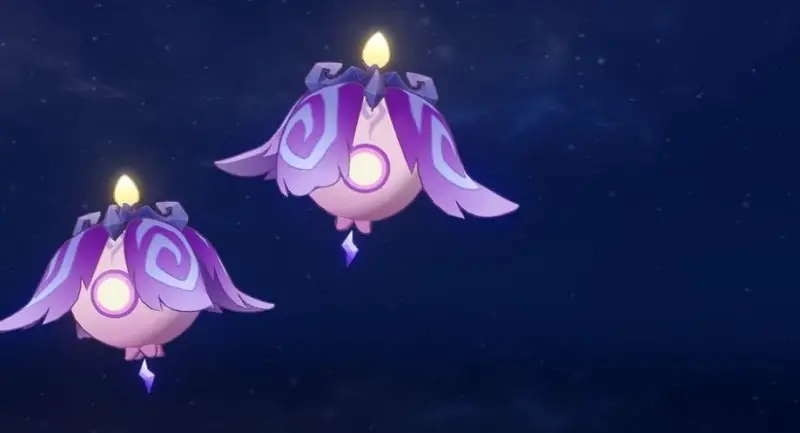 Electro
Recommended Commands
Since the ghost element is not marked on the map, we advise you to take a versatile team that includes characters of different elements so that you can effectively fight the enemy of any element. You can take Yun Jin into such a squad, which receives a bonus if there are multi-elemental heroes in the team. You can also form a group where the main damage dealer will deal physical damage.
Ghosts hover above the ground, so in some locations they can be out of reach for melee fighters, which is why we recommend having at least one archer or catalyst user in the squad. To defend against the attacks of these opponents, you should take a good shieldman, for example, Dion or Zhong Li. The table below shows some optimal commands.
| Primary DPS | Secondary DPS | Support | Support |
| --- | --- | --- | --- |
| Eimiya | Fischl | Yun Jin | Zhong Li |
| Eimiya | Gan Yu | Venti | Bennet |
| Eimiya | Gan Yu | Kazuha | Dione |
| Aeolus | Fischl | Rosary | Zhong Li |
< h3>Ghost attacks and moves
The basic attack of these monsters is an elemental shot, when used, the enemy fires a projectile of a certain element at the enemy, that is, Hydro and Cryo ghosts can freeze your characters. However, these projectiles are fairly easy to dodge, as they don't fly very fast.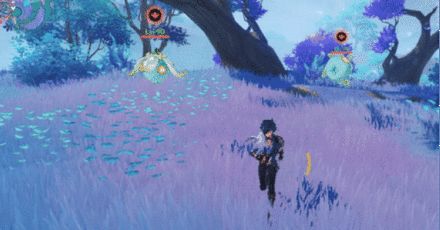 The ghost of each element also has a special attack. For example, Anemo collect energy around them, and then carry out an air explosion that causes damage in a small area, Hydro – collect energy and release a water bomb in front of them (a corresponding circle appears on the ground; if another ghost enters the explosion area, then it will recover part of health), and Geo – begin to rotate and make a dash towards the player.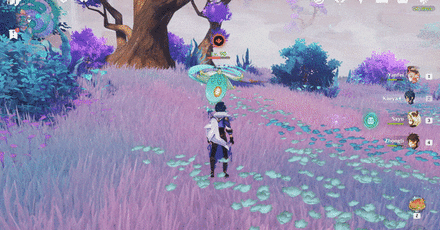 Single attacks are easy to dodge, but if you are fighting 3-4 ghosts it will be extremely difficult to keep track of them all, so you will probably take damage, and quite a lot, so make sure you have a healer, shield or healing food.
Ghosts also have one nasty mechanic – Fury. They accumulate the corresponding gauge when they receive serious single-shot damage. At maximum rage, these monsters increase in size and become much stronger. Therefore, it is better to hit them with a lot of weak attacks or try to kill them as quickly as possible.
Although these opponents are small in size, they are immune to the effects of the vacuum field, meaning they cannot be pulled to a certain point by the abilities of Venti, Kazuha, or Sucrose. You also won't be able to drown the ghosts, as they will simply float above the water.
After receiving a killing blow, the ghost will not die immediately – it will first accumulate some energy and then explode, dealing elemental damage in a small area. If he was in a state of maximum rage, then the explosion will be more powerful. The enemy will explode even if they die while Freeze or Petrified.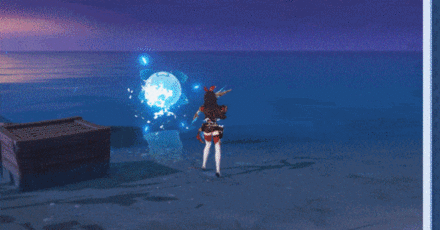 In general, these are extremely annoying opponents that can take a relatively long time to fight. Fortunately, not many characters use materials from them, so with a few visits to the best places to farm, you can provide yourself with a sufficient number of ghostly shells, hearts and cores.
Where to find ghosts in Genshin Impact
These creatures can only be found in Inazuma (two islands) and Enkanomiya. We do not advise you to use the Adventurer's Handbook to track them, as it does not show all the ghosts. Better use the interactive world map or our routes below.
Note: Please note that ghosts often only appear when a character approaches them. Therefore, if you do not see the necessary creatures ahead, even though they are marked on the map, then just keep walking towards the indicated place and soon the phantoms will appear in front of you.
The best places to farm ghosts on Watatsumi
There are mainly Anemo and Hydro ghosts here, so units with Eimiya will do. Most of the creatures are found near water bodies and on the coast of the sea. The first route covers the southern part of the island. You can quickly move between the specified points using two teleporters and the statue of seven Archons.
The second route covers the northern part of the island. There are three teleportation points near which you can meet a large number of ghosts.
The best places to farm ghosts on Seirai
You'll encounter most types of ghosts here, so a more generic command is required. We advise you to start with Amakumo Peak, as this area is probably the best area to farm these creatures. Because you can find tons of these creatures next to each other.
Then you can go to the eastern teleport, near which you can find more than a dozen ghosts clustering on the coast. If this is not enough, you can look around the northern part of the island, where several enemies you need hover near the teleporters.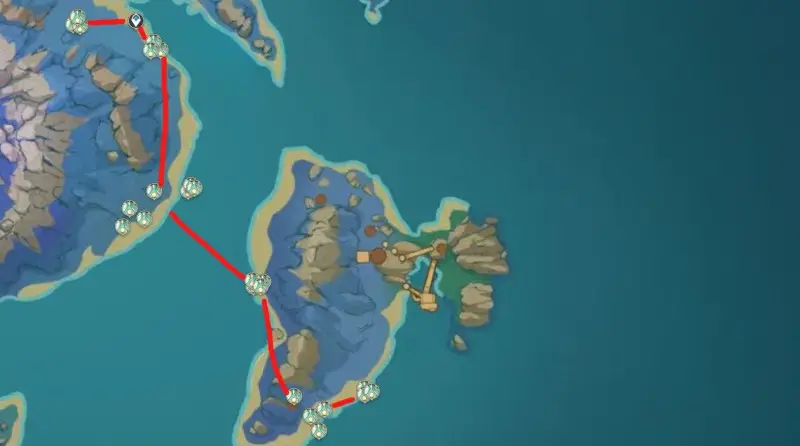 < p>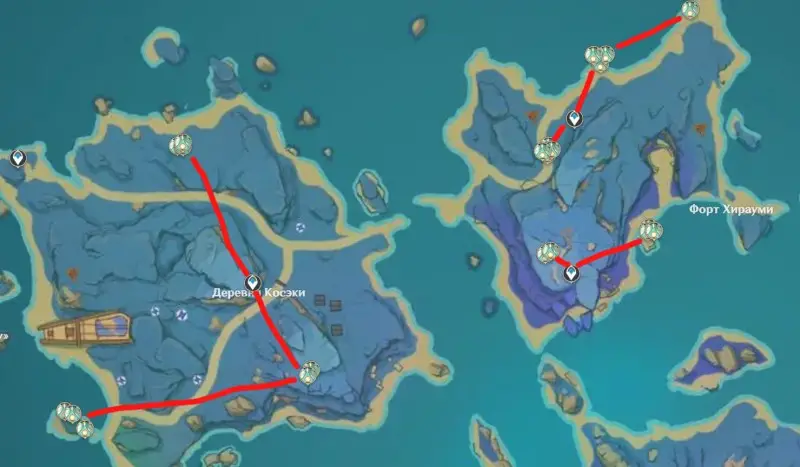 Best places to farm ghosts in Enkanomia
There are 50 ghosts to be found in this underwater region. You can start in the Serpent's Maw where you will encounter Pyro, Electro and Cryo enemies. After that, go to the Temple of Eternal Night, where 3 mobs live.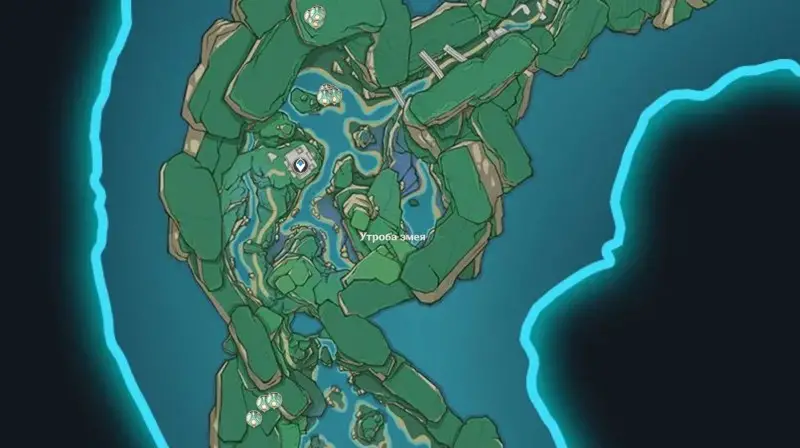 However, most ghosts can be found on the outlying islands of Yachimatahime, Yachimatahime, and Kunado. You can open access to them as part of the quest chain "The Secret of Erebus".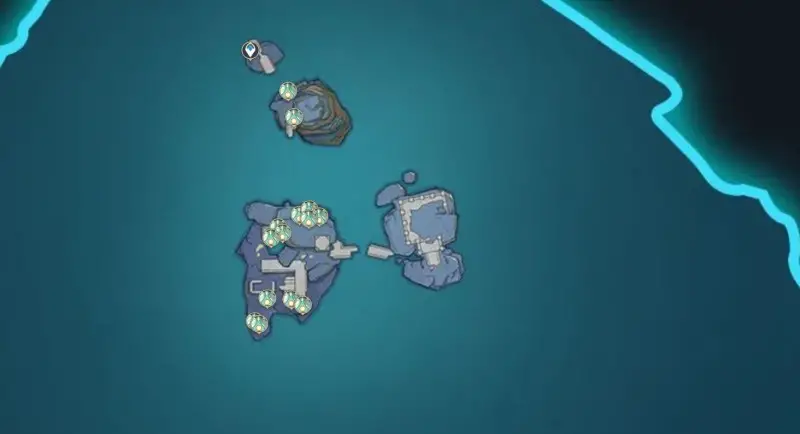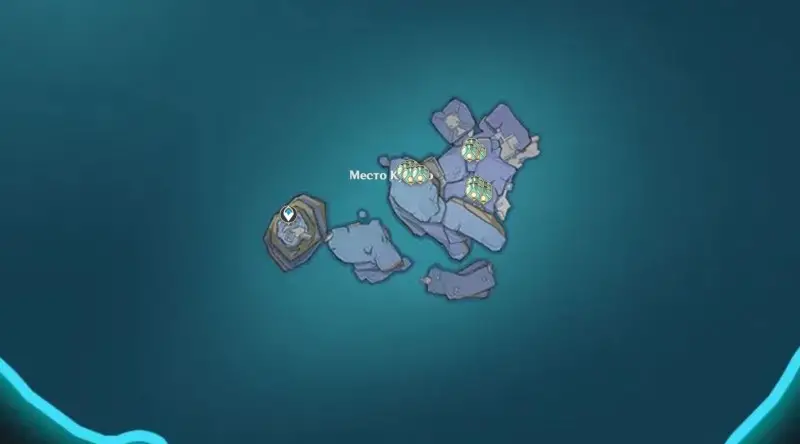 At the alchemy workbench you can create higher-level materials from less rare resources:
Ghost Heart = Ghost Shell x3 + 25 pestilence
Ghost Core = Ghost Heart x3 + 50 mora
Thus, you don't have to try to get hearts and cores from ghosts, as you can easily create them later. We advise you to use Sucrose when crafting these items to get additional materials.