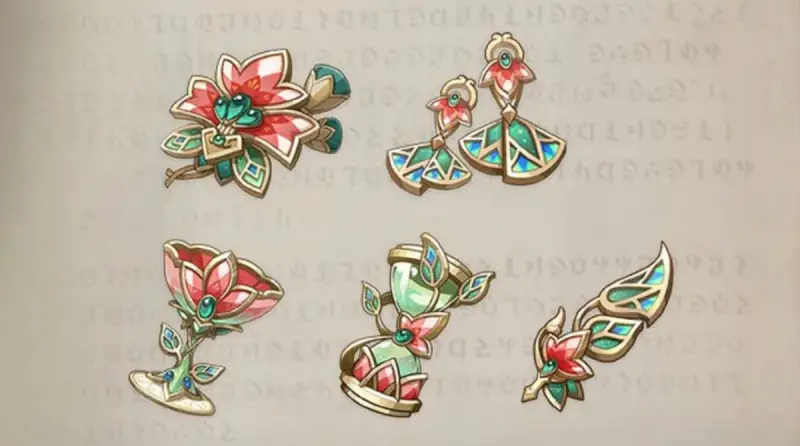 In Genshin Impact, Aurora of Vurukashi is an artifact set that was added to the game with the release of patch 3.6. It significantly increases the health of the wearer, as well as the damage from his elemental skill and elemental explosion. In this guide, we will tell you how to get it and who is the best person to give it to.
Vurukashi Radiance Key Features
How to get Vurukashi Radiance in Genshin Impact
You can get this set of artifacts, like many other sets, in the dungeon. We are talking about a dungeon called "Spread Fortress", located in the northernmost part of the Sumeru Desert. Note that the Dream of a Nymph set can also be obtained here.
You can get 4-star variants of the Radiance of Vurukashi at any level of the Forsaken Stronghold Blessing Dungeon, but 5-star options drop only at levels III and IV, which are only available at adventure ranks 40 and 45, respectively.
Set Bonuses
When using 2 pieces of the set, you will increase the character's maximum HP by 20%.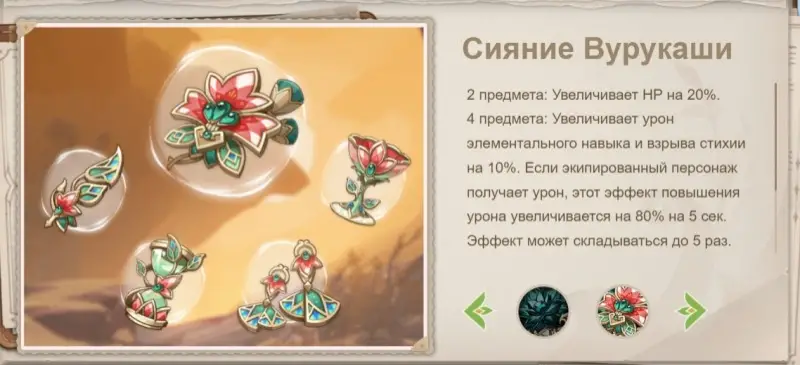 In the case of using 4 parts of the set, the damage from the elemental skill and the explosion of the elements increases by 10%. If the hero wearing this set takes damage, the damage boost bonus is increased by 80% for 5 seconds. This effect can stack up to five times. Time for each level is counted separately. The bonus is given even if the character is not on the battlefield.
It should be noted that it is not the damage itself that increases by 80%, but only the bonus, that is, on the first stack, the total damage from the E-shki and the ult will only increase by 18% (10% + 10% * 0.8). But on the fifth stack, it will increase by 50% (10%+10%*0.8*5).
Set characteristics
It should be remembered that the main characteristics of a set are randomly generated by the game (the only exception is a flower and a feather). The table below shows the attributes that a part of a bundle can receive.
Cell
Artifact
Possible Main Characteristics
Flower of Life

Hvarna Source Stamen

HP
< td class="center">Deathfeather

Gem Feather

Attack Power
< td class="center">Sands of Time

Ancient Wither

HP%, ATK%, Defense%, Energy Recovery%, Elemental Mastery%
Space Cup

A Feast of Unbridled Joy

HP%, ATK%, Defense%, Elemental Mastery, Pyro, Electro, Cryo, Hydro, Anemo, Geo, Dendro and Physical Damage%
Crown of Insight

Heart of Luminosity of Hvarna Joy

HP%, ATK%, Defense%, Elemental Mastery, critical hit chance%, critical damage% and healing bonus%
The images below show the scaling of artifact stats (4 and 5 stars) depending on their level increase.

Who suits the Radiance of Vurukashi
You can certainly find some use for the incomplete set of this set (two parts), because in Genshin Impact there are quite a few characters whose ability effectiveness depends on the size of their maximum health. However, with a full set, it will be more difficult, since most heroes will simply die even before they have collected all 5 stacks (shields will not help here, because the buff is given only when hit points are lost).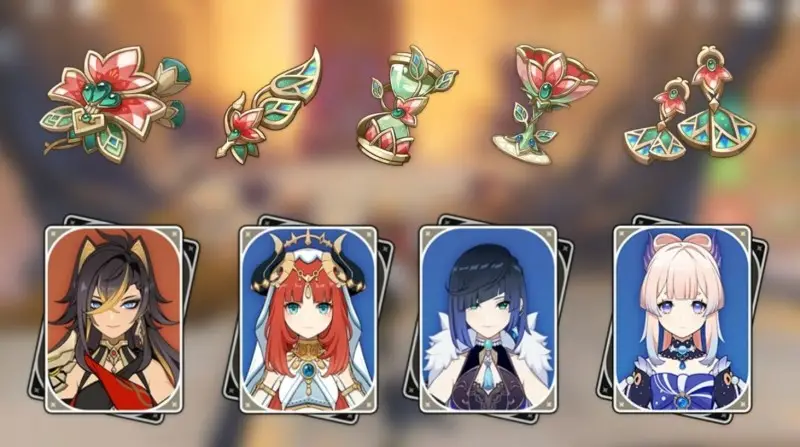 Character
Benefits

Dahya
The best choice to use this set, as this heroine will be able to take full advantage of all its bonuses. Dehya will play the role of a tank, protecting allies from damage and at the same time causing additional damage to enemies with his abilities (depending on HP). Her unique skill Molten Ash will allow you to get 5 stacks without any problems, which will significantly increase the damage from the skill and ult. However, you will have to get Energy Recovery from somewhere to use the explosion on cooldown.

Nil
Neil Her is perfect for 2 parts of this artifact, which will significantly increase the damage dealt. It can be combined with sets that increase elemental mastery or Hydro damage.
Although Nilu in some packs acts as a secondary or even primary damage dealer, and also regularly takes damage from her own reactions, however, the full set of Vurukashi's Radiance still won't work, as she does most damage with opulence cores, not her ult or E-shka.

Ye Lan
Ye Lan The damage from her elemental skill and ult also depends on the HP size, so 2 parts of this set will be very useful for her. It can be combined with sets that increase Hydro damage.
You can give Ye Lan a full set to slightly increase her elemental burst damage, but we still recommend using the Emblem of Sundered Fate set, which will allow you to apply Q-on cooldown and increase her damage significantly.
td>
Kokomi
Kokomi                                                                                                                                                                      Plus, Kokomi can take quite a bit of damage while constantly healing herself, so she can take full advantage of the 4-piece bonus.
However, we still advise you to use it only as a temporary option until get full sets of Heart of the Depths or Sleep of the Nymph (for the damage dealer) and Mollusk of the Sea Colors (for the healer). Wurukashi will suit many other characters who need a HP boost. We are talking about Laila, Dion, Zhong Li, Tom, Yao Yao, Kuki Shinobu, Mika, Bai Zhu and Kandakia.
As for combining with other artifacts, a lot depends on what function the character in the team should perform. For example, sub-DDs should get more elemental damage, Bursts should get more energy regen, and healers should get even more HP by taking 2 parts of Millelite's Fortitude.