In God of War Ragnarok Just Fit for the King is one of the requests (side quests), in which you will need to defeat 13 berserkers, including their king Hrolf Kraki. As a reward, you will receive a powerful Skofnung's Hilt relic and a lot of experience points, as well as unlocking the "Cold Welcome" achievement.
In this guide, we will mainly cover how to find and defeat the Berserker King. The fact is that the fight with this optional boss can be considered one of the most difficult in the game.
Passing the request "Just for the King"
How to start the task
< p>It starts automatically as soon as you interact with your first berserk grave. You can do this in almost any of the nine worlds. However, this opportunity will not open until you start the story mission "The Word of Destiny".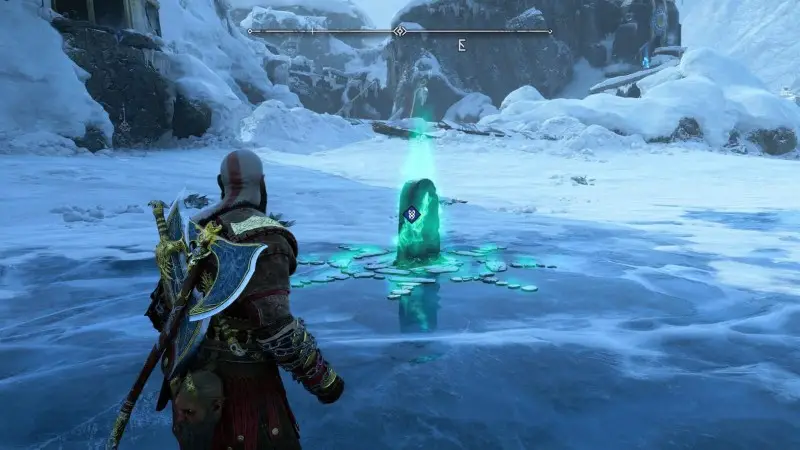 After that, you will need to find 8 more warrior tombstones and defeat a total of 12 berserkers, the location of which we indicated in a separate manual (there is also information on the strategy of combat with them). Only after that you will have the opportunity to deal with their master. You can find it in Midgard in the location of the Royal Tomb.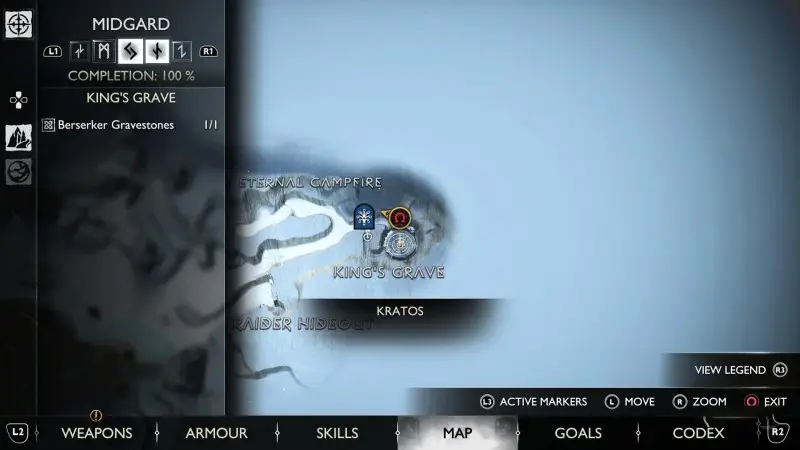 < /p>
Go to the Mystic Gate of the specified area and turn left. You will find the desired gravestone around the corner in a circular arena. Interact with her to start the fight.
How to defeat King Hrolf
First, you need to prepare for the boss fight. Of course, Kratos must be pumped to the maximum level 9. From the equipment, we advise you to take a set of berserker armor and the Onslaught shield, and insert the Emblem of Evasion, Muspelheim Charm (3), Greater Essence of Restoration, Niflheim Charm (3) and the Emblem of the Nine Worlds into the Yggdrasil amulet.
As for abilities, take Spartan Wrath, Hades' Retribution, Njord's Storm, Hofud's Hilt, Taming the Beast, Ivaldi's Anvil, and Honor the Fallen. We add that, as in the case of the battle with ordinary berserkers, buy a resurrection stone from the blacksmith and activate checkpoints during the battle so that after the restart the boss has half his health.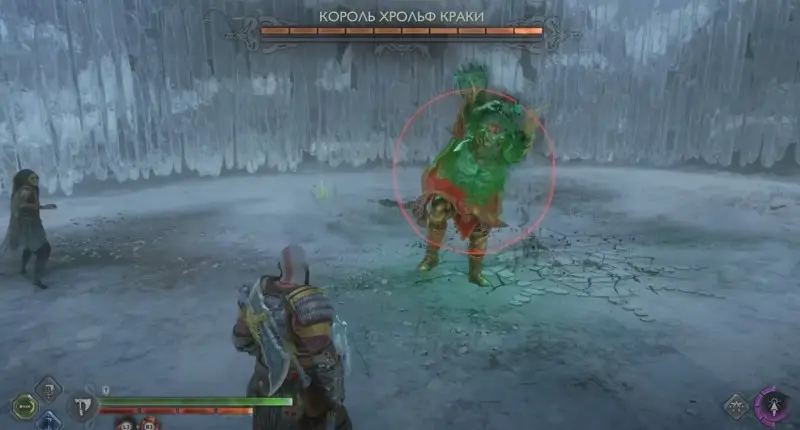 With all this gear, you can dodge more often, deal more damage when your status bars are full, counter effectively the boss's ultimate, restore runic attacks and relic abilities faster, and take out a lot of enemy hit points during World Shift using super (L1 + triangle).
Hrolf Kroki has adopted a lot of attacks from his subordinates, so he has a large set of moves. In close combat, he either swings his hammer several times and then slams it into the ground, or creates an energy blast in front of him (usually twice). The last attack can be parried if timed correctly, but we recommend simply dodging back and then throwing charged spears at the boss. Plus, the enemy will dash across the arena – these attacks break through the block, and sometimes even unblockable.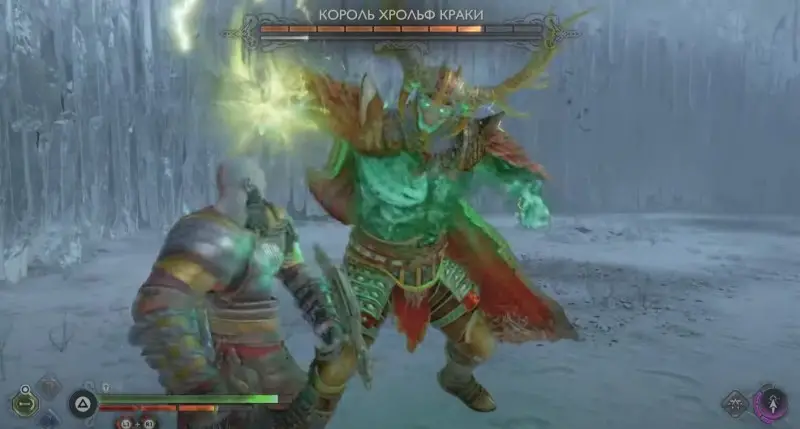 If you stand far from him, he will start performing double shots, shooting four projectiles at you (you can't block) and stomp on the ground, creating an elemental line on the ground towards Kratos. All of these attacks must be dodged.
The boss will sometimes jump high, landing and dealing three different types of elemental damage in an area. When using flame or lightning in the arena, many small circular zones will appear that need to be cleared as quickly as possible. If frost is applied, only 3 areas will appear in the arena, but they will be much larger and last longer. In the latter case, dodge, then throw 1-2 spears at the enemy and dodge again.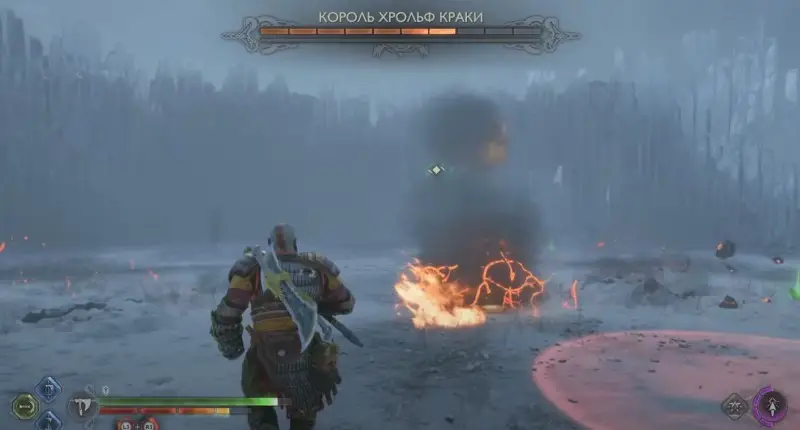 Hrolf will launch a slow fire or ice homing sphere at the hero that will follow him until he hits or will not be destroyed. Seeing such a ball, try to knock it down with your spear or ax in order to avoid significant damage.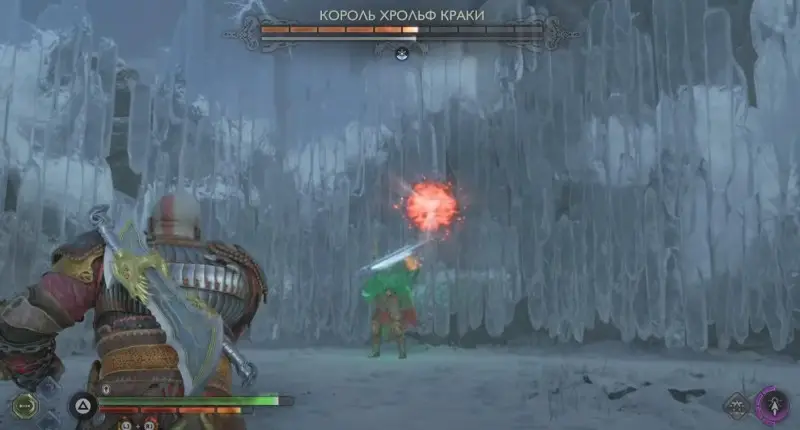 The king will rise above the ground from time to time, charging with Bifrost energy. It is impossible to repel such an attack, while it covers the entire area. Therefore, if you see how the enemy soars into the air, then immediately hit him with an ax or a spear.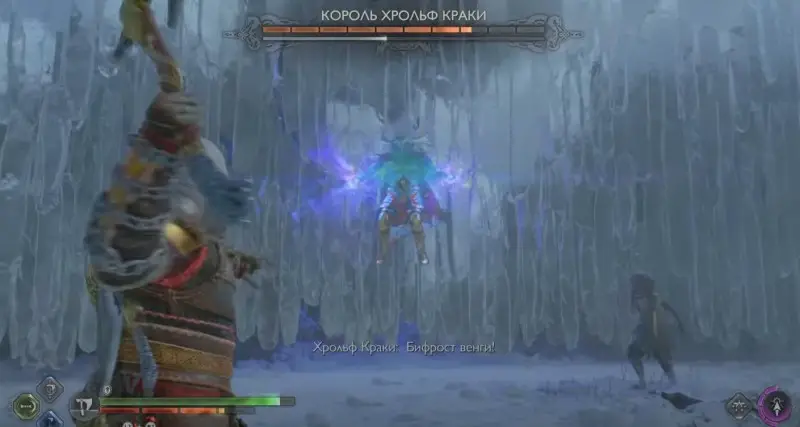 The boss has another extremely dangerous attack that strikes all over the arena – he takes maces in two hands, charges them, and then crosses, creating a powerful shock wave. Before that, he usually bounces off the hero. This is where the Onslaught shield comes in handy, with which you can dash towards the boss and stop this attack.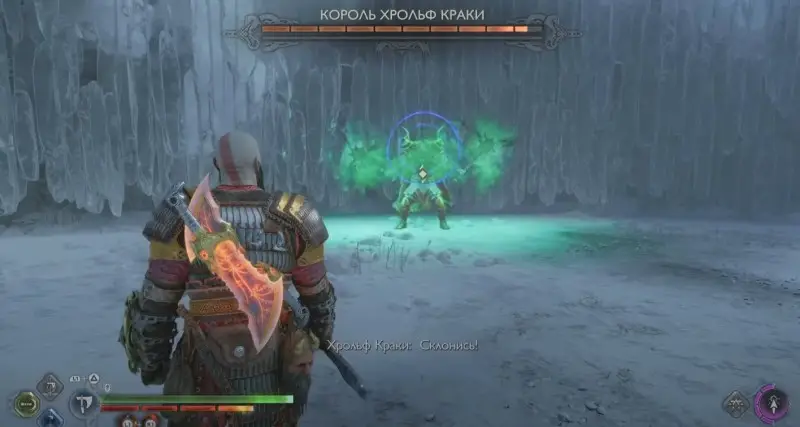 When the boss is at about half health, he will protect himself with an ice or fire shield, which can be removed with a weapon the opposite element or Draupnir's spear.
If we talk directly about the fight with Hrolf itself, then you will not be able to use full-fledged combos against him, since he acts extremely aggressively at close range and immediately bounces off Kratos after completing his own attacks. Therefore, you will have to constantly monitor the enemy and look for the best moments to perform a counterattack using your abilities and techniques.
< /p>
With the Berserker Armor set, skill cooldowns will be faster, allowing you to activate them more often. Hofud's hilt and amulet enchantment will allow you to use the relic longer. After that, use a special move (L1 + triangle) with your weapon of choice and perform a slow time combo, dealing massive damage to the boss. If the boss is far away, then throw charged spears at him to blow them up later. There is a good chance to stun him.
Health crystals will spawn throughout the arena, but they don't regenerate much health, so don't count on them. This is the reason why you need a Greater Essence of Restoration, which provides a passive heal.
Sooner or later, you will be able to defeat King Hrolf Kraki. Chop off his head to complete the Just Fit for a King quest and receive the reward you deserve: Skofnung's Hilt, 15k XP for Kratos, 3.75k XP for Freya, Helheim's Virtue enchantment, and 250k Hacked Silver.< /p>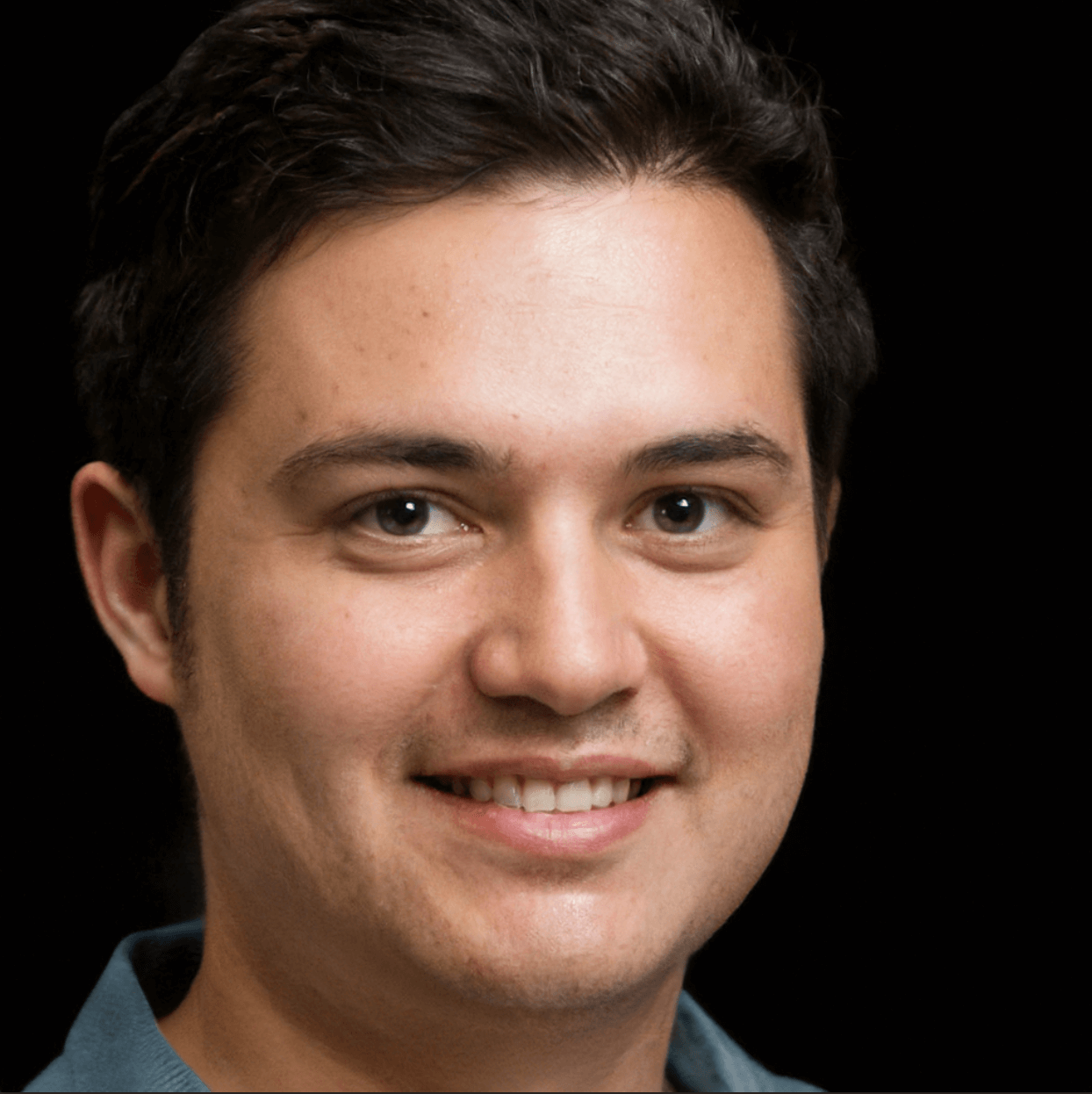 I like to play mobile games. Especially, Mobile Legends Bang Bang and COD Mobile.  I share my game experience. Sometimes I publish guides and tips from other players. So if you'd like to be published on Gameloid, please contact me.