This is a guide for new players. It will help you with your choices for "Selector 6☆ Character", "Selector 6☆ Premium Character", "Selector Tier-2 Character"; as well as which characters to rank up early on.
It includes basic information about Game Modes, Team Set-Up, Cards, Obelisks and ISO-8 Sets.
Here is a short infographic (open in new window)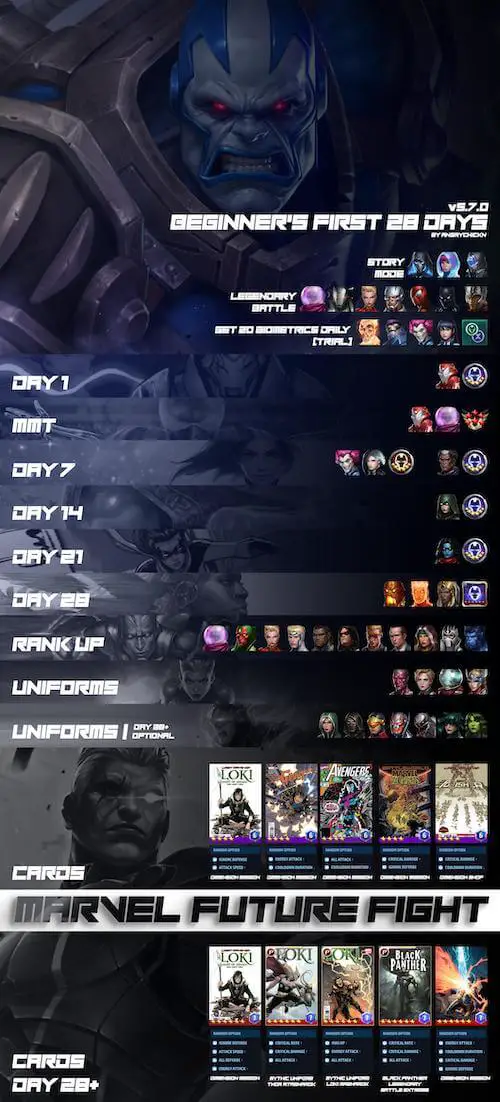 Guide — New 7-day check-in event and new 28-day check-in event
You will get four "Selector 6☆ Character", one "Selector 6☆ Premium Character" and one "Selector Tier-2 Character" from the aforementioned events in the first 28 days.
Best characters for "Selector 6☆ Character" and "Selector Tier-2 Character"
Iron Hammer
Human Torch
Minn-Erva
Morgan Le Fay
Korath
Hydro-Man
Molten Man
Doctor Voodoo
Sword Master
Shuri
❗️DO NOT PICK any of he following characters with any "Selector":
Mysterio, War Machine, Captain Marvel, Ant-Man, Spider-Man, Black Panther, Thor – you get them at 6☆ when you play their respective Legendary Battles (found at ENTER>CHALLENGE>LEGENDARY BATTLE).
Sharon Rogers – you get her at T2 after reaching S.H.I.E.L.D Academy: Level 5
Shadow Shell – you get enough bios from S.H.I.E.L.D Academy to rank her up to 6☆.
Best character for "Selector 6☆ Premium Character" is Luna Snow. There is an event called "Agents, Assemble!" going on right now (until 12th Feb). If you participate you can get T2 Luna Snow, Mega Rank Up Ticket, 1000 Crystals and Mega T2 Advancement Ticket. Follow the link and read about it. Ask for an "invitation code" for the event in the "Basic Questions" thread on the front page of the subreddit.
If you are able to participate in the event – pick Slapstick with the "Premium Character Selector", and Spider-Man 2099 instead of a Slapstick with the "daily premium biometrics" trial.
❗️You will get 3 days of "Premium Biometrics Subscription" for free. Gets activated after reaching S.H.I.E.L.D Academy: Level 2. Activate it right before the daily reset to get 4 days of the trial.
You have two options:
Unlock Ghost Panther, Slapstick, Sentinel, Aero. The reason of unlocking multiple premium characters is for the possibility to use MRUT (Mega Rank Up Ticket) to rank them up in the future. Ghost Panther is great at T1 and is one of the best support characters at T2. Sentinel is a good T1 character due to his clones (can do Shadowland up to stage 30) and has a great PvP leadership. Slapstick is a very strong universal character with revive. Aero and Slapstick can be used as an ALL DEFENSE DOWN strikers in WBU. Make an educated choice based on the information presented.
Collect 60 bios of Victorious. If you plan on completing the Fantastic 4 Epic Quest, there will be a mission where you will have to rank up Victorious to 3☆. There is no way to farm her bios before that. You will have to use 2☆ and 3☆ Rank Up Tickets, buy the Deluxe Pack or get the bios from the offer in the mission for crystals to advance.
Farming and Ranking up Characters
Dimension Mission Support Shop
Mysterio – needs his uniform; one of the best villains for new players
Captain Marvel – you will need her latest uniform
Vision – get his gold cost uniform
Angel – good leadership
Bishop
Warpath
Hawkeye – you will need his latest uniform
Winter Soldier- you will need his latest uniform
Venom – get his AntiVenom uniform; a very useful striker for WBU
Phil Coulson – you will need to T2 him; one of the best support characters
Hela – get her uniform to mythic and you will get a CTPE
Wasp – great T2 passive
Epic Quest Characters
Human Torch – good standalone character
She-Hulk – great leadership
Colossus- you will need his latest uniform; PvP meta
Rogue – you will need her latest uniform
Beast – good leadership
Cyclops – good leadership/passive and good standalone character
Satana – good leadership for fire damage dealers
Ancient One – good leadership and T2 passive
Consider farming for Shadowland: Crystal, Thing, Fantomex, Domino, Storm, Baron Mordo, Hellstorm.
Epic Quests
There are four Epic Quests. Three of them have Deluxe Packs. Epic Quest Deluxe Packs cost 6600 crystals. With the purchase of an EQ Deluxe Pack, you get the respective exclusive 6☆ level 60 character, and you unlock an extra mission that gives you additional resources.
You rank up Mister Fantastic, Deadpool, Wolverine and Dr.Strange, respective to the Epic Quest, while advancing in the Epic Quest Story missions.
If you will purchase an Epic Quest Deluxe Pack, you have couple of options:
"Rise of X-Men". Pro – Jean is one of the best characters in the game in PvE and PvP, depending on how you decide to build her. Con – Magneto is not as good as his counterparts from the other Epic Quests.
"X-Force". Pro – Psylocke is one of the highest T2 damage dealers in the game. Stryfe is one of the best characters for PvP. Con – it is slow to complete. Six T2 characters to unlock Stryfe is a tough one with one of them being a Native T2 (who requires another Native T2 to be ranked up to 5 stars to be unlocked).
"First Family". Pro – The Deluxe Pack mission with the best rewards – guaranteed Extreme Boost ISO-8, chance for 4/5☆ ISO-8 and 4/5☆ Obelisk. Invisible Woman is one of the best strikers for WBU and a solid character on her own. Con – it is slow to complete and requires seven T2 characters to unlock Dr.Doom.
For new players who are willing to purchase an EQ Deluxe Pack, I would suggest first to get "First Family". The rewards are the best by far.
For those who are not willing to purchase an EQ Deluxe Pack, best bet is to focus their resources first on X-Force EQ for Deadpool and after that – Sorcerer Supreme EQ for Doctor Strange. Deadpool with the Ladydeadpool (Holiday Party) uniform is the best epic quest character that can be used in PvE and PvP at T2 and T3.
Now, of course, if you are a really big fan of one of the characters in a specific Epic Quest, by all means scratch everything I said and work on your favorite, we are here to have fun after all!
Start playing every Epic Quest. Farm every mission, every day in every Epic Quest that is available to you. There will come a point where you will hit a roadblock on every Epic Quest, that's where you stop and focus your resources on the EQ you choose to advance in first.
Epic Quests are very expensive in terms of resources, especially for a new player.
There will be missions where you will have to spend Black Anti-Matter, Norn Stones, Phoenix Feathers or M'KRAAN Crystals to advance. After that point focus your resources only on one Epic Quest until it is complete.
Dimension Mission
Dimension Mission is unlocked after clearing Story Mission 1-3.
This is where you farm EXP Chips, Norn Stones, M'Kraan Shards, GUKs (Gear Up Kits), Dimension Debris, Component Packs, Stark-Branded Blueprints, UUKs (Uniform Upgrade Kit), ISO-8s, Obelisks and Comic Cards.
With each entry you also get 1-3 (random) Rift tokens and 1-6 "Contribution" points (depending on the difficulty). You should try to start doing dimension missions in highest difficulty ASAP to gain more "Contribution" points per energy spent. You can use the Rift tokens to buy various items from the "Support Shop", such as – character Bios, Norn Stones, Comic Cards, Custom Gears and much more.
There are 5 "Contribution" rewards that reset daily. You can acquire a Contribution reward after collecting certain amount of "Contribution" points. The rewards are – GOLD, 15k Rift tokens, Comic Card Chest, Dimension Chest ISO-8, Custom Gear Chest.
There is no entry limit, but the rewards are diminishing after certain point. When you see 10 Rift tokens as a reward, you should stop acquiring contribution rewards for the day.
The amount of GOLD and the quality of rewards change depending on your Agent level. Highest quality rewards are acquired after reaching Agent level 60.
Legendary Battle
There are 6 Legendary Battle. You can acquire 5 reward boxes per day in total from any Legendary Battle. The quality of the reward box changes if you have certain uniforms or if you advanced certain characters.
All of the Legendary Battles except Ragnarok have a Legendary Battle Extreme that can be purchased for 2500 crystals.
Some of the Legendary Extreme packs that are worth the price are:
Ant-Man & The Wasp – you can get a CTP Selector if you own Mythical Giant-Man Ultron Pym unifrom
Black Panther – you get his uniform already at Legendary rank + a T2 advancement ticket. You can get the Black Panther #35 card if you advance the uniform to Mythic. You can also get a CTP of Energy if you own a Mythical Killmonger uniform.
Spider-Man Far From Home, Avengers: Endgame and Captain Marvel Legendary Battle Exremes are worth the price ONLY If you have Spider-Man, Thanos and Captain Marvel type 6 enhanced, respectively.
Avengers: Infinity War is worth the price if you like/focus on PvP. It offers one of the best PvP cards in the game.
If you don't have any Legendary Battle Extreme, or RagnaThor, RagnaLoki, RagnaHulk uniforms play the Black Panther Legendary Battle, it gives the best reward box.
Cards
Cards are one of the most important aspect of this game. They boost all your characters.
Cards usually have 2/3 "fixed options" (in orange) that do not change and 3/4 "random options" (In blue/green) that change with every roll.
The most important "options" for cards are: Skill Cooldown, Ignore Defense, All/Energy/Physical Attack. Try to choose those as "fixed option".
You should aim for around 35% of Ignore Defense and around 30% Skill Cooldown from your cards.
Some of the free, relatively good and relatively easy to obtain cards are:
Loki: Agent of Asgard #17 (Dimension Rift – Loki)
Groot #5 (Dimension Rift – Groot)
Star Lord #2 (Dimension Rift – Yondu)
Avengers #318 (Dimension Rift – Nebula)
Marvel Zombies #2
The Punisher #19
Uncanny X-Men #8
For an easy to obtain Premium Cards, you should consider getting the RagnaThor and RagnaLoki uniforms and upgrade them up to rank "Mythic" to obtain Loki #1 and Loki #2 cards from Thor Ragnarok Legendary Battle.
Also consider getting the Black Panther Legendary Battle Extreme for the Black Panther #35 Card.
Obelisks
Obelisks have one "fixed option" (in orange) and from one to three "random options" (in blue and green) depending on the rank of the Obelisk. "Random options" change with every roll randomly.
Every character needs specific Obelisk, depending on what type of damage it deals.
There are three types of damage:
Energy
Physical
Elemental (Mind, Lightning, Fire, Cold, Poison)
There are obelisks that increase Elemental Damage, but there are no obelisks that increase Energy or Physical damage. Your needs for obelisk "options" will greatly vary depending on the character. But generally speaking the "options" you should look for in an Obelisk are:
For PvE:
Critical Rate and/or Critical Damage
"Increase damage by x% for 1 attack(s).(5 Sec.)"
Elemental Damage (depending on the character)
Ignore Dodge
For PvP:
Guard Break Immunity
Invincibility
Max HP/Recovery Rate (for characters with active or passive healing ability)
Ignore Dodge/Dodge
When you get an obelisk with a desirable "fixed option" (orange), lock it and rank it up to 6 stars. "Change option" until you get atleast one more good "option".
ISO-8 Sets
Most of the characters need an offensive ISO-8 set, namely one of the following:
Power of Angry Hulk (POAH)
Overdrive (OD)
Hawk's Eye (HE)
First two are generally considered the best options. POAH for additional Attack Speed. OD for additional Critical Damage. Hawk's Eye is suitable for new players because of the additional Skill Cooldown.
There are some characters that do not need offensive set, because either their kit overrides the attack bonus or they are designed to better take advantage of a defensive set.
Do not rush to roll ISO-8 bonus set for all the characters you have, it is a gold sink. Best time to roll is when there is a 50% discount.
General Tips
Use Rank Up Tickets (RUT) or Mega Rank Up Ticket (MRUT) only on paywall or hard to obtain characters
Initially spend crystals only on uniforms and Epic Quest Deluxe Packs
Never buy an uniform that is not on sale
Best deal in the store is the "Tony Stark's Stash"
Put your "Agent Bonus" points in "Increase Item Acquisition"
Join an Alliance ASAP. Consider donating gold to get Alliance tokens. Use them to buy various items from the Alliance store. Consider getting the EXP booster to level up your characters faster
Add friends to send and receive "Assemble Points" daily. Use them to recharge energy (STORE>RECHARGE>ENERGY)
Complete Daily Challenges and Daily Trivia to get energy and crystals
Do not forget to acquire the daily free hero chest (STORE>ACQUIRE/UPGRADE CHARACTERS>HERO CHEST) and daily gift chest (STORE>ACQUIRE/UPGRADE CHARACTERS>CHARACTER UPGRADES)
There is a daily free energy recharge (STORE>RECHARGE>ENERGY)
Complete every mission that is available for you. You can check them in the "Content Status Bar" (the icon, that looks like a notepad/sheet, at the left side of ENTER). Farm and grind!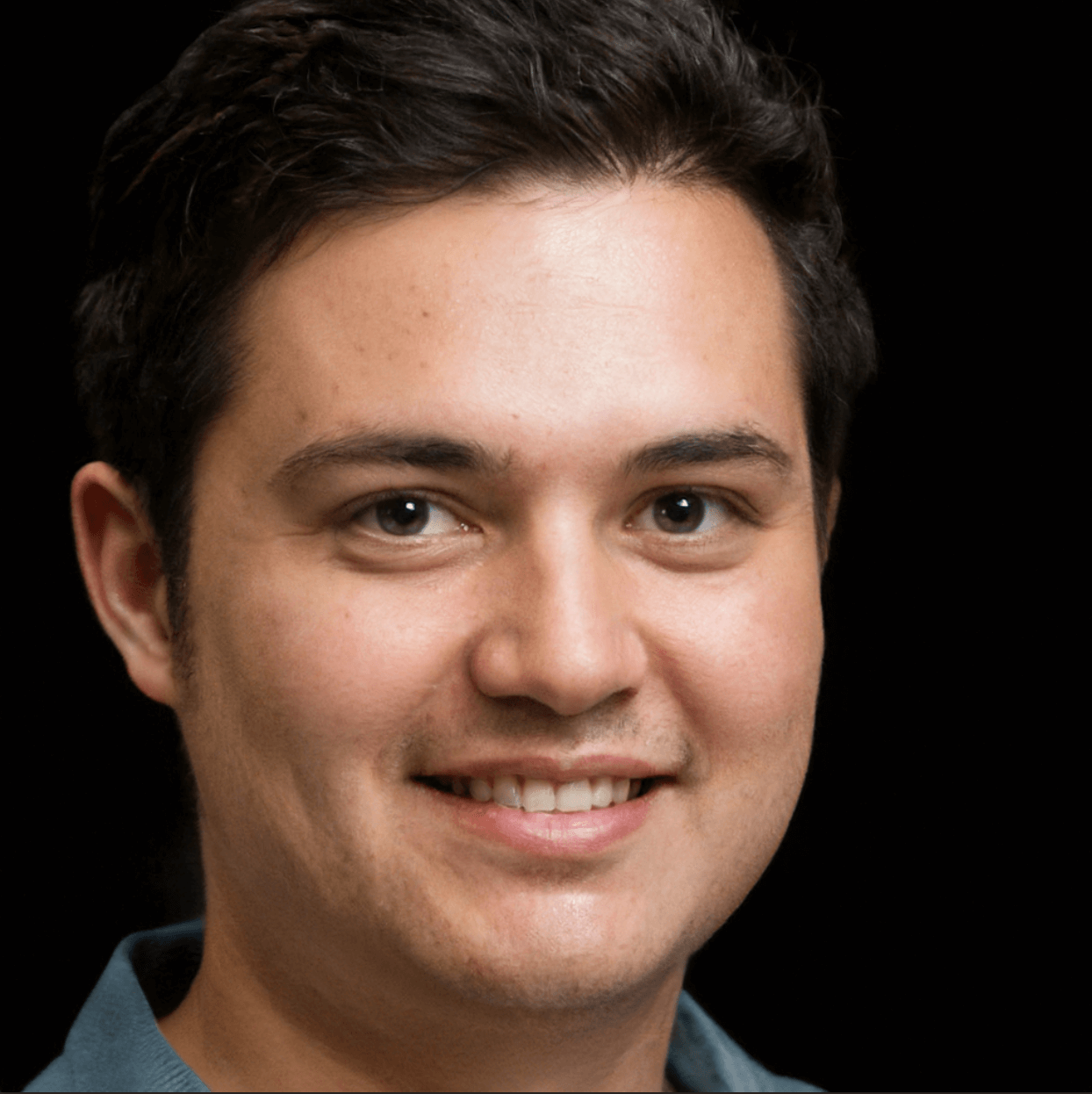 I like to play mobile games. Especially, Mobile Legends Bang Bang and COD Mobile.  I share my game experience. Sometimes I publish guides and tips from other players. So if you'd like to be published on Gameloid, please contact me.