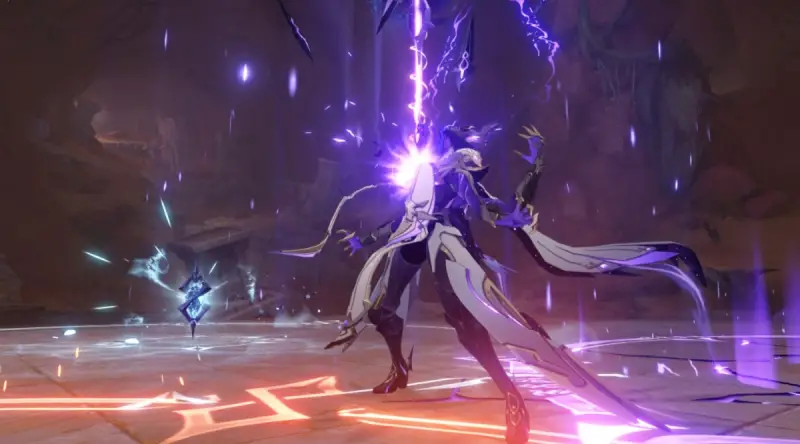 In Genshin Impact, the Monstrous Baptist: Summoner of Flame, Ice, and Lightning is another member of the Order of the Abyss and an elite boss added to the game with the release of patch 3.6. It drops the Ring of Eternal Gloom, which is necessary for the exaltation of certain characters. In this guide, we will tell you where you can find this enemy, what team to prepare to fight him, and how to defeat him the fastest.
Where to find the Monstrous Baptist
At this point in time, we only know that it will be possible to encounter him in a new desert area, which will be added in patch 3.6. We'll be sure to show the entire route to this Void creature once the update is released.
Baptist Monstrous Respawn
After you deal with this boss, it will respawn in about 3-5 minutes – you need to move to another area or re-enter the game for the Dark Paradise Conduit to reappear. Remember also that to collect rewards, you will have to spend 40 units of Elemental Resin from him.
Characteristics of the Monstrous Baptist
Summoning fire, ice and lightning is able to control four elements (Cryo, Pyro, Hydro and Electro), but in its normal state it does not have high resistance to any of these elements. However, he can create shields that increase his elemental resistance by 200%. Fortunately, this ability can be bypassed – you can read more about this below.

If we talk about the combat attributes of a creature from the Abyss, then in terms of health it is inferior to such bosses as Unut Seteha or Feathered Mold, however, it surpasses them in attack power, and significantly. However, with the right choice of heroes and their good pumping, you should not have big problems with his destruction. You can see all the enemy's stats in the image below (2P, 3P and 4P show the stats when playing co-op).
Recommended characters
Hero Selection Tips
Above, we noted that this boss is capable of dealing significant elemental damage, so we advise you to definitely take a good shielder (Zhong Li, Layla, Diona) and/or a healer (Kokomi, Bennett, Kuki Shinobu, Bai Zhu, Yao Yao) into your squad, capable of effectively protecting and healing allies.
You should also take into account the main ability of the creature of the Abyss, associated with the ability to control several elements, which allows it to put up shields and deal damage with different elements. He will also create elemental rings, using them to carry out powerful attacks. It will be possible to destroy them only with the help of different elemental reactions.
For this reason, you should take characters of different elements to the team to constantly call different reactions. You can also add a fighter to the Anemo squad to enhance combined attacks. It is not yet clear whether it will be possible to destroy rings using Dendro reactions, and how effective Geo strikes will be.
Optimal commands
Based on the above information, we have prepared some of the most suitable units that will be the easiest for you to deal with the Monstrous Baptist. They are shown in the table below (these are preliminary commands).
| Primary DPS | Minor DPS | Minor DPS /Support | Support/Healer |
| --- | --- | --- | --- |
| Raiden | Xing Qiu | Xiang Ling | Bennet |
| Kokomi | Ye Lan | Raiden | Nahida |
| Hu Tao | Xing Qiu | Kazuha | Zhong Li |
| Tartaglia | Xiang Ling | Kazuha | Bennet |
| Ayaka | Shen He | Kazuha | Kokomi |
| Wanderer | Faruzan | Ye Lan (Xing Qiu) | Bennet |
Monstrous Baptist attacks and moves< /h2>
Information to follow after Update 3.6 is released…
How to Defeat Monstrous Baptist
Information to follow after Update 3.6 is released…
i>
Achievements for the Monstrous Baptist
During the battle with this boss, you can get three trophies at once. Next, we will tell you what you need to do to open them.
Alienation …
You will need to defeat this enemy without destroying its protective dome. Achievements unlock 10 Source Stones.
Exclusion Method
You will need to defeat this enemy after it absorbs all the powers of the elements. For unlocking the achievement, you get 5 source stones.
At such moments, words will be superfluous
You need to destroy all the elemental rings while the boss is chanting to paralyze him for a short period of time.
Monstrous Baptist Rewards
Destroying this Abyssal creature will earn you friendship experience, pestilence, adventure points, and a variety of materials that are mainly needed to develop Cryo, Pyro, Hydro, and Electro heroes. The higher the level of the enemy, the better the reward will be:
Shards of Agnidus Agate, Varunad Lapis Lazuli, Vajrad Amethyst and Shivad Jade (level 20+)
Fragments of Agnidus Agate, Varunada Lapis Lazuli, Vajrad Amethyst and Shivad Jade (Level 40+)
Agnidus Agate Pieces, Varunada Lapis Lazuli, Vajrad Amethyst and Shivad Jade (Level 60+)
Precious Agate Agnidus, Varunada Lapis Lazuli, Vajrad Amethyst, and Shivad Jade (Level 75+)
Eternal Darkness Ring (Level 30+) – Required for Bai Zhu's Ascension.

Among other things, Conduit of the Dark Paradise drops a variety of sets of artifacts, namely:
Exiled (3-4 stars)
Instructor (3-4 stars)
Berserker (3-4 stars)
Gladiator's End (4-5 stars)
Traveling Ensemble (4 -5 stars)
We hope that our guide to the Monstrous Baptist in Genshin Impact will help you find and destroy this boss, having learned about the strategy of fighting him in advance and preparing the optimal team for the battle.