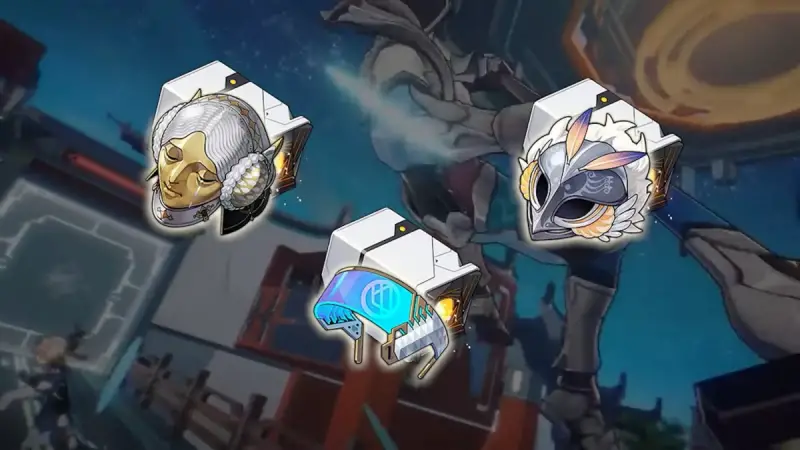 In Honkai: Star Rail, each character's equipment includes relics that can strengthen the hero and increase the efficiency of the entire squad. In this guide, you will find out what types of artifacts are in the game, which of the fighters is better to transfer certain sets, as well as where to find them, and how to upgrade.
Main types
Relics are a component of the equipment of all heroes. They increase their stats and may provide other bonuses. There are two types of artifacts in Honkai: Star Rail:
Cave relics (basic) – these can be placed in the leg, head, torso, and arm slots. One set can give two effects using two or four parts.
Planar Ornaments (minor) – this type of slot can be used to place Connecting Ropes and a Planar Sphere. One set can only give one effect from two parts.
Relic stats
Each artifact has a main attribute and several sub-stats.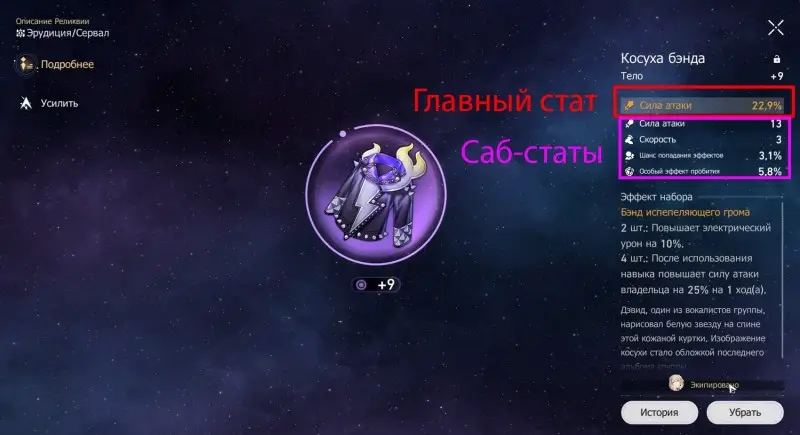 Basic parameters of relics. They will increase with each new level of the artifact.
Type
Main characteristic

Head

HP (flat)

Hands

Attack (flat)

Body

< td>HP%, attack%, ​​defense%, crit. damage and crit chance. Hit%, Healing Bonus%, Effect Hit Chance %

Legs

HP%, attack%, ​​defense%, speed (flat ), %

Planar sphere

HP%, attack%, ​​defense%, any elemental damage bonus%

Connecting Ropes

HP%, attack%, ​​defense%, penetration special effect%, energy recovery rate%
secondary options. Their number varies from one to four on one item, in accordance with the level of the relic. When upgrading, one random indicator will increase or a new one will appear if there are less than four. Sub-stats on the same item never match the main stat.
Possible additional stats:
Health (% or flat);
Attack ( % or flat);
Defense (% or flat);
Speed ​​(flat);
Special penetration effect (%);
Resist effects (%);
Chance to hit effects (%);
Chance to critically hit (%);
Critical damage (%).
All relics: which characters to give
We remind you once again that several parts of relics from one set can give additional buffs to their wearer and his team. In the tables below, we will indicate these bonuses and note which of the characters is best suited for certain sets.
Cave relics
Set
Bonuses
Whom to give

Sizzling Thunder Band

2 Instances: Electrical Damage Increased by 10%.

4 instances: The wearer's attack power is increased by 25% for 1 turn.

Suitable for heroes that deal lightning damage. Jin Yuan, Arlan, Kafka, Serval.

< /p>

The Falling Meteor Thief

2 instances: Increases the Special Effect of Penetration by 20%.

4 instances: Buffs the Special Effect of Penetrating the Wearer by an additional 20%.

Penetrating a target with vulnerability grants 3 energy. Suitable for characters whose skills specialize in dealing damage, such as Asta, Welt, Pela, Armor, Sampo, and Silver Wolf.

Genius of Diamond Stars

2 copies : Increases Quantum Damage by 10%.

4 Instances: When the wearer deals damage to an enemy with a Quantum Vulnerability, 25% of their Defense is ignored.

Good quantum damage heroes: Silver Wolf, Zele, Qingque.

Thug of the bandit desert

2 copies : Increases wearer's perceived damage by 10%.

4 instances: Attacking a weakened enemy increases the wearer's critical hit chance by 10%. If the opponent has the Conclusion status, critical damage will increase by 20%.

Strengthens heroes with an imaginary damage type. At the moment it's only Welt and Sampo.

< /p>

Fire and Lava Smith

2 instances: 10% increased fire type damage.

4 copies: The wearer's skills deal 12% more damage, and the damage of fire attacks following the super ability is increased by 12%.

Worth giving this set to heroes that use fire damage: Hook and Himeko .

< p>Twilight Eagle

2 instances: Increases wind damage by 10%.

4 instances: Casting an ultimate moves the action by 25%

Suitable for heroes with wind attacks: Sampo, Dan Heng.

Glacial Forest Hunter

2 instances: Increases Ice type damage by 10%.

4 instances: Increases wearer's ultimate critical damage by 25% for 2 turns.

< /td>

Heroes with ice damage type: Yanqing, Pela, Herta. A complete set would also be useful for Jin Yuan.

Knight of the Palace of Purity

2 copies : Increases defense by 12%.

4 instances: Increases the effect of Bearer's Shield by 20%.

Useful for characters who protect their allies: March 7, Cheetah and Pathfinder (fire).

Wandering Cloud Drifter

2 instances : Increases outgoing healing by 10%.

4 Instances: Starting a battle immediately adds a skill point to allies.

Essential on a hero with the Path of Abundance: Natasha, Locha, Bailu.< /td>

Snowstorm Guardian

2 copies : The damage taken by the character is reduced by 8%.

4 instances: When the wearer's current health is less than 50% at the start of the turn, 8% of their total health and 5 energy are instantly restored.

Used primarily by shieldmen: March 7, Cheetah.

Wild Wheat Shooter

2 copies : Increases attack power stat by 10%.

4 instances: Increases wearer speed by 6% and damage dealt by 10% of base attack stat.

Suitable for all heroes that usually specialize in attack, such as Yanqie, Sampo, Tingyun, and Zele.

Street Boxing Champion

2 instances: physical damage characteristic increases by 10%.

4 instances: After using an attack or being hit, the wearer gains 5% attack power.

This buff can stack 5 times. Increases the physical damage dealt by characters. Sushan, Clara, Pathfinder (Physical).
Planar Decorations
Set
Bonuses
Whom to give

White God of Architects

2 instances: wearer defense increases by 15%. If he has at least 50% chance to hit effects, his defense increases by an additional 15%.
Good for Save Path: Cheetah, March 7, Pathfinder (fiery).

Frozen Salsotto

2 instances: critical hit chance carrier is increased by 8%. When the total value of this stat exceeds 50%, then the damage of subsequent skills is increased by 15%.
Buffs Heroes with the Paths of Destruction, Hunting, Erudite: Himeko, Kafa, and Qing Que.

Space Sealing Station

2 instances: Increases attack power stat by 12%. If the wearer's speed is at least 120, their attack power is also increased by 12%.
Suitable for characters whose abilities depend on attack power and speed: Clara, Locha, Arlan, Tingyun and Yanqing.

Celestial Differentiator

2 copies: Increases critical hit chance by 8%. If the wearer has this indicator at least 80%, then the value of the damage dealt by basic attack and skills is increased by 20%.
Strengthens attacking characters: Pathfinder (physical), Herta, Dan Heng, Zele, Herta, Hook, Jing Yuan, Himeko and Sushan.

Pangalactic Business Enterprise

2 Instances: Increases stat hit chance by 10%. The wearer's attack power is buffed by 25% of the effect's hit value, up to a maximum of 25%.
This set is useful for the following characters: Welt, Sampo, Serval.

Thalia – the land of bandits

2 copies: special the penetration effect is increased by 20%.
This stat is increased by an additional 28% if the wearer's speed is at least 145.  This set suits the Silver Wolf and Asta.
< td class="center">

Ageless Fleet

2 instances: maximum health increases by 12%. If the wearer's speed is over 120, then the attack power of the entire team is increased by 8%.
Increases the effectiveness of the following heroes: Armor.
Leveling relics
As the level of each item increases, the bonus that artifacts give to their wearer also increases. This is done with the help of other relics, special materials (lost essences, crystals and gold particles, as well as lost dust of light), which are mined in the Forgotten Hall or obtained by dismantling other relics in the inventory.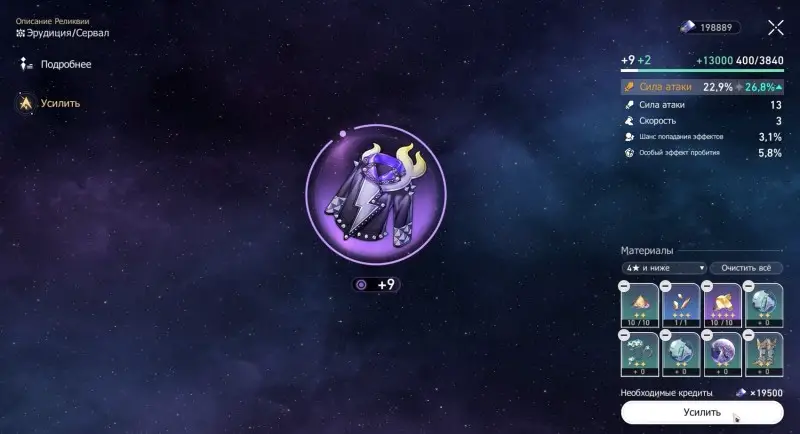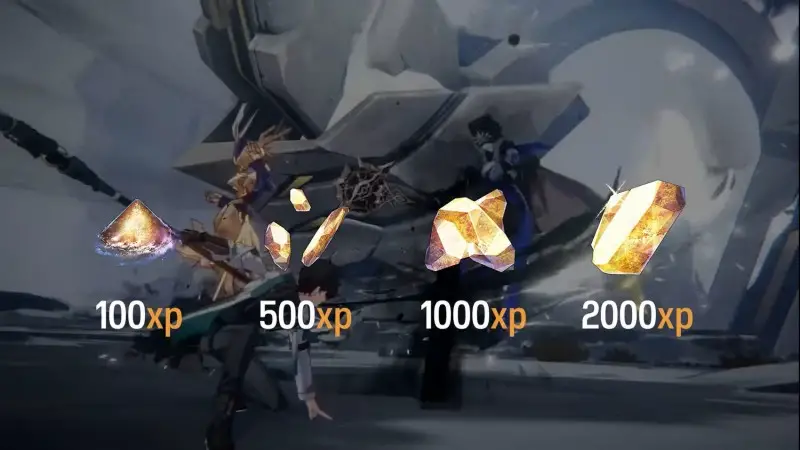 The highest level to which a relic can be upgraded depends on its rarity.
| Rarity | Max level |
| --- | --- |
| 2 stars | 6 |
| 3 stars | 9 |
| 4 stars | 12 |
| 5 stars | 15 |
Where to find relics
Cave of Corrosion
The main source of getting Cave Relics. The quantity and quality of rewards received depends on the difficulty of the dungeon. To receive a reward, you will have to spend 40 units of development energy.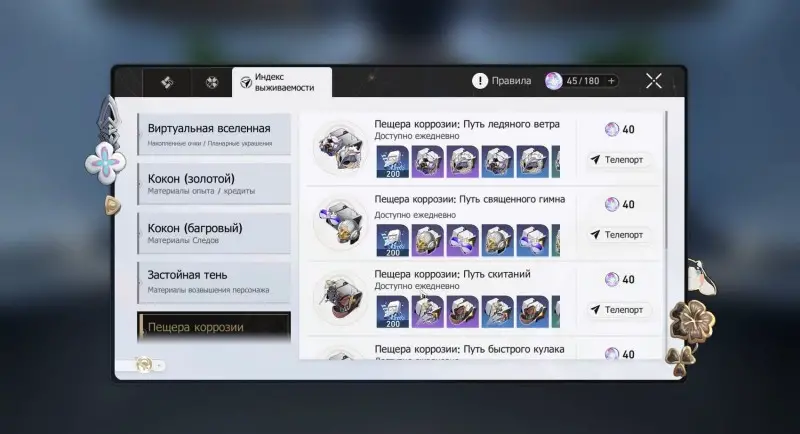 Virtual Universe
Planar decorations are already mined here. They start to drop after completing world 3 challenges and above. To get artifacts you need 40 energy or one immersive amplifier.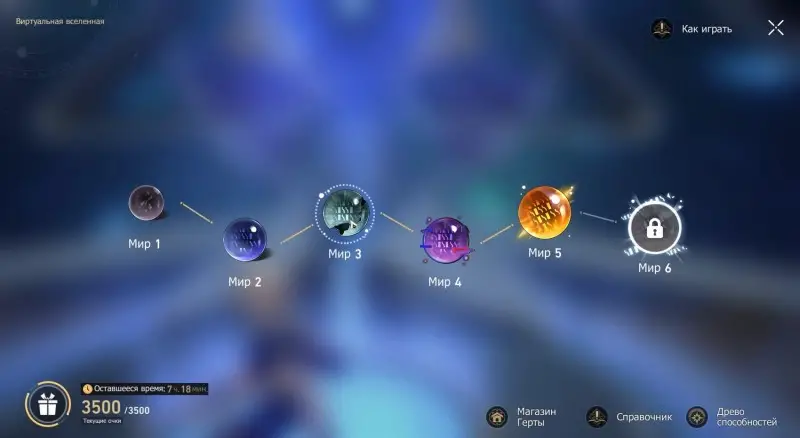 Exploring the world
Some artifacts can be found in chests and souvenir shops scattered around the world, as well as received for completing tasks from the Interastral World Guide (see the Briefing tab).
Story Walkthrough
Completing some missions and progressing to a new level of exploration can sometimes reward players with relics.
Relic synthesis: how to create artifacts
After mastering level 40, you will be able to craft items from any set. To create an artifact, you need 100 particles, which can be obtained after parsing 10 artifacts. Moreover, you can choose which item you want to create from the required set.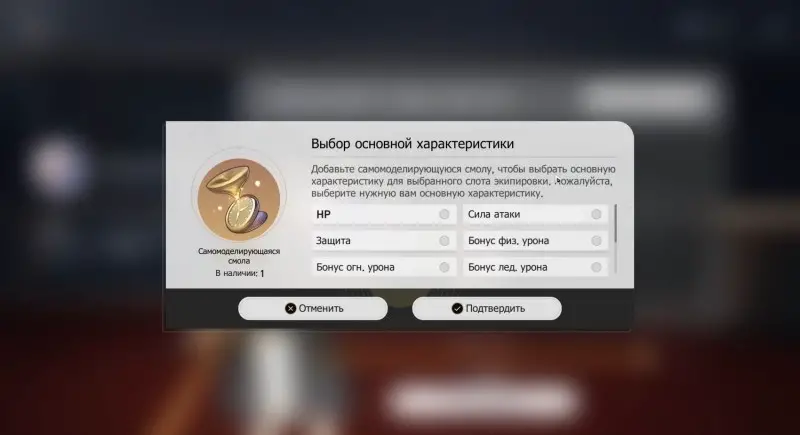 You should also pay attention to such a resource as Self-Modeling Resin, which can be obtained upon reaching level 40 of the Battle Pass. With it, you can set the main characteristics of the created relic. As a result, only additional stats of the new item will be randomly selected during synthesis.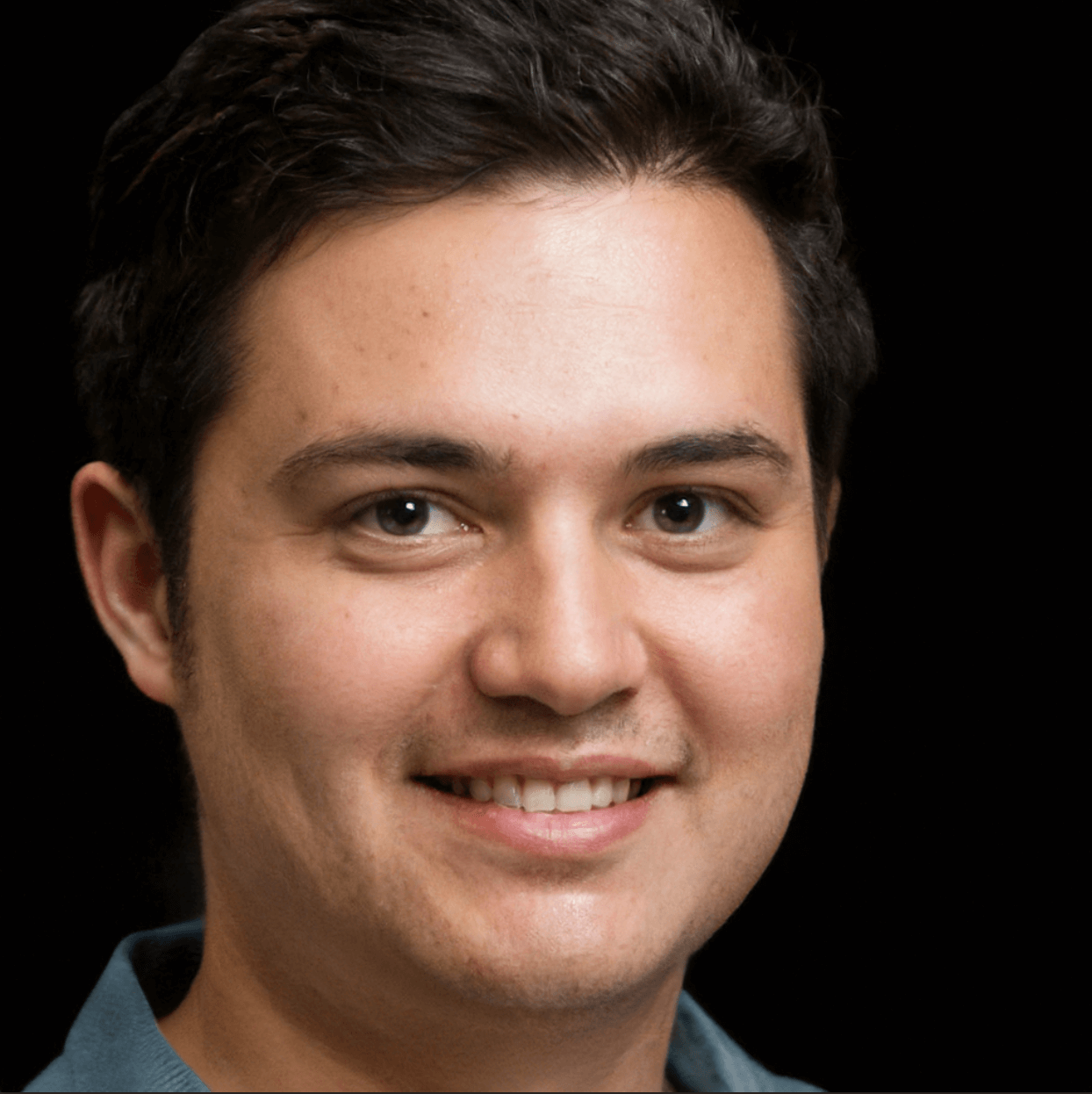 I like to play mobile games. Especially, Mobile Legends Bang Bang and COD Mobile.  I share my game experience. Sometimes I publish guides and tips from other players. So if you'd like to be published on Gameloid, please contact me.