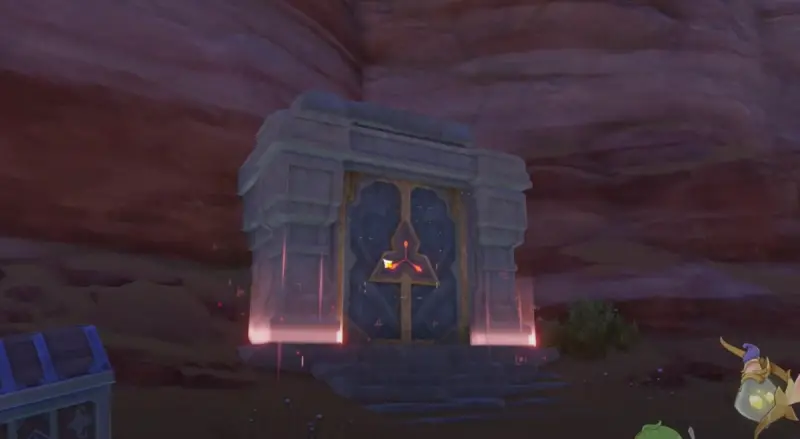 In Genshin impact, the Inland Sea of ​​Somalata is a single-use dungeon in the Twilight Desert that only gives out a reward once after completing a combat challenge related to the destruction of moulds. , moroviks and sacred horned crocodiles. To open it, you will have to solve a small riddle with Dendro monuments and runes. In this guide, we will tell you how to find, unlock and clear this dungeon.
How to find and open the Inland Sea of ​​Somalaty
The entrance to it is located in the southeastern part of the Farahkert Kingdom, not far from the Oasis of Vurukash. In theory, you can get to this area after completing the Archons quest "A Song of Dragon Freedom" and reaching the 40th adventure rank, however, we advise you to follow the main story and start searching at least after the mission "Dreams, Void and Deception", during which you will visit the desert area for the first time in the story. Reach the teleport shown on the map below, and then move southeast along the bottom of the gorge.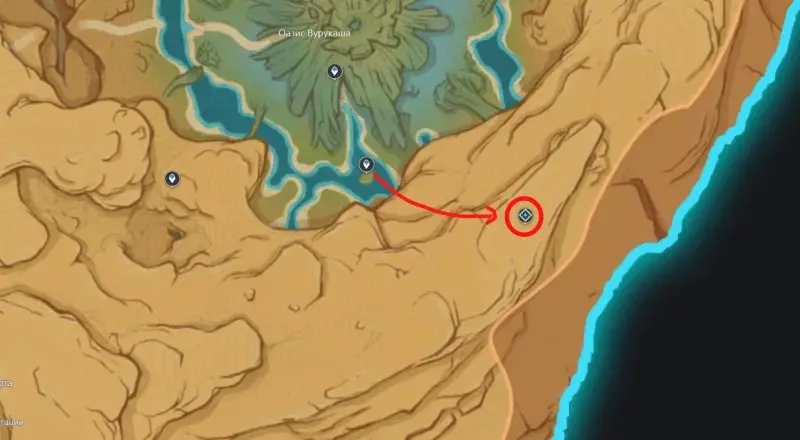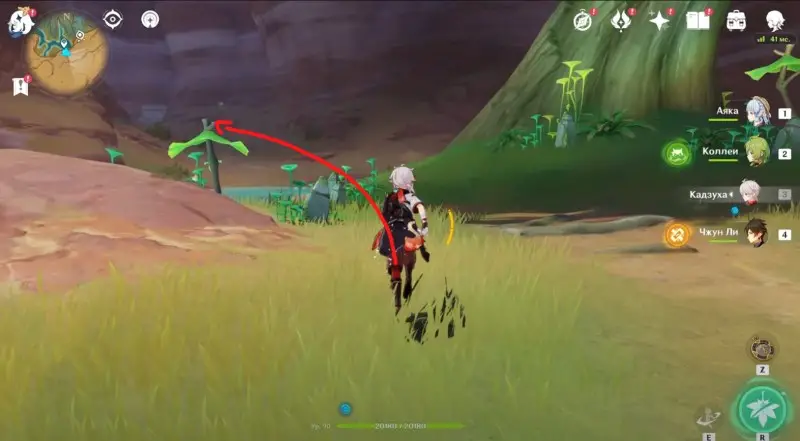 After moving to the edge of the Vurukash oasis, turn left and move towards the canyon ahead. The blocked passage to the dungeon is located right at the foot of the cliff. To open it, you will need to solve the puzzle with elemental totems.
Solving the puzzle with Dendro totems
First of all, take any Dendro character to the squad (we advise you to take Kollei or Tignari to activate the monuments from afar). You will notice that runes with dots are drawn next to the columns – their number just demonstrates the order in which the totems are activated. The screenshots below show the required sequence.
First totem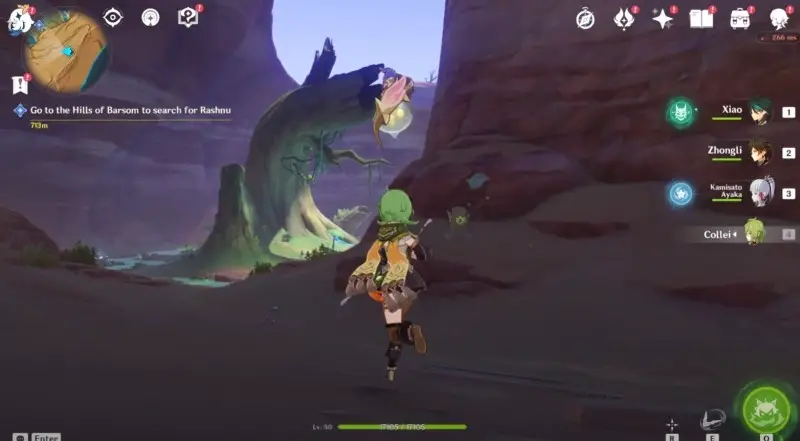 Second totem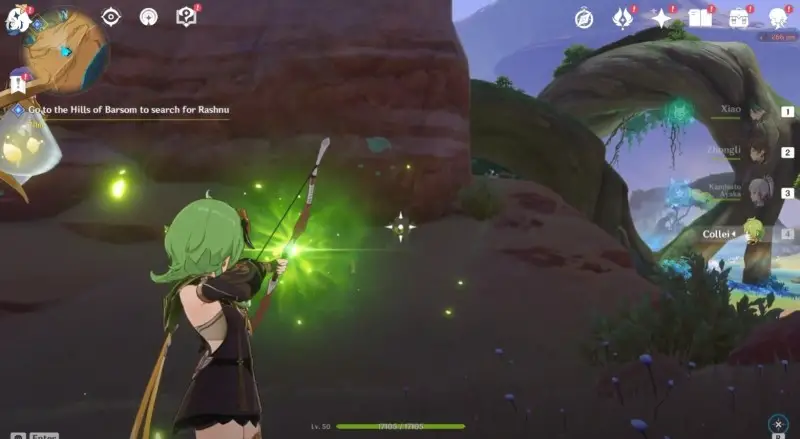 Fourth totem
Once you activate all the monuments, the entrance to the "Inland Sea of ​​Somalata" will be unlocked, and you will be able to teleport here at any time. You will also receive a Rich Chest.
Preparing to Clear the Inland Sea of ​​Somalata
Recommended Characters
Required Adventure Rank: 40

< li>Recommended character level: at least 90

Best element: Hydro
Earth artery anomaly: none
In this dungeon, you will have to fight molders, both ordinary and morovik. These enemies can be easily pulled to the places you need with the help of whirlwinds, so you can take the appropriate Anemo heroes (Sucrose, Venty, Kazuha) into the squad.
< /p>
In the end, you will have to fight with the Holy Horned Crocodile, which does not have high resistance to any type of damage, but can go into the Absorption form and create energy blocks. To destroy the latter, Hydro attacks are required. It is for this reason that the game recommends taking characters of the appropriate element (one hero will be enough).
Naturally, do not forget about healers and shields, which will help you defend against enemy attacks and heal allies when their health drops to a critical level. For example, Kokomi is an excellent healer and quickly applies the "wet" status to enemies, and Zhong Li creates the best shield in the game.
The table below shows several optimal commands for this dungeon. I just refer to them when building my own squad.
Main DPS
Secondary DPS
Secondary DPS/Support
Support

Ayato

< td class="center">

Nahida

Kazuha

Kuki Shinobu

Ayato

Kazuha

Yun Jin

Zhong Li

Nahida

Raiden

Kazuha

Ayaka

Shen He

Kazuha

Kokomi

Tartaglia (Ayato)

< img class="aligncenter" src="/wp-content/uploads/2023/04/vnutrennee-more-somalaty-v-genshin-impact-kak-otkryt-i-projti-6e3feb8.jpg" alt="Somalaty Inland Sea in Genshin Impact: how to open and pass" />

Xiang Ling

Kazuha

Bennet

Hu Tao

Xing Qiu

Kazuha

Zhong Li
Food and potion selection
If you're having trouble taking out the moulders and the crocodile, then try strengthening your characters with a variety of potions, oils, and foods. For example, using Forest Oil and Whirlpool Oil can increase the damage of Dendro and Hydro fighters respectively.
Food, on the other hand, needs to be selected based on what combat characteristic you want to strengthen. To increase attack power, Fragrant Puree, Grow Mountain, Adept's Temptation, and Cold Meats are suitable. Lotus Cookies, Unagityazuke, and Three Flavors Soup will help you to increase your defenses or receive healing.
Somalata Inland Sea Dungeon Walkthrough
You are waiting for a standard combat test. Approach the red mark and interact with it. You will need to deal with 9 opponents who will attack you in waves. There are no time limits, so you don't have to rush and don't try to pour everything into the attack – watch the health and defense of your characters.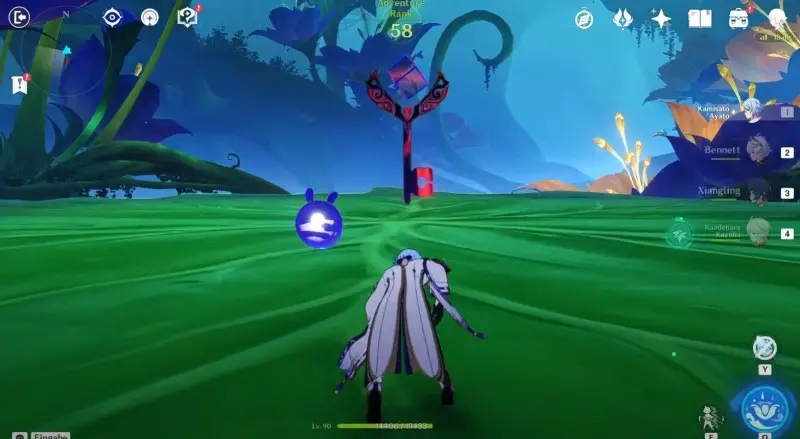 < p>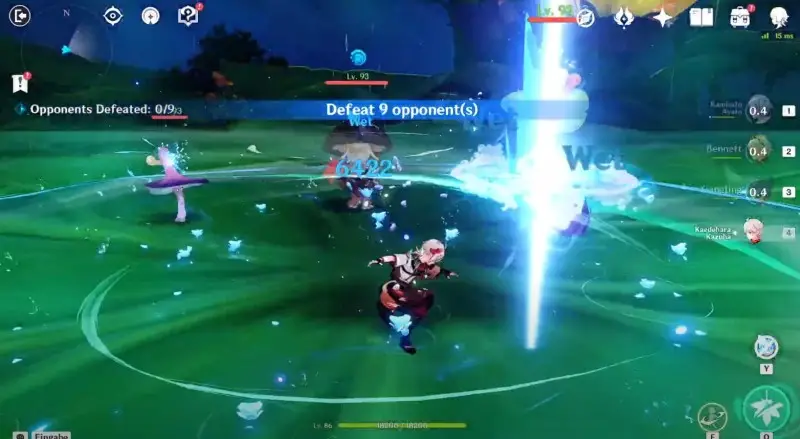 As part of the first wave, you will need to defeat molders and pests. Immediately use a whirlwind to pull enemies towards you, then hit them with elemental blasts that hit them in an area. Thus, you can quickly destroy several enemies at once.
In the last wave, you have to fight the Sacred Horned Crocodile. If you're lucky, you can kill him before he goes into hard mode. Otherwise, switch to your character's Hydro and destroy the orb so you can deal more damage to the enemy.
After passing the challenge, you will receive 40 Source Stones, 50,000 Mora, 5 Dendro Seals, 2 Hero XP, a few directions, and other useful materials. Don't forget to open the precious chest as well.