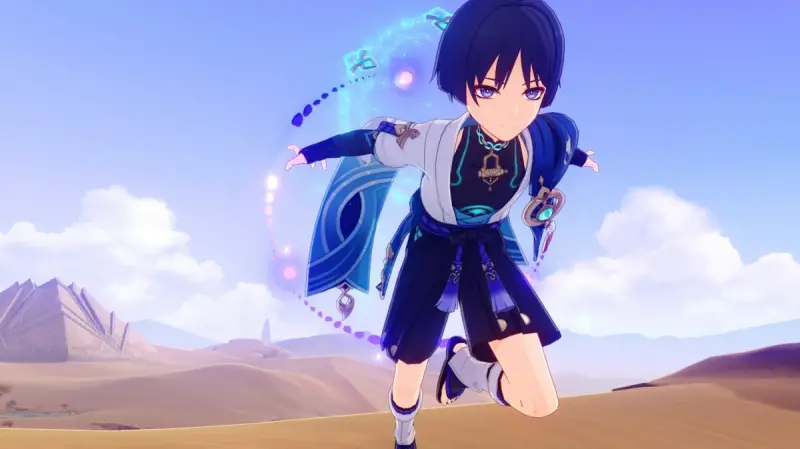 The developers at HoYoverse managed to create a very sophisticated movement system in Genshin Impact, allowing characters to climb almost any surface and even take into account their height when calculating speed. Plus, many heroes have unique abilities that allow them to noticeably speed up.
For this reason, it is not uncommon for players to take speed measurements of different characters to see who is the fastest in the game. As a rule, such comparisons are made after the release of a new hero with an unusual sprint animation or a skill that affects his run. In patch 3.7, a corresponding hero was released – Kirara, who with the help of her ability can turn into a box cat.
The fastest character in Genshin Impact at a short distance
As a result, several players held another run featuring the fastest characters in the game. Usually, the bridge in front of the entrance to Mondstadt or other places where it is easy to measure running speed is chosen for speed comparison. In the first video, the race was: Kirara, Traveler, Mona, Wanderer, Sayu, and Ye Lan. As a result, Ye Lan got the first place, Sayu got the second, and the Wanderer got the third. The cat girl turned out to be even slower than the average male character.
In the second video, the race took place on a custom map in the style of Sumeru. Mona, Ye Lan, Wanderer, Yae Miko, Sayu, and Ayato ran the 100 meters in a straight line. In the end, Ye Lan won first place again, Sayu came in second, and Wanderer came in third. However, sometimes the positions of these three characters change – for example, in the third video below, the Wanderer was the first to reach the finish line, followed by Sayu and Ye Lan. Apparently, a lot here also depends on the ability of the players to control these heroes.
However, it's safe to say that the fastest short-range characters are Sayu, Wanderer, and Ye Lan, with the latter often taking the top spot due to her elemental skill. Kirara, on the other hand, proved to be slower than even heroes with a normal sprint, so she should only be used in situations where you need to quickly climb a relatively low ledge.
The fastest character in Genshin Impact at a long distance
At short distances, the test does not look very objective, because for many characters the speed is tied to the use of skills that require reloading, and it can also last for a different amount of time. Therefore, we decided to show several races over longer distances.
The first video was recorded in the summer of 2022, so there is no Wanderer in it, but there is Keia, who demonstrates the speed of tall male characters and the effect of reducing the cost of stamina when running. The first place in it was again taken by Ye Lan, and the second by Sayu. The third and fourth separated Ayaka and Sayu.
Rosaria was on the fourth line, however, it should be borne in mind that she can only get this result at night (in the daytime, most likely, Dehya will be able to run in the same time). Keia took the penultimate place.
In the second video, the characters cover a much greater distance, and only the fastest heroes are racing. This run most clearly shows how quickly certain heroes overcome significant distances. As a result, the Stranger turned out to be the first – all thanks to his ability to fly. Ye Lan was second, Sayu was third, and Ayaka was fourth.
The best characters to explore the world
In Genshin Impact, you will have to run very often, especially when new regions appear in which teleporters and statues of the seven Archons have not yet been opened. Of course, just running from one point to another is not very interesting, so I want to reduce my time spent on this part of the gameplay as much as possible. This is where quick characters will help you.
Plus, they will allow you to noticeably speed up the collection of various materials: local curiosities, plants, ores, and so on. In this case, you should not rely on only one character. For example, if you have Ye Lan, then we still advise you to take Ayaka or Mona to the team, as they overcome water obstacles much faster (the Wanderer can even fly over almost any body of water in a certain pack).
The table below lists the best heroes to explore Teyvat. Gather a squad of them if you are not going to fight, but just plan to run to all the new teleports or farm resources.
Characters
Features

Ye Lan

Can travel both large and small distances very quickly in the absence of obstacles with the help of her elemental skill.

Amber

Collei

Venti

Reduces the active hero's stamina cost while using the glider by 20%. The bonus does not stack.

Kirara< /p>

Allows you to quickly cross small or medium ledges with your elemental skill.

Yae Miko

Can increase her movement speed by placing Electro Totems (elemental skill).

Wanderer

Thanks to his elemental skill, he can hover above the ground, which will allow you to quickly overcome small bodies of water, pits and crevices. It can also fly high to help you get into hard-to-reach areas.

Keia

Razor

Kazuha

Heizo

Reduces the active hero's stamina cost while sprinting by 20%. Bonus does not stack

Xiao

Reduces the active hero's stamina cost while climbing rocks and other vertical surfaces by 20%. The bonus does not stack. Can do additional dashes with her elemental skill.

< /p> Bei Dou

Kokomi

Reduces the active hero's stamina cost while swimming by 20 percent. The bonus does not stack.

Mona< /p>

Ayaka

The unique sprint animation allows them to quickly move through the water, making it easier to overcome rivers, lakes and other water obstacles.

Saiu

If you hold down the heroine's elemental skill for a long time, she will turn into a wind wheel, which will significantly increase her speed movement. Often, he can even move faster than sprinting.

Rosaria

Team members' movement speed is increased by 10% at night (from 18:00 to 06 :00) thanks to the heroine's passive skill, Path in the Night.

Dehya

Team members' movement speed is increased by 10% during daylight hours (from 06:00 to 18 :00) thanks to the heroine's passive skill Solar Path.

2x Anemo Characters

Anemo Resonance "Nimble Wind" occurs, reducing stamina cost by 15% and increasing movement speed by 10%.
If you don't have any of the above characters, then we advise you to simply use tall male fighters (Ayato, Zhong Li, Dilyuk, Itto, etc.) conditions run somewhat faster than other heroes.