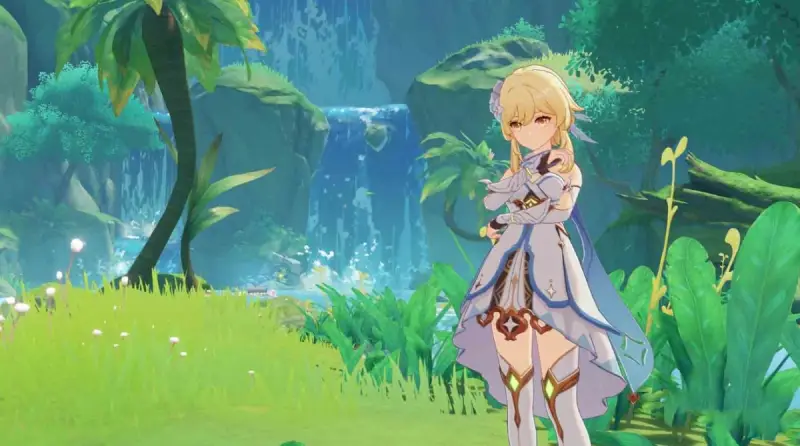 In Genshin Impact, Traveler (Dendro) is a free 5-star character who is proficient with a one-handed sword. In a group, he is able to play the role of a support or a secondary damage dealer. In this guide, you will learn how to change the element of the main character to Dendro, as well as about his best builds, weapons, artifacts and teams.
The main features of the Traveler (Dendro)
How to get the Traveler (Dendro)
If you want to take the element for the main character Dendro, then first you will need to get to the region called Sumeru. The Archon quest "Through smoke and dark forests" can take you there, but you can easily get there on your own by going through a cave in the Rift (the entire route is shown in the article on the quest).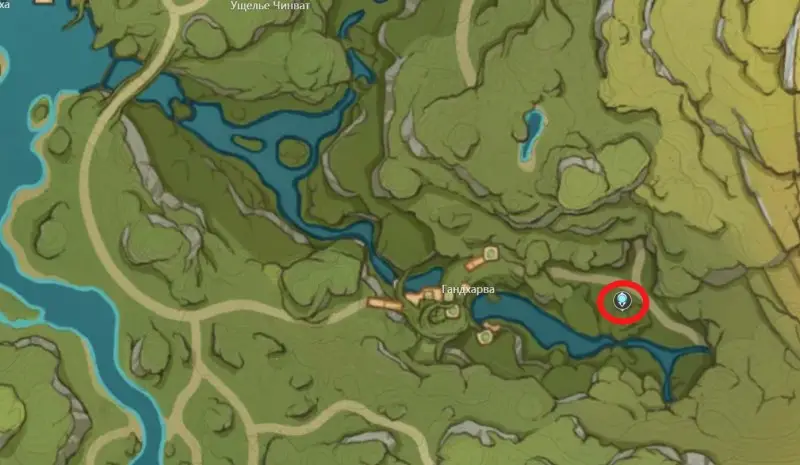 When you find yourself in the rainforest, near the village of Gandharva, go to the Statue of Seven, which is installed on a cliff (see the screenshots above). Be sure to take the Traveler into your team and make him active. Then interact with the statue and select the "Resonate with Dendro" option from the action menu. After a couple of seconds, your GG will be able to use a new element.
Note that you can use any other twilight seven statue if you wish. On the interactive map of Sumeru, by the way, the coordinates of other similar objects are indicated. We add that if you want to return the Geo, Electro or Anemo elements, then you only need to return to Li Yue, Inazuma or Mondstadt respectively, and then resonate with the statues of the seven Archons there. By the way, we reviewed their best builds in a separate guide.
Traveler (Dendro) stats progression
The table below shows how a character's base parameters change as they level up.
< td>5%
Level
Basic HP
Basic Attack< /th>
Basic Defense
Attack Bonus
Crit Chance Hits
Crit. damage
1
912
18
57
0%
5%
50%
20
2342
46
147
0%
5%
50%
40
4529
88
284
6%
5%
50%
60
7164
140
450
12%
5%
50%
80
9638
188
605
18%
5%
50%
90
10875
212
683
24%
50%
Advantages and disadvantages of the Traveler (Dendro)
Using his unique abilities, the main character can provide significant support to his allies and at the same time inflict considerable damage. Its advantages include:
Great for dealing Dendro damage out of the field.
Can be used in almost any squad aimed at creating Dendro reactions, as a sub- DD.
High-level constellations increase the effectiveness of the Traveler as a support.
Using his skills and attacks, he can almost constantly inflict Dendro status, making it easier to create reactions.
Pairs well with Hydro, Electro and Pyro characters due to the variable effects of her ultimate.
An easy to control character that is great for beginners.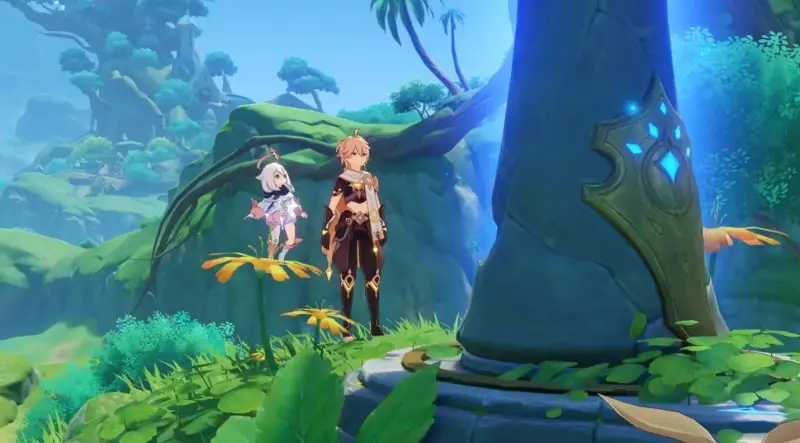 It's not without its drawbacks, though, some of which follow directly from its advantages:
Relatively low base attack power, which makes it difficult to use as a full-fledged damage dealer.
Elemental explosion is very expensive (90 units), which will require special attention to energy recovery.
The attack speed of the Lotus Lamp leaves much to be desired – the only way to fix the situation is with the help of Electro impact.
Traveler's Abilities (Dendro)
When performing a normal attack of Shamshir's Dance, the hero performs up to 5 simple blows with the blade, and when charged, he performs two quick swings of the sword, spending stamina. In the event of an air attack, it lands on the ground, dealing damage in an area. Everything here is pretty standard.
After using the elemental skill Grass Blade, the Traveler swings his sword, releasing green projectiles in front of him that deal damage to Dendro. The cooldown of this skill is 8 seconds.
Applying an explosion of the Grass Bending Wind verse results in to the emergence of the Lotus Lamp, which for 12 seconds deals damage to Dendro to all enemies in its area of ​​effect. The cooldown is 20 seconds.
< p>It should be noted that when interacting with certain elements, the effect of the Lotus Lamp changes somewhat, namely:
Hydro – increases its radius of operation, that is, it begins to attack enemies at a greater distance.

< li>Pyro – an explosion occurs almost instantly, causing significant damage to Dendro to all nearby mobs.

Electro – increases the attack speed of a green flower.
We add that only one Lotus Lamp can be on the battlefield at a time. It is also impossible not to mention the very useful passive talents of the main character:
Creeping growth – after using the explosion of the elements, the level of the Lotus Lamp increases every second
Radiant Lotus, which increases the mastery of the elements of active fighters in range of the ult by 6 units. The bonus can stack up to ten times.
Luxurious Greens – damage dealt by elemental skill and ult is increased by 0.15% and 0.1% respectively for each point of the protagonist's MC.
Constellations of the Traveler (Dendro)
Unlike other heroes, the Traveler (Dendro) constellations are not unlocked through the character's luck, but through the use of Memory of Lush Flora. There are two ways to get these items:
Complete the Archon quests "A Hundred Fresh Roses Morning Brings", "King Deshret and the Three Wise Men" and "Akasha's Path and Flames of Kalpa". This will give you 3 lush flora memories.
3 more materials can be obtained by leveling Dendro Archon statues by collecting Dendrocules.
Thus, sooner or later you will have to open all the constellations, however, you can significantly strengthen the hero with the help of C1 and C2. To increase the effectiveness of the Traveler as a support, it is recommended to unlock C4 as soon as possible. The list below contains descriptions of all constellations:
Climbing Symbiote – the character regenerates 3.5 points of energy for each hit on a mob with an elemental skill.
Plant resistance – the duration of the explosion increases the elemental skill for three seconds.
Dance of herbs – the level of the elemental skill increases by three. Max level: 15th.
Sugar Grass – If the effect of the Lotus Lamp is changed, he will immediately receive the 5th level of Radiant Lotus, which means that the active hero will instantly be endowed with an additional 30 Elemental Mastery points. Max level: 15.
Withering Cluster – Increases Dendro's damage by 12% for a character affected by Radiant Lotus. If the ult was changed by another element, then the corresponding elemental damage of the hero will increase by another 12%.
How to play as a Traveler (Dendro)
As we noted above, he can function as both a support and a full-fledged sub-DD, and both can act as an applicator, that is, impose a Dendro status on enemies for creating reactions such as Stimulate, Bud and Burn.
At the same time, playing a hero is quite simple. Its rotation looks like this:
At the beginning of the fight, use the skills of supports that increase elemental mastery (if any), and then activate the elemental skill (to generate energy) and the elemental explosion of the Traveler (Dendro).
Next, use Hydro, Pyro or Electro skill ( depending on what effect you want right now) of another character (usually sub-DD or main-DD) to convert the ult.
If you are aiming to create the reaction Growth (Dendro + Electro + Dendro), then the elemental skill of the Traveler (Dendro) should be used not before the activation of the ult, but after.
During the ult, every 8 seconds you need to switch again on the Traveler (Dendro) and activate his E-shku to replenish energy.
After the elemental explosion ends, wait for it to recharge, and then repeat the above sequence.
In addition, with the passive talent "Creeping Growth" unlocked, you will additionally flood the elemental mastery of the active character, strengthening the reactions he closes.
The best builds for the Traveler (Dendro)
The best weapons
When choosing blades, priority should be given to those that can increase Energy Recovery (to perform an elemental explosion after the cooldown expires) or Elemental Mastery (to increase Dendro's reactions), as well as provide useful passive bonuses. The table below lists such weapons.
Name and rarity
Stats (level 1-90)
Passive

< img class="aligncenter" src="/wp-content/uploads/2022/11/puteshestvennik-dendro-v-genshin-impact-gajd-na-luchshie-bildy-95a8602.jpg" alt="Traveller (Dendro) in Genshin Impact: Best Build Guide" />

Oath of Freedom (5 stars)

Elemental Mastery: 43 ~198

Basic attack: 46-608

Increases damage dealt by 10% and accumulates Talismans of Empowerment even when the character is not on the battlefield. After collecting two talismans, they disappear, increasing allies' normal and charged damage by 16% and attack power by 20%. A great weapon for both a support and a sub-DD, as it not only strengthens the squad, but also increases the damage of the hero equipped with it. For example, his elemental explosion now deals 20% more damage.

Ceremonial Sword (4 stars)

Energy regeneration: 13.3%~61.3%

Basic Attack: 41-454

Has a 40% chance to instantly restore the cooldown of an elemental skill when it deals damage. The effect works once every half a minute. Gives energy, which is so necessary for the hero. In addition, it allows you to use the elemental skill more often, which again gives additional energy particles. As a result, the Traveler will be able to almost permanently apply the Dendro status to enemies.

Favonius Sword (4 stars)

Energy regeneration: 13.3%~61.3%

Basic Attack: 41-454

Your critical hits have a 60% chance to restore 6 energy. The effect occurs every 12 seconds. Gives even more energy than the previous weapon, and there will be plenty of it even for the Traveler's allies, so they too can use their elemental explosions without any problems.

Precious Pool (5 stars)

Critical Hit Chance : 9.6%~44.1%

Basic Attack: 44-542

Increases the hero's health by 20%~40% and grants an attack bonus of 1 .2%~2.4% of the hero's maximum health. Significantly increases the attack power and crits of the hero, so he begins to deal considerable damage. Not a bad option for the Traveler as a sub-DD. True, in this case, MS and energy recovery will have to be taken from artifacts or it is necessary to take the second Dendro character to the team.

Heavenly Sword (5 Stars)

12%~55.1% Energy Regeneration

Basic attack : 46~608

Increases critical hit chance by 4%~8%. The ultimate awakens the power of the heavens, increasing movement and attack speed by 10%, and normal and charged attacks deal additional damage equal to 20% ~ 40% of attack power on hit. The duration of the buffs is 12 seconds. Can give energy and increase crits, but in the first case, he loses to the sword of Favonius and the ceremonial, and in the second – to the Precious Pool. Also, his passive only works on normal and charged hits. Therefore, we still recommend giving this blade to a more suitable character.

Corrupted Desire (4 Stars)

Energy Regen: 10%~45.9%

Basic Attack: 42-510

Increases elemental skill damage by 16%~32% and their critical chance by 6%~12%. Gives energy and enhances the Traveler's elemental skill. Not a bad option if there are no other alternatives.

Xyphos Moonglow (4 stars)

Elemental Mastery : 36~165

Basic Attack: 42-510

Increases the character's Energy Recovery by 0.035% per Elemental Mastery every 10 seconds. The effect lasts 12 seconds. Nearby allies receive 30% of this bonus. The buff stacks if the weapon is wielded by other party members. A good blade that enhances Dendro's reactions due to a bonus to MS and gives energy, not only to the character equipped with it, but also to his allies.

Steel Sting (4 stars)

Elemental Mastery: 36~165

Basic Attack: 42-510

When dealing elemental damage, all damage is increased by 6 percent for 6 seconds. The effect occurs no more than once every second and stacks up to two times. A good option for a sub-DD aimed at creating reactions, as it greatly increases elemental mastery. Plus, it increases all character damage, including that dealt by the ultimate.

Wooden Blade (4 stars)

Energy regeneration: 6.7%~30.6%

Basic attack: 44-565

When the elemental reactions Exacerbation, Burning, Growth, Vegetation, Stimulation, Blooming and Budding occur, a Seed of Consciousness appears near the hero, which lasts 10 seconds. The fighter who picks up this seed gains 60~120 Elemental Mastery for 12 seconds. The seed can spawn once every 20 seconds. The bonus does not stack, but is activated even if the weapon carrier is not on the battlefield. Gives energy to the Traveler and allows you to increase the elemental mastery of the active hero. Not a bad option for both support and sub-DD.

A good alternative to him, especially in Stimulation teams (Dendro + Electro), can be a full set of Gilded Dreams, 2 parts of which increase elemental mastery by 80 points, and 4 parts increase attack power by 14% for each fighter in the squad with the same god's eye and elemental mastery by 50 points for each hero with a different element. The effect occurs every 8 seconds and occurs even if the wearer of the set is not on the battlefield. It can also be obtained from Spire of Lonely Enlightenment.

The Emblem of Sundered Fate set is also great for Stimulation – 2 parts: increase the speed of energy regeneration by 20%. 4 parts: Elemental explosion damage is increased by an amount equal to 25% of your Energy Regeneration. The maximum bonus can be increased up to 75%. The fact is that in such a detachment you will need a lot of energy. The set can be obtained in the Maple Hall dungeon.

You can also combine sets if you do not have full sets, for example, you can take halves of "Memories of the Deep Forest" and "Emblem of the Severed Fate" ("Exile") or "Memories of the Deep Forest" and "Gilded Dreams" ("Instructor" ).

As for the main characteristics, then take the hourglass for elemental mastery or energy recovery (if less than 160%-190%), goblet (chalice) – for the Dendro damage bonus (or elemental mastery), and crown – for critical damage/critical hit chance. Among the secondary stats, look for Energy Recovery, Elemental Mastery, and Crits.

Best Commands for the Traveler (Dendro)

Traveler (Dendro) plays the role of a damage-dealing off-field character very well, helping to create reactions such as Stimulate, Budding and Burning. Therefore, it pairs well with Electro, Hydro and Pyro fighters respectively. Of course, he also acts as an excellent support for the second Dendro hero, who performs the function of a main damage dealer. The table below shows all optimal commands.

Primary DPS
Secondary DPS
Minor DPS/Support
Support

Nilu

Nahida

Traveler (Dendro)

Kokomi

< p>

Kokomi

Colleas

Raiden

Traveler (Dendro)

< p>

Tignari

Yae Miko

Traveler (Dendro)

Jung Li

Ke Qing

Fischl

Traveler (Dendro)

Jung Li

Tignari

Fischl

Traveler (Dendro)

Diona

Tignari

Xiang Ling

Traveler (Dendro)

Bennett

Raiden

Yae Miko

Traveler (Dendro)

Genie

Tartaglia

Traveler (Dendro)

Fischl< /p>

Shinobu Cookies

Kokomi

Colleas

Traveler (Dendro)

Keiya

< p>

Colles

Traveler (Dendro)

Xiang Ling

Teachings, directions, and philosophies about "Guidelines" – Looted Mondays, Thursdays, and Sundays in the Tower of Ignorance dungeon and crafted with Alchemy.
Mold Spores, Glowing Pollen, and Crystalcyst Dust – Drop from Molds , crafted with Alchemy and purchased with Starlight.
Sinister General's Wisdom – Dropped by the weekly boss Magatsu mitake Narukami no Mikoto.
Crown of Insight – can be obtained during events, as well as by leveling Sacred Sakura, Permafrost Tree and Dream Tree.

As for the order of talents, up to about level 6, elemental explosion and elemental skill should be increased at the same time. Then pump your ult to the maximum, and at the end, pump up your E-shku. Normal attacks do not need to be upgraded.

How to level up

This can be done by finding and collecting a number of fairly rare materials. Below we will list their names and tell you where they can be found.

First Ascension (level 20; 20,000 mora) – 1 diamond shard, 3 wind asters, 3 broken masks.
Second Ascension (Level 40; 40,000 mora) – 3 Diamond Fragments, 10 Wind Asters, 15 Shattered Masks
Third Ascension (Level 50; 60,000 mora) – 6 Diamond Fragments, 20 Wind asters, 12 foul masks.
Fourth Ascension (level 60; 80,000 mora) – 3 pieces of diamond, 30 wind asters, 18 foul masks.
Fifth ascension (level 70; 100 000 mora) – 6 pieces of diamond, 45 wind asters, 12 sinister masks.
Sixth Ascension (level 80; 120,000 mora) – 6 precious diamonds, 60 wind asters, 24 sinister masks.

Diamonds are awarded for advancing ranks. Wind asters are a local curiosity of Mondstadt. Our separate guide shows their locations. As for the masks, they drop from hilichurls or are crafted using Alchemy.

I like to play mobile games. Especially, Mobile Legends Bang Bang and COD Mobile.  I share my game experience. Sometimes I publish guides and tips from other players. So if you'd like to be published on Gameloid, please contact me.