In this article, you will find out when Genshin Impact Update 3.3 will be released, what new characters and banners await players in the first and second phases of the patch, as well as what additional events, tasks, weapons, enemies and dungeons will appear in the game. We will gradually update this material, so we recommend that you bookmark it.
Note: Currently, the information below is based not only on the statements of the developers, but also on leaks and files mined by dataminers and testers, so it is not 100% reliable and may change over time.
Genshin Impact 3.3 release date
New updates are usually released every 6 weeks, however, miHoYo has now decided to shorten the update duration to 5 weeks in order to return to the original schedule, which had to be changed due to the pandemic. For this reason, the release of the upcoming patch will take place on December 7, 2022. It will be replaced by version 3.4 around January 6 next year.
You can preload the client a few days before its release. The developers will probably carry out technical work, which can last up to five hours. Players are usually compensated with 300 Source Stones.
Genshin Impact 3.3 Livestream
Developers almost always hold special streams one and a half to two weeks before the release of the next update. They are usually shown on Friday-Sunday. For this reason, the live broadcast of version 3.3 will most likely take place on November 25-27 this year at 15:00 Moscow time. During it, promo codes for 300 primogems will be published.
New banners and characters
HoYoverse has already officially introduced two new heroes, which, according to insiders, will be added to Genshin Impact in patch 3.3 . We are talking about the former harbinger of Fatui the Wanderer (Scaramucci), as well as a genius in the field of mechanics and architecture, Faruzan.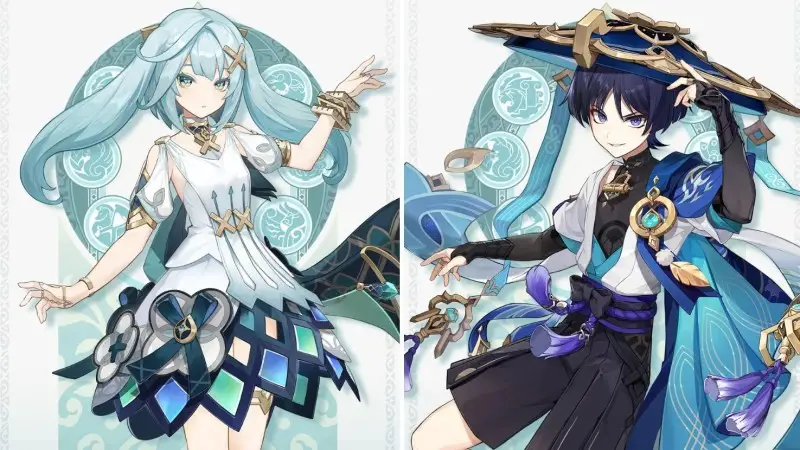 Phase One Banners
According to leaks, the first half of the update will increase the chance of getting the following characters:
The Wanderer (5 stars) is the bearer of the Anemo god's eye and an expert user of the catalyst.
Shogun Raiden (5 stars) – A spearwoman from Inazuma who is an Electro Archon and can deal massive electrical damage with her elemental blast.
Faruzan (4 stars) is the owner of Anemo God's Eye, who is a master of the bow. Despite her young appearance, she has lived for more than a hundred years.
As for the weapon banner, it will most likely feature a new catalyst, which is the signature for Scaramucci.
Phase 2 banners
In the second half, Ayaka (Cryo, one-handed sword) and Eola (Cryo, two-handed sword) reruns will probably be held. The former is the heiress of the Kamisato (Inazuma) clan, while the latter is a knight and rebellious descendant of an aristocratic family.
Change map
The developers do not plan to add new areas in this patch, however, information has appeared that they will introduce another dungeon where players will be able to knock out two additional sets of artifacts: the first increases the damage and speed of normal attacks, and the second increases the damage from the Budding reaction and its derivatives.
Game mechanics
Sacred call of the seven
This is the first full PvP mode in the game and is a collectible card game commonly played in Sumeru. The studio notes that all cards will be absolutely free, that is, they can be obtained in Genshin Impact itself. More cards will come with new updates.
It is indicated that all matches between players will be friendly, so rewards for them will not be issued. You should not count on the appearance of ratings either. But Travelers will be able to challenge various NPCs to fight – apparently, it is for such fights that they will be rewarded.
Dream Tree
The developers will allow you to upgrade the Dream Tree to level 30. As a result, you can get additional keys to the tombs of the depths of Sumeru, fateful meetings and other valuable items.
New quests
Insiders note that a new Archon quest will be added. With a high probability, it will be part of the intermediate volume, because the story of Sumeru ended in update 3.2. In it, players can meet a completely new character, which so far has been marked in the files as Blinder ("Blind Man" or "Pirushnik"). It may become playable in patch 3.6.
To better introduce players to the Traveler, the team will be adding a legend quest associated with it. It is possible that it will touch on past events, talking about what Scaramuccia did after leaving Inazuma, but before arriving in Sumeru.
New weapons
Above we have already mentioned that the developers a new catalyst will be added, but its name and characteristics are still unknown. They may also introduce a new 4-star sword. It may be a reward for completing the main event.
New Events
Following the Wind
According to rumors, players are waiting for a rerun of this event, in which players are divided into hunters and rebels. The first need to catch the second for a certain period of time. The rebels can hide in various places, disguising themselves as surrounding objects.