In this article, you will find out when Genshin Impact Update 3.4 will be released, what new characters, banners , events, quests, bosses and locations are waiting for players, as well as what new weapons, skins and cards for the Holy Call of the Seven will appear in the game. We will gradually update this material, so we recommend that you bookmark it.
Note: Currently, the information below is based not only on the statements of the developers, but also on leaks and files mined by dataminers and testers, therefore it is not 100% reliable and may change over time.
Genshin Impact 3.4 release date
miHoYo is going to return to the 6-week release of new updates, so the release of the upcoming update should take place on January 18, 2023. It will be replaced by version 3.5 around March 1 next year.
You can preload the client a few days before its release. The developers will probably carry out technical work, which can last up to five hours. Players are usually compensated with 300 Source Stones.
Genshin Impact 3.4 Livestream
Developers almost always hold special streams one and a half to two weeks before the release of the next update. They are usually shown on Friday-Sunday. For this reason, the live broadcast of version 3.4 will most likely take place on January 6-8 next year at 15:00 Moscow time. During it, promo codes for 300 primogems will be published.
New banners and characters
HoYoverse has already officially introduced two new heroes, which, according to insiders, will be added to Genshin Impact in patch 3.4 . We are talking about the Twilight researcher al-Haytama and the student of Madam Ping – Yao Yao.
Phase 1 banners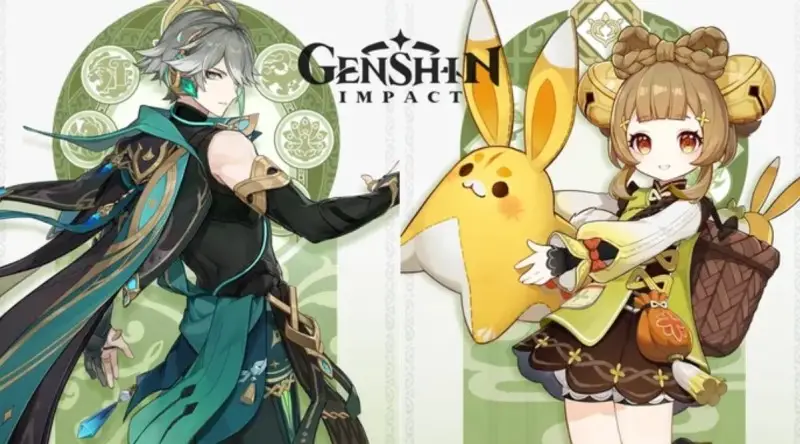 According to current leaks, the first half of the update will increase the drop rate for the following characters:
Al-Haytham (5 stars) is the bearer of the God's Eye Dendro and a skilled one-handed sword user. Can, like Ke Qing, make targeted dashes.
Hu Tao (5 stars) – Pyro spearwoman from Li Yue, who owns the Wangsheng Ritual Bureau and is able to deal massive fire damage with her elemental skill and elemental explosion.
Yao Yao (4 stars) – the owner of the Dendro Eye a god who masterfully wields a spear. With her skills, she can damage Dendro out of the field and heal allies.
As for the weapon banner, it will most likely feature the new one-handed sword Light of the Leafcut, which is the signature for al-Haytham.
Phase 2 banners
In the second half, Ayaka (Cryo, one-handed sword) and Shen He (Cryo, spear) will probably be reran. The former is the heiress of the Kamisato (Inazuma) clan, and the latter is the apprentice of the Guardian of the Clouds.
Change map
The developers are going to expand the desert by adding a new sandy area in the north. Images with a map of this region have already appeared on the network. On them you can see the location of the new boss, dungeons and the third golem of the ruins (apparently, he will move).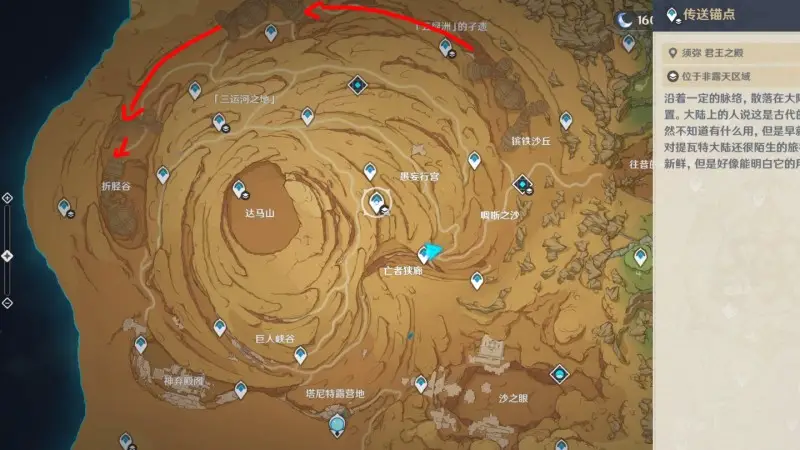 According to a leaked description, exploration of this location will reveal the story of Pushpawatika, the flower lord and the last founding deity of Sumeru . To do this, you will have to get rid of the sandstorm in the center of the region.
New enemies
Sandworm of Setekh
We are talking about a new boss, the arena with which is located in the eastern part of the new location. It belongs to the Anemo element, so it has a 60% resistance to it and is able to float above the ground.
While flying, this monster creates balls of erosion that can be destroyed by Pyro, Electro, Cryo, or Hydro attacks, reducing the boss's resistance to the corresponding element. If you destroy two spheres in a row, you will knock the sandworm to the ground. In addition, it drops Pseudo Stamens, which are necessary for leveling al-Haytham.
New Enemies
In the new region, you will meet two new hermits: Blazing Narrator and Leaf Circle Dancer. Both ladies can summon animal spirits to help them in battle.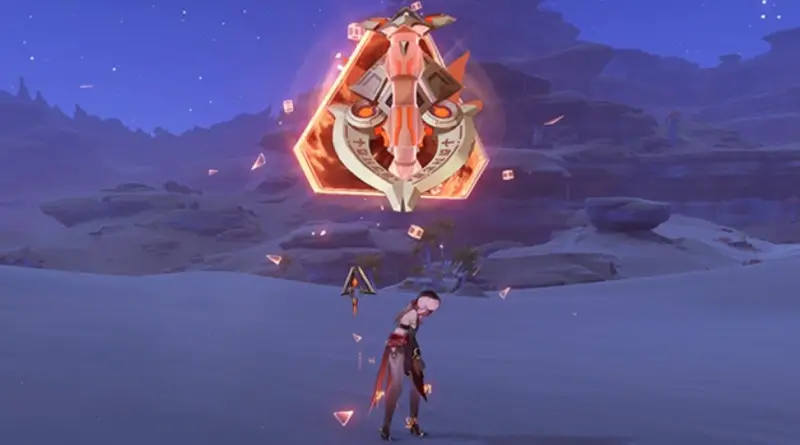 There will also be new monsters to encounter in the desert: Sacred Bone Red Vulture, Sacred Bone Scorpion, Sacred Bone Flying Serpent, and Sacred Bone Flying Serpent.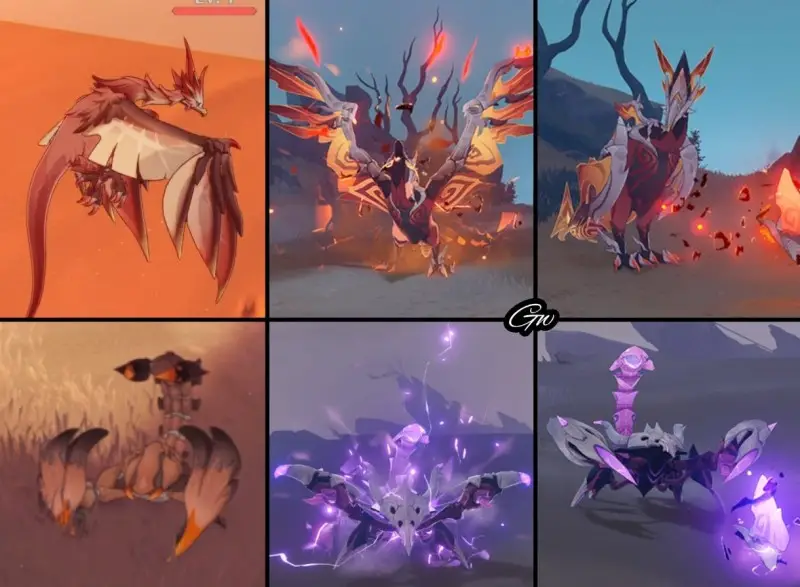 Rumor has it that the developers will add two more elite enemies: Cryo herald of the Abyss and Arch Lector, who is able to control 4 elements at once (Hydro, Pyro, Electro and Cryo). Most likely, the battle with them will take place as part of the new story quests.
Sacred Call of the Seven
New cards
Insiders note that the studio will add two new character cards for of his card game: Bay Dou (Electro, two-handed sword) and Klee (Pyro, catalyst). Their skills are not yet known.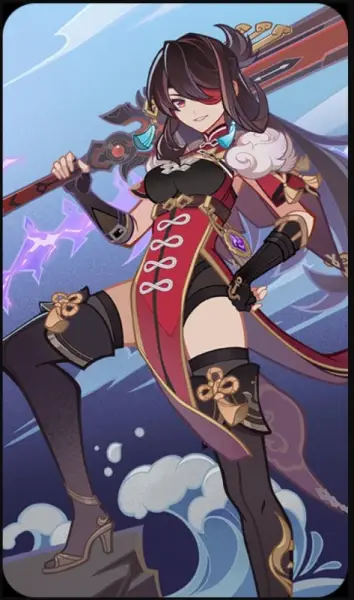 < /p>
New mode
According to the informants, in this mode, all participants in the fight will start with 8 universal dice. It will speed up duels and reduce the importance of randomness for victory.
Game mechanics and innovations
Additional skins
Information that in patch 3.4 developers will add two new skins:
A 4-star outfit for Lisa, which is a special uniform worn by students at the Twilight Academy. Most likely, it will be available for free when completing the new update event.
5-star outfit for Ayaka, which is a light blue dress. It is noted that he will change some of the animation of the heroine. It can only be obtained with Genesis Crystals in the Paimon Store.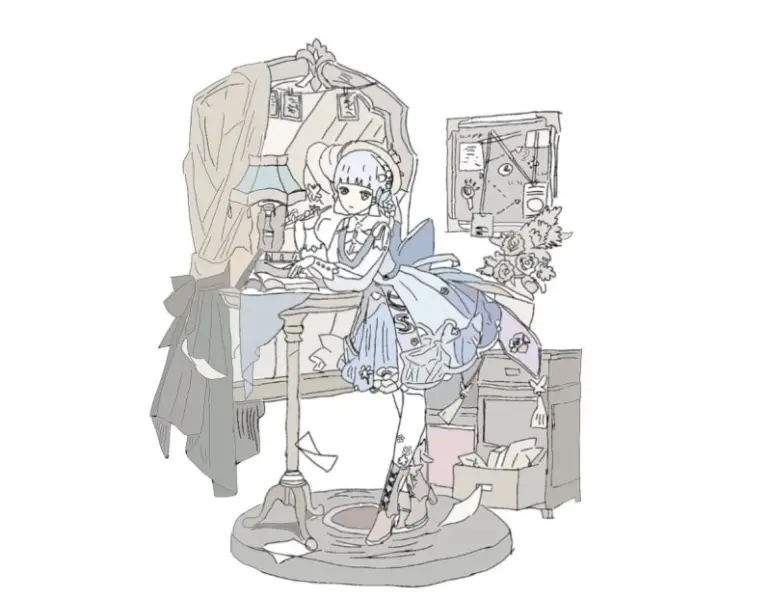 < /p>
Dream Tree
The developers will allow you to upgrade the Dream Tree to level 40. As a result, you can get additional keys to the tombs of the depths of Sumeru, fateful meetings and other valuable items.
New quests
According to insiders, players will be able to complete at least two new quest chains. Most likely, we are talking about the tasks of the world. They will tell the story of the new desert region and let you know how Ayaka's outfit came about.
In addition, a new legends quest dedicated to al-Haytham will be added. In it, we can better understand what exactly this cold-blooded and talented scientist from Sumeru is like.
New weapons
We already mentioned above that the developers will add a new 5-star one-handed sword titled The Light of the Leaf Cutout. Its characteristics are already known:
Basic attack: 44-542 units
Critical damage: 19.2-88.2%
Passive Skill: Increases critical strike chance by 4%. Simple attacks while dealing elemental damage increase the damage of normal hits and elemental skills by 200% of the hero's Elemental Mastery. The bonus disappears after 12 seconds or 16 activations. It occurs no more than once every 12 seconds.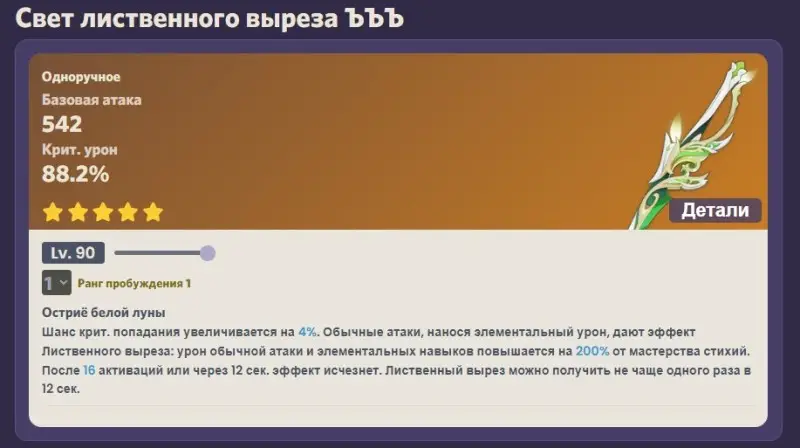 New Events
Sea Lantern Festival
This is about the main event of update 3.4, which has already become a tradition for Genshin Impact players. To gain access to it, you will need to reach at least the 28th adventure rank and complete the Archon quest "The Approach of a New Star". The event will include a number of game modes that will have to overcome obstacles, fight enemies and race on wave walkers.
Mero also revealed that after completing a certain challenge or quest, players will be able to choose rewards for any 4-star character from Li Yue, including the recently announced Yao Yao (Dendro; spear).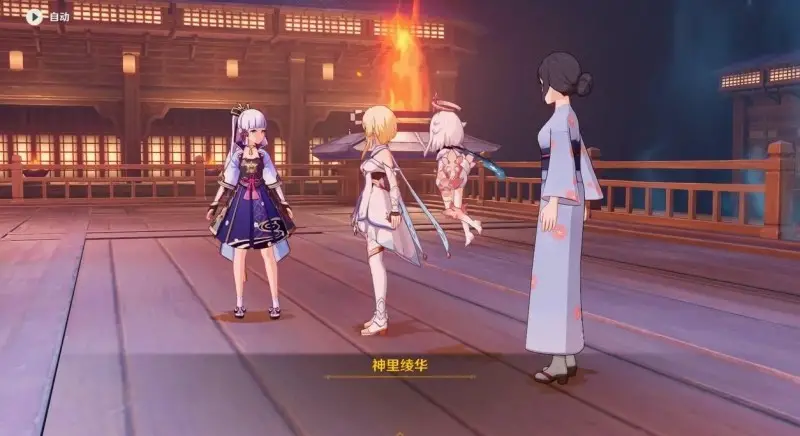 The list of characters that will appear in the event's story quests has also been revealed: Zhong Li, Yao Yao, Xin Yan, Gan Yu, Ke Qing, Ye Lan, Ning Guang, Xiao, Shen He, Yan Fei, Hu Tao, and Yun Jin. At the same time, Hu Tao, unfortunately, will receive very little screen time – there will be one small scene at the very end.
Warrior Spirit
A completely new combat event, which will unfold in Inazuma. Players will have to fight various enemies in the tournament. Most likely, it is within the framework of his storyline that the origin of the new outfit for Ayaka will be revealed.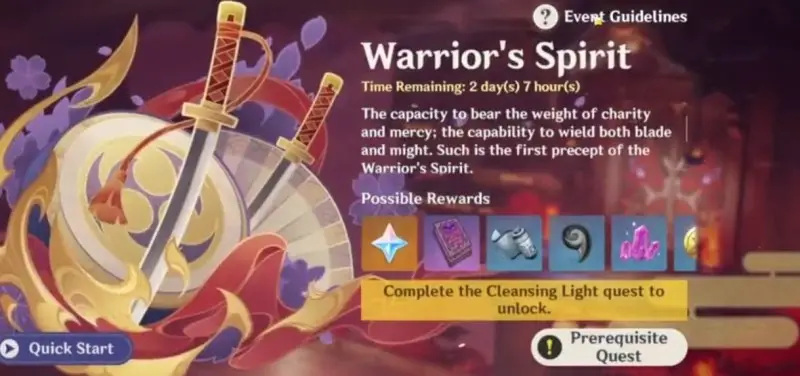 Onikabuto Duels
Original version of the Epic Mold Fight that uses sentient mushrooms instead of sentient mushrooms have to use Onikabuto bugs.
Second Bloom
< img class="aligncenter" src="/wp-content/uploads/2022/12/obnovlenie-34-dlja-genshin-impact-data-vyhoda-bannery-personazhi-kvesty-i-oruzhie-09b183e.jpg" alt= "Genshin Impact Update 3.4 Release Date, Banners, Characters, Quests, and Weapons" />
Another combat challenge that requires you to log in in the dungeon, taking trial or own heroes, and then collect information about the arteries of the earth for scientists. Perhaps it will tell about the origin of the new outfit for Lisa.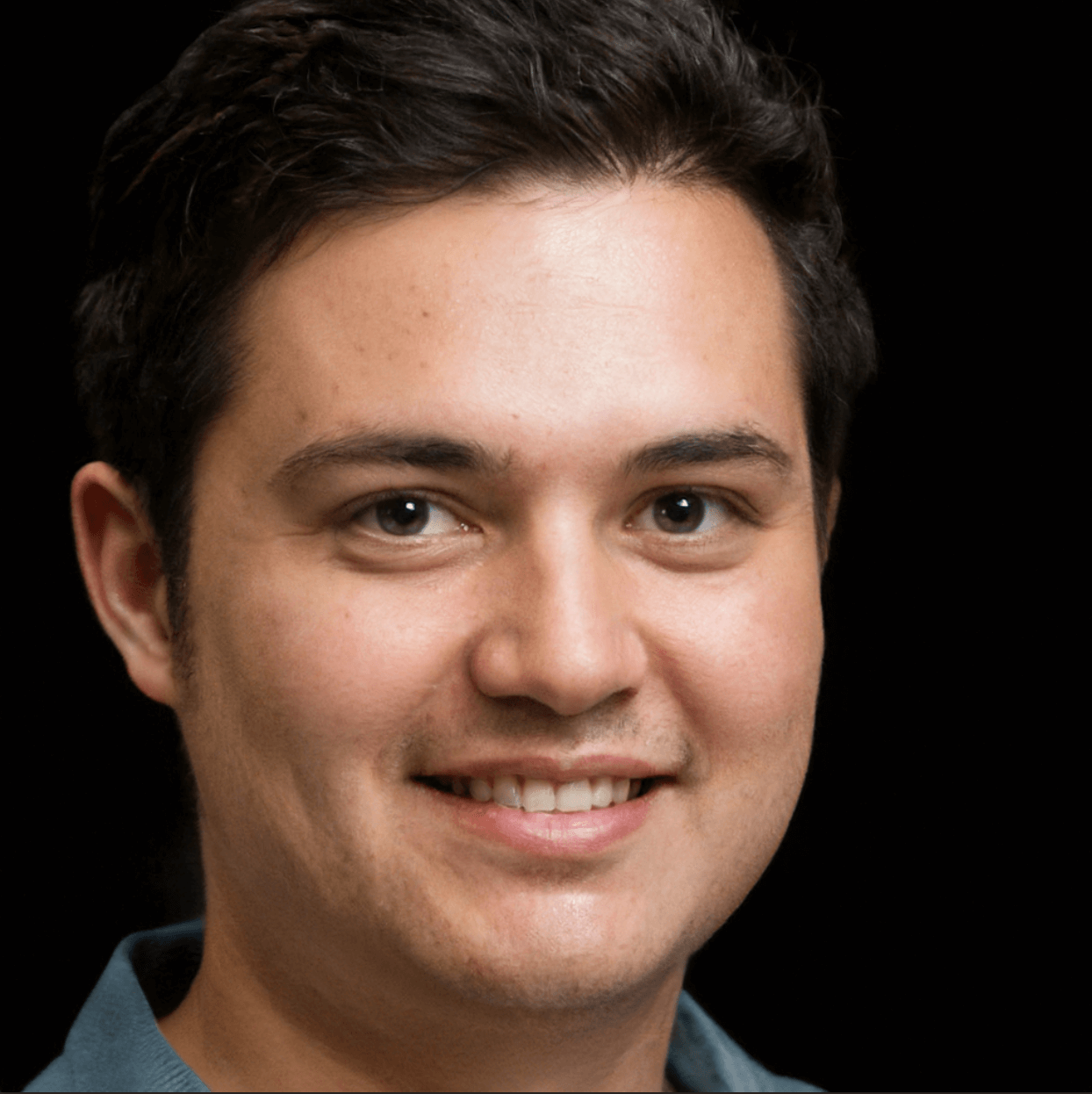 I like to play mobile games. Especially, Mobile Legends Bang Bang and COD Mobile.  I share my game experience. Sometimes I publish guides and tips from other players. So if you'd like to be published on Gameloid, please contact me.