Where is the Hidden Blade in Genshin Impact? is a series of Li Yue's daily quests in which you have to fight against a lot of monsters and find the mysterious invisible sword that Miss Lan was told about by her brother. You will also be able to unlock the hidden achievement "In Search of the Sword". In this guide, we will tell you how to start and complete all versions of the quest.
How to start the quest
Unlike regular world quests, you cannot take on this mission simply by talking to a certain character or visiting a specific place , as the daily daily drops are randomly selected.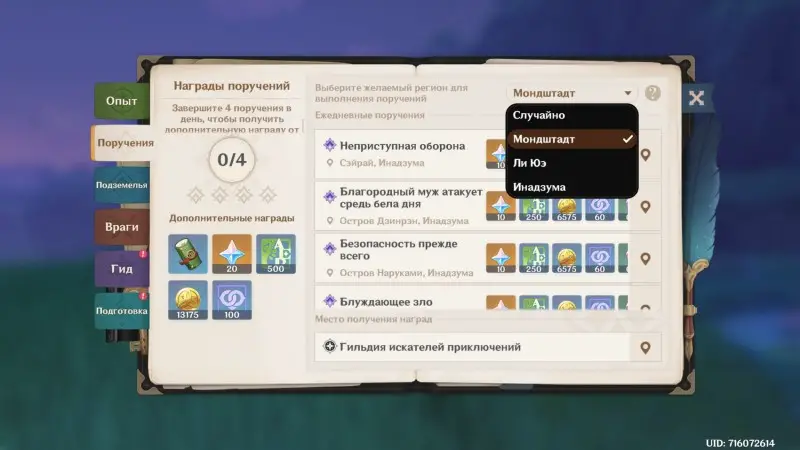 However, you can slightly increase the chance of getting the right quest. To do this, open the Adventurer's Handbook (press F1), go to the "Assignments" tab, and then select Li Yue in the list of the desired region. After that, you just have to wait for the required quest to appear.
When this finally happens, go to Li Yue Harbor and chat with Miss Lan, who is standing near the branch of the Adventurer's Guild. A purple badge will hang above her head, indicating that she is ready to give you a task. The girl is looking for a mysterious sword that used to belong to her brother and will ask you for help finding it.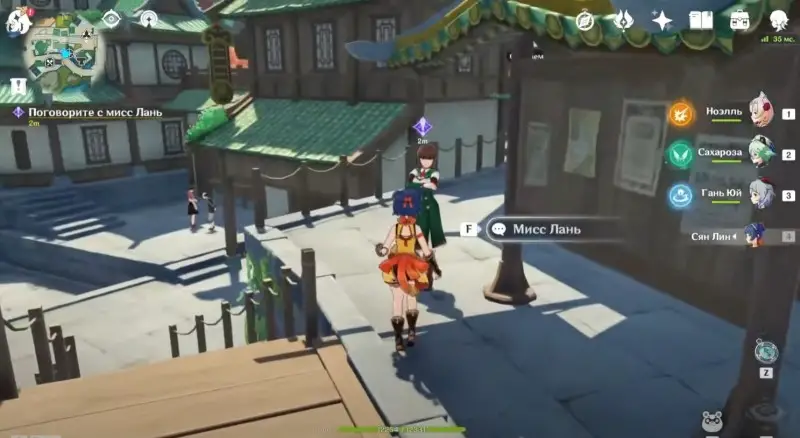 Note that this quest has several options, some of which are only unlocked by completing previous versions. We'll look at each junction one by one.
Option 1: Defeat Hilichurl Shooters
You will need to go to the southeastern part of the Guili Valley, to an area near Lake Luhua. The following opponents will be waiting for you there: Hydro shamachurl, three hilichurls with a stone shield and hilichurls shooters (Pyro, Electro or Cryo). The composition of the enemies may vary slightly.
We advise you to take an archer into the squad in order to quickly deal with the arrows standing on the columns from afar. After that, deal with Hydro Shamachurl (if he has one), which can heal allies and, together with the Cryo shooter, freeze you. Finally, deal with the hilichurls with shields – to do this, use a Geo attack or a character with a two-handed sword.
Then return to Miss Lan and tell her about the destroyed enemies. You will not be able to find the sword, but you will still receive a reward.
Option 2: Defeat the stone shield mitachurls
This time you will be sent to the ruins located in the heart of the Guili Valley. Travel to the Abandoned Ruins dungeon and then head southwest. There you will encounter two mitachurls with a stone shield. Sometimes they will be assisted by one Hydro shamachurl (kill him first).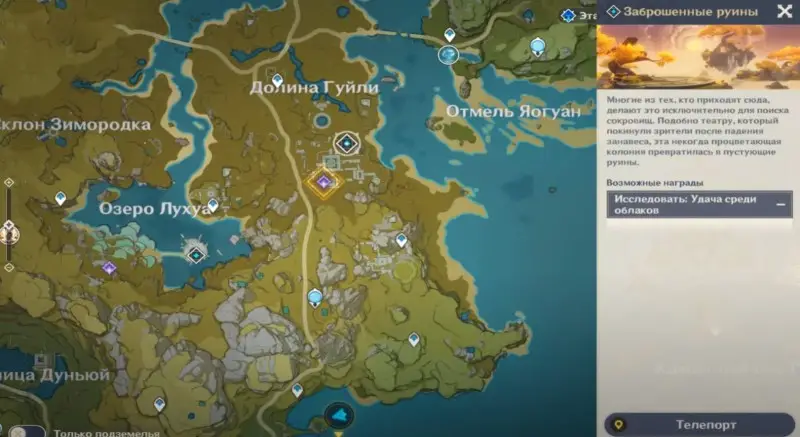 < /p>
Be sure to take a good damage dealer with a two-handed sword (Noelle, Itto, Eola, Bei Dou or Razor) to your team or some Geo fighter to destroy the opponents' stone shields. Otherwise, it will take you a very long time to break through their defenses.
After dealing with the enemies, return to Miss Lan as usual and inform her of your success. However, you will again fail to find the blade. However, you will receive your reward anyway.
Option 3: Defeat the Ruin Hunter
Miss Lan will ask you to explore the area in the ruins located east of Luhua Lake in the southern part of the Guili Valley. There you have to deal with one Ruin Hunter. This is a very dangerous enemy, especially for underleveled heroes.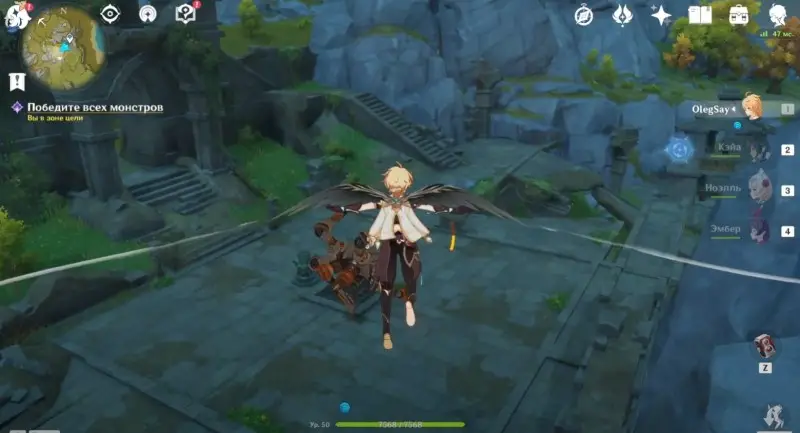 We advise you to bring at least one archer, even a free Ember will do, and your strongest damage dealer melee that can deal massive elemental damage, such as Ayaku, Hu Tao, or Ke Qing. You will also need a good shielder or healer to support your heroes. Check out our separate Ruin Hunter article for the proper enemy commands and moves.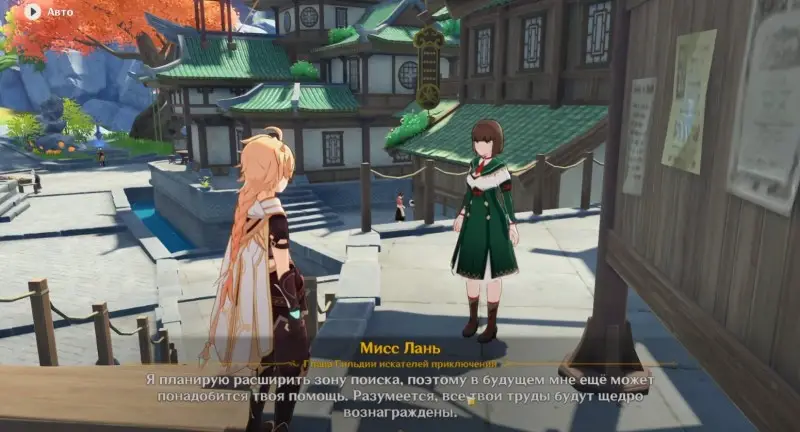 After dealing with the automaton, return to Miss Lan and tell her everything. Unfortunately, you did not manage to find the blade, but you will still receive a reward (standard for dailies).
Option 4: search the camp and find the sword hilt
To open this option, you will need to complete this assignment at least 5 times, and you must drop all 3 previous options. Return to Miss Lan again. She will now decide to send you to a location near the Rift, so you may need to open it first.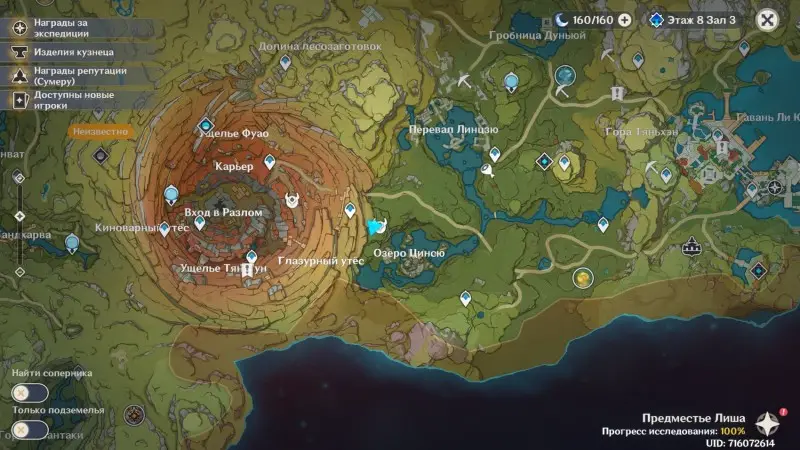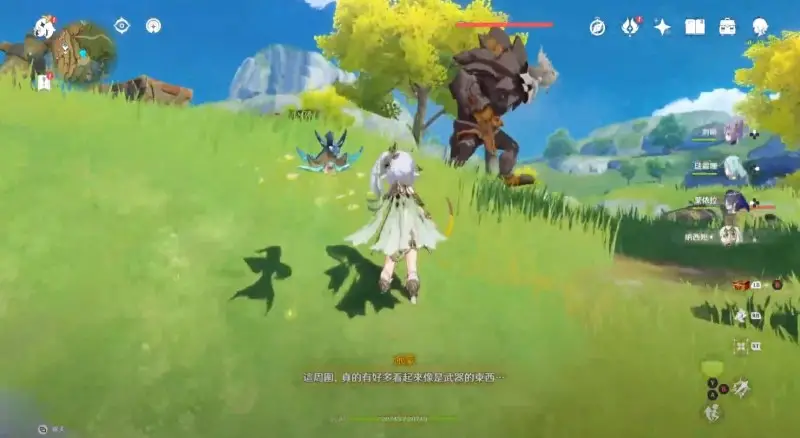 The location is shown in the screenshots above. There you will have to fight the stoneshell Lavachurl, so be sure to take powerful damage dealers with a two-handed sword and/or characters capable of dealing Geo damage in your squad.
After dealing with the enemy, you will need to try to find the mysterious weapon by looking at 3 places marked with a white triangle. However, it is not necessary to inspect all points – you can immediately go to the blade handle, lying near the tree and boxes.
< /p>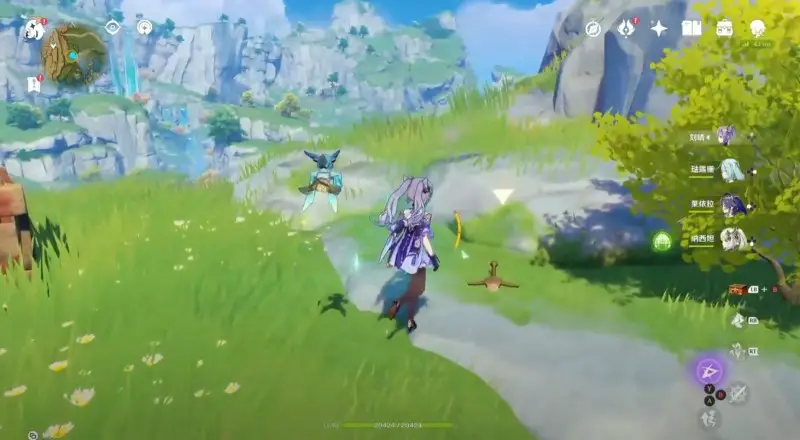 After picking up the little thing, return to Miss Lan and give her "Something resembling a sword handle." Apparently, this item is indeed part of the very Hidden Blade. The girl will thank you, and the task will end there. You will immediately unlock the Quest for the Sword trophy, which rewards you with 5 Source Stones. However, the quest chain will not end there.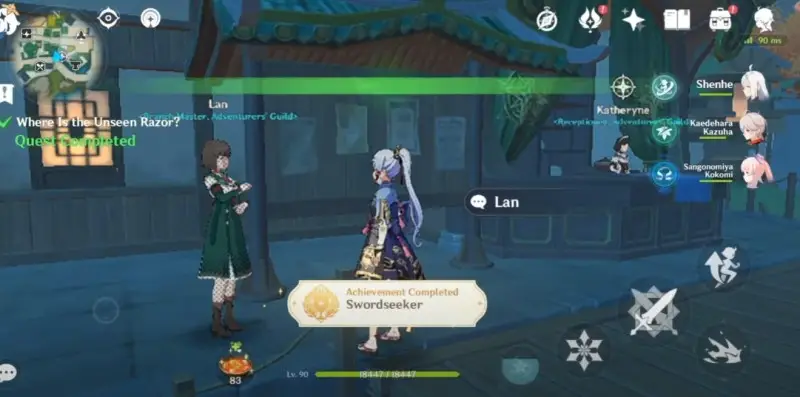 Option 5: Defeat the enemies and find the shards of the Hidden Blade
Note: The screenshots were taken by Zoya Lebedeva, for which many thanks to her. As soon as we get this task, we will update the images and take a closer look at the option if you go left.
This version will only drop if you completed the 4th option by handing over the sword hilt to Miss Lan. Next time you can find the adventurer not in Li Yue Harbor, but in the territory of the Breach – she will be waiting for you near the teleport and ask you to help her find the fragments of the sword.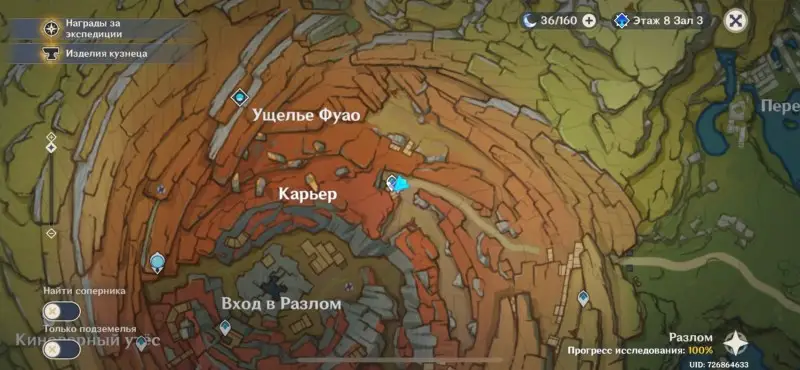 To do this, you will need to clear two Hilichurl camps. You can choose which one to go to: the left one or the right one. In the first one, you'll have to face a few regular Helichurls and Shamachurls, and in the second, you'll have to face a stone-shelled Lava-Churl. If you go to the left, you won't find the Blade Piece, as Miss Lan will in the right camp. If you go to the right, you can find the necessary fragments yourself. In general, you can choose any option, since this does not affect the ending of the task.
If you choose the right camp, then you will need to go down a little in a southeast direction. There you will find a lavacurl. The easiest way to deal with him is with the help of characters using two-handed swords and/or dealing Geo damage. Once he is dealt with, you will receive Shards of a certain weapon, which should be taken to Miss Lan.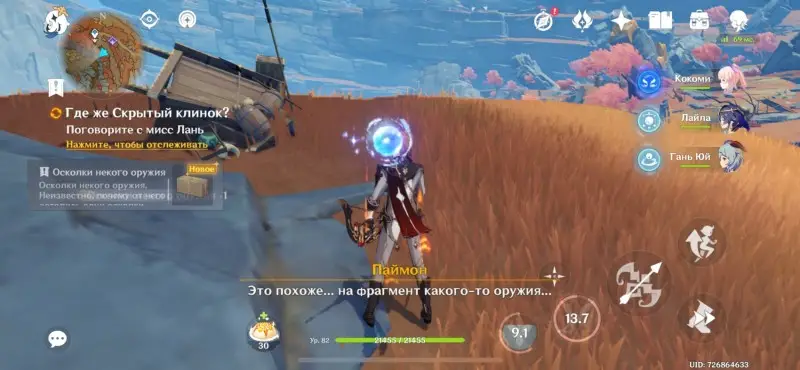 The girl will be standing next to the tree. She will say that she did not find anything in the left camp. Give her the pieces. She'll want to craft a new Hidden Blade. True, she does not have his drawing, and she does not know what materials were used in forging it. However, Miss Lan promised to come up with something.
Currently the quest chain "Where is the hidden blade?" no longer has any extensions. Perhaps in future additions there will be new missions related to her, where you have to help the girl forge a new sword.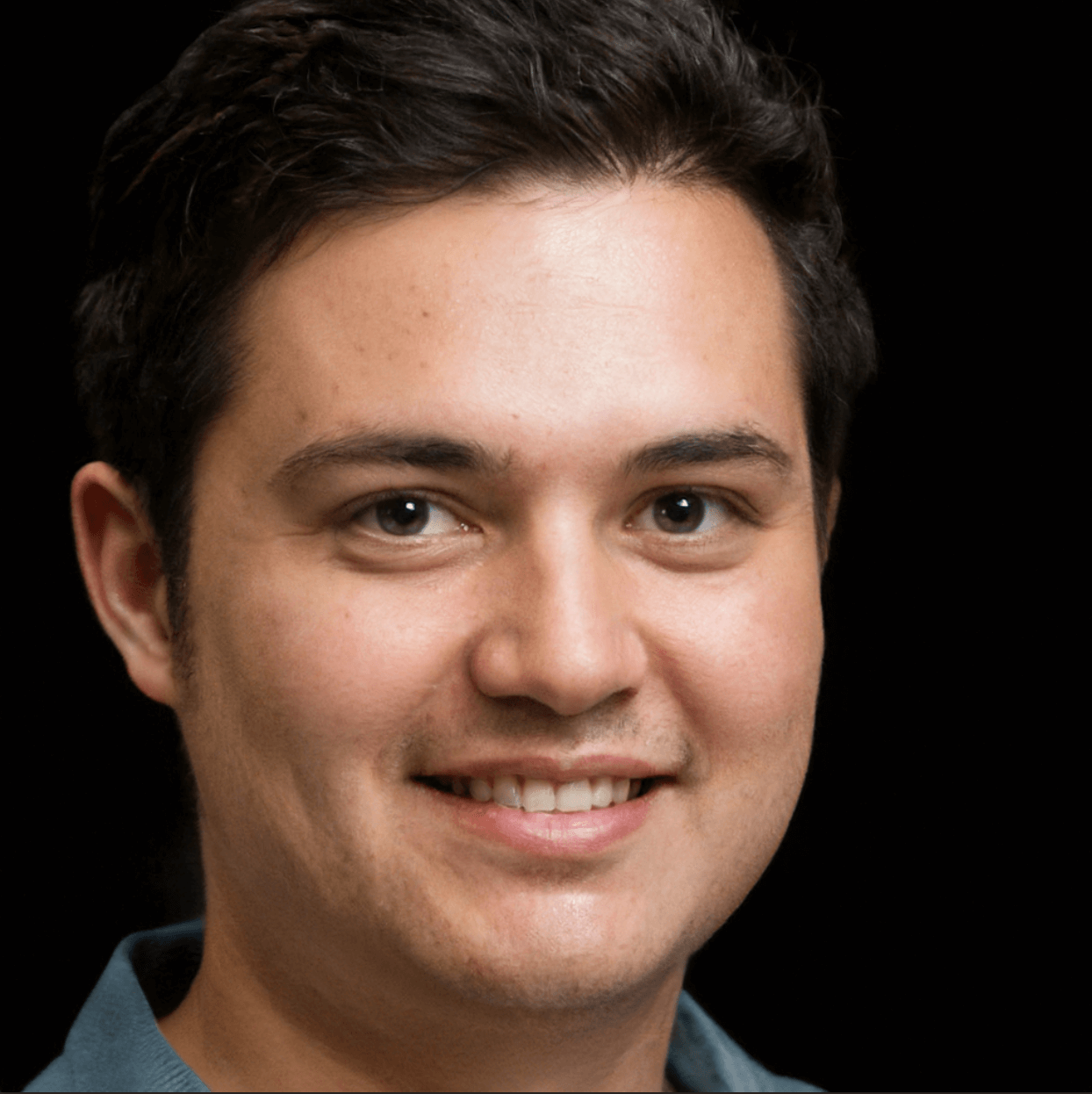 I like to play mobile games. Especially, Mobile Legends Bang Bang and COD Mobile.  I share my game experience. Sometimes I publish guides and tips from other players. So if you'd like to be published on Gameloid, please contact me.