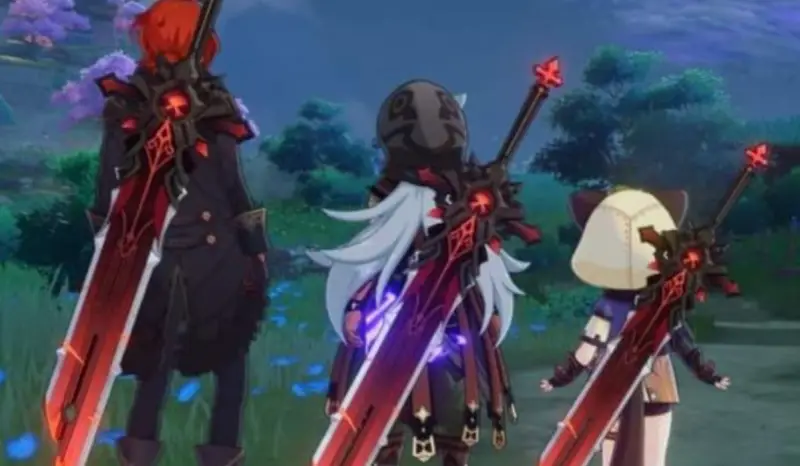 Wolfbane in Genshin Impact is a 5-star legendary two-handed sword, a powerful claymore for damage dealers. Like any legendary weapon, it can be obtained with the help of Prayer. It is known that this sword originally belonged to a knight of the Ordo Borealis and was a symbol of friendship with wolves. This guide will give you all the details on how to get this legendary weapon, what materials you need to upgrade it, and who can equip it.
Don't miss the best Black Friday deals!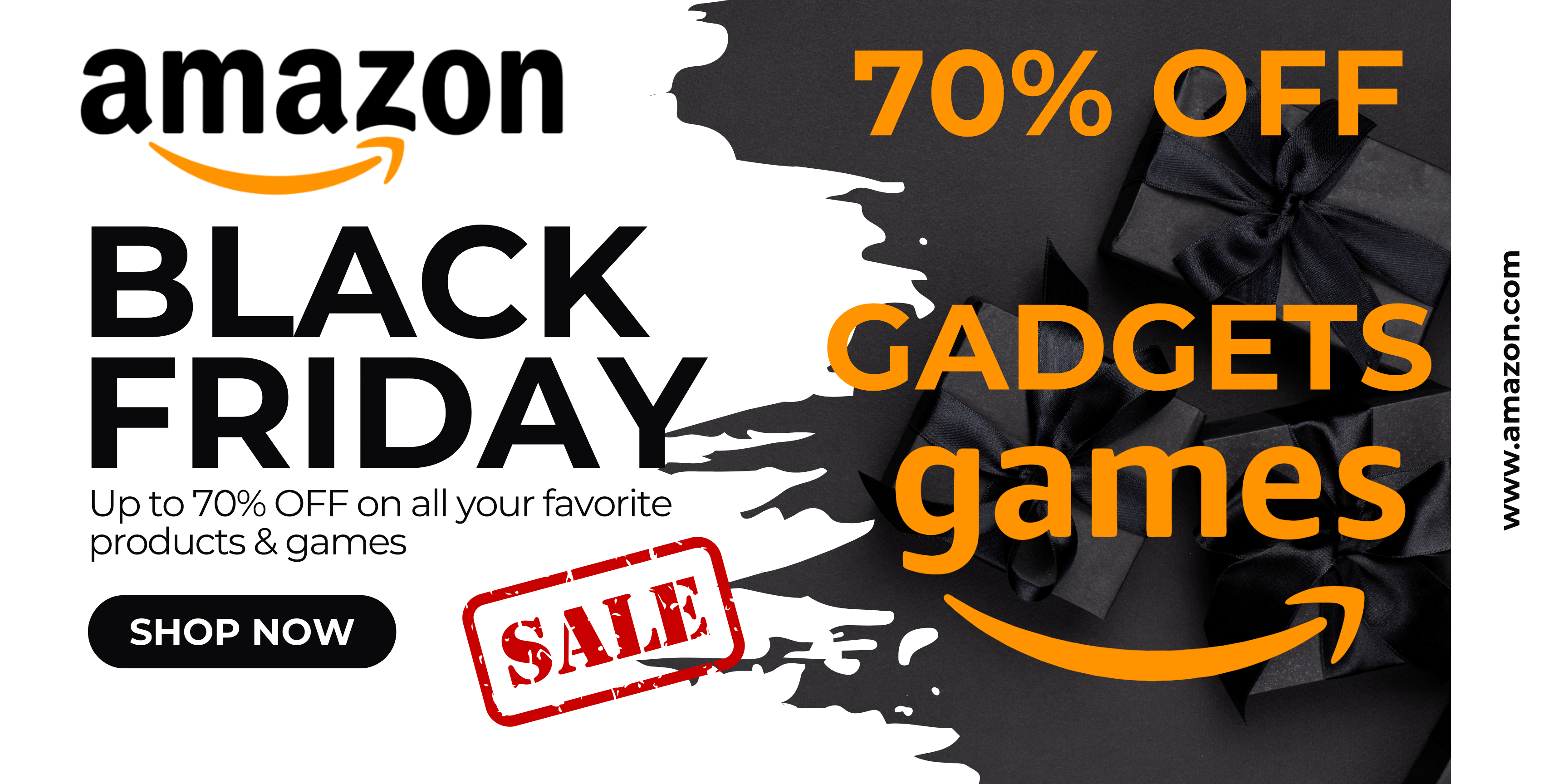 How to get Wolfbane
Since this two-hander is a base Legendary, it can be obtained through prayers: it is periodically included in the weapon banner "Incarnation of the Divine", and also always in "Wanderlust". When the Weapon Prayer banner is dedicated to Wolfbane, it has a higher chance of appearing for the duration of the banner. In other cases (i.e. when other items are depicted on the banner), the probability that this particular claymore will fall out is standard. Wolfbane's chances of appearing in Wanderlust are on par with other Legendaries. For more information about the number of prayers you need to get the desired weapon, read the corresponding guide.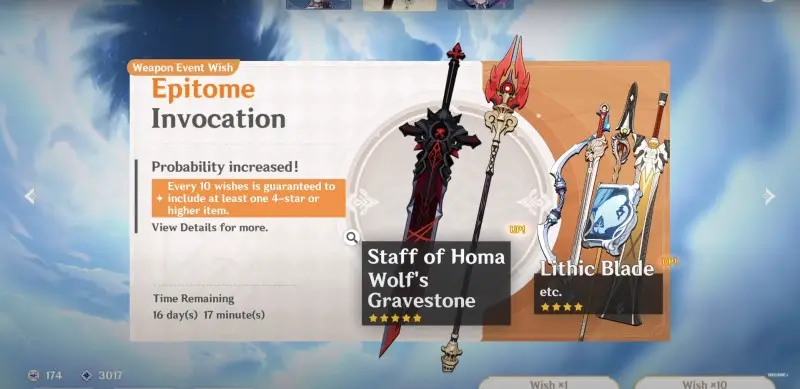 Wolfbane main stats
Rarity: 5 stars
Basic attack: from 46 up to 608
Optional: Attack Power 10.8%-49.6%.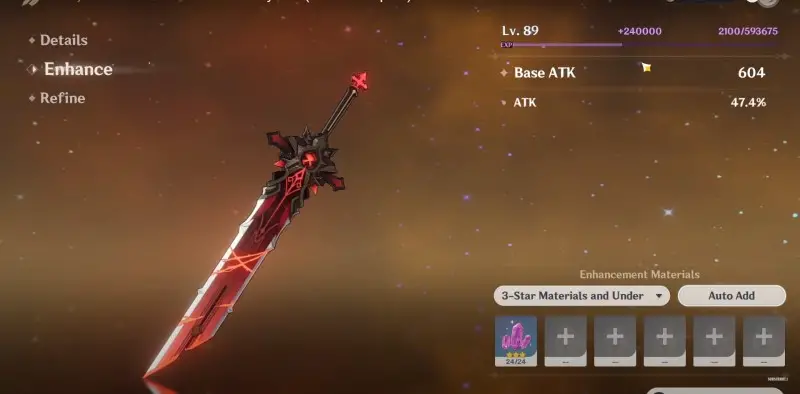 Passive Ability: Wolf Hunter. Attack power is increased by 20-40%. If the opponent's HP drops to 30%, the attack power of each team member increases by 40-80% for 12 seconds. The ability can appear no more than once in 30 seconds.
How to upgrade Wolfbane
All the materials (with an indication of their quantity) that will be required to fully ascend the claymore are presented in the table: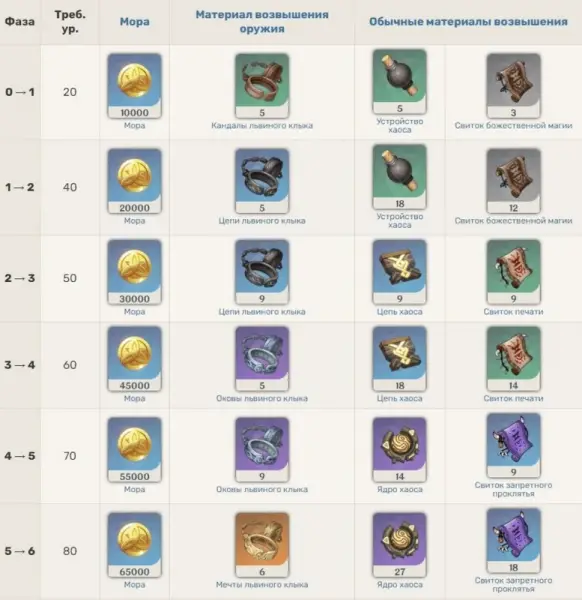 The total amount of materials needed to fully upgrade a two-handed sword is shown in the second screenshot. Here's where to get them:
All fangs can be obtained from Cecilia's Garden Dungeon on Wednesdays, Saturdays, and Sundays.
Chaos Parts drop from Ruin Machines and are sold in the Paimon Shop (for Stardust and Starlight).
Scrolls drop from Shamachurls. Their location can be viewed on an interactive world map.
Alchemy can help in creating the above materials (Lion's Fang Shackles, Chaos Devices and Scrolls of Divine Magic cannot be crafted, but they are used in crafting Ascension Materials of the next tier). Note that you will also need 225,000 mora to fully ascend a Claymore.
How to awaken Wolfbane
To awaken a legendary to rank 5 (maximum), you will need 4 duplicates (they can be obtained in the same prayers as the original version).
To whom the Wolf's death suits
This two-handed sword is perfect for damage dealers using this type of weapon. But it can be useful for any character equipped with a claymore, if only because of the passive ability that makes all party members stronger for 12 seconds.
Wolfbane can be used by the following characters:
Dilyuk. This 5-star Pyro damage dealer already does some serious damage, and with the Wolfbane boost, his overall damage output is incredible. The passive ability of the two-hander will also be useful. You just need to manage to use elemental explosions and elemental skills during its duration so that the whole pack can deal maximum damage.
Eola. Another five-star damage dealer, but in this case Crio. Wolfbane will greatly increase her damage potential. However, for Eola, there is a more suitable weapon option – the song of the broken pines.
Razor. A four-star Electro character who specializes in dealing physical damage. The attack power boost increases its damage, especially if the second and fourth constellations are open.
Bei Dou, Chun Yun, Xin Yan, Sai, Dory, and Noelle will also benefit from Wolfbane. But there are better alternatives for these characters.
How to play Wolfbane
Two-handed does not require specific game mechanics. After reducing the health of opponents to 25-30%, you can apply the skills of other characters in the pack. If you play Dilyuk or Razor, then it will not be difficult at all to use the buff for other squad members. If you use a hyper carry that is in combat almost all the time, then you can ignore the timings.