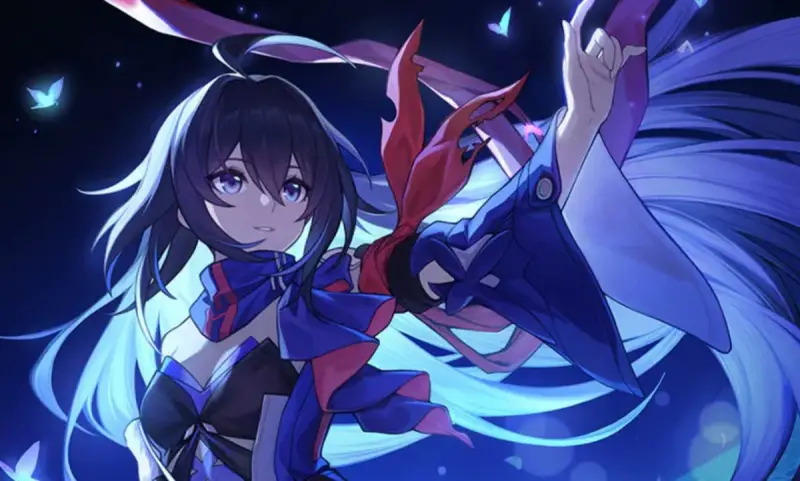 In Honkai: Star Rail, Zele is a 5-star character who possesses a Quantum Fight type and belongs to the Hunt Path. In the team, she perfectly performs the function of the main damage dealer, representing a powerful hypercarry. In this guide you can learn about her best builds, light cones and relics. We will also indicate the optimal units for her.
Zele's main features
How to get Zele
This heroine can only be obtained as part of the event Jump called "Butterfly on the Edge ". The last time this banner was active was during the first phase of patch 1.0. If you want to be one of the first to know about her future rerun, then we advise you to bookmark this article.
In addition, HoYoverse has never given 5-star characters during the course of events, so Zele can only be obtained with the help of Jumps.
Progression Zele's stats
In the table below, you can see how the heroine's base parameters change as she levels up.
| Level | Attack Power | Protection | HP | Haste | Crit. chance | Crit. damage | Taunt | Energy |
| --- | --- | --- | --- | --- | --- | --- | --- | --- |
| 1 | 87 | 50 | 127 | 115 | 5% | 50% | 75 | 120 |
| 20 | 170 | 97 | 247 | 115 | 5% | 50% | 75 | 120 |
| 40 | 327 | 186 | 475 | 115 | 5% | 50% | 75 | 120 |
| 60 | 483 | 275 | 703 | 115 | 5% | 50% | 75 | 120 |
| 80 | 640 | 364 | 931 | 115 | 5% | 50% | 75 | 120 |
Sele's advantages and disadvantages
Thanks to his special abilities, Zele can effectively deal with both groups of ordinary mobs and strong single opponents. It also has the following advantages:
Has the potential to deal the highest single-target damage in the game, making it a very valuable asset when fighting elite enemies and bosses.
Despite the fact that she belongs to the Hunt path, Zele can also effectively show herself in battle with multiple targets, as she can attack enemies several times in one turn.
Can deal considerable damage even to those enemies that do not have a quantum vulnerability, since few mobs in the game have high resistance to this type of damage.
Has a high base speed, which she can independently increase with a skill – this makes it much easier to activate bonuses for some light cones and relics.
It is able to perfectly perform its main function without opening Eidolons, and one of the best 5-star cones for it can be obtained for free. So she is quite suitable for F2P players.
Performing several actions at once in one turn allows her to quickly accumulate energy for using her super ability.
Using the Ghostly Illusion technique, she can become invisible, making it much easier to bypass enemies and reduce the chance of getting ambushed.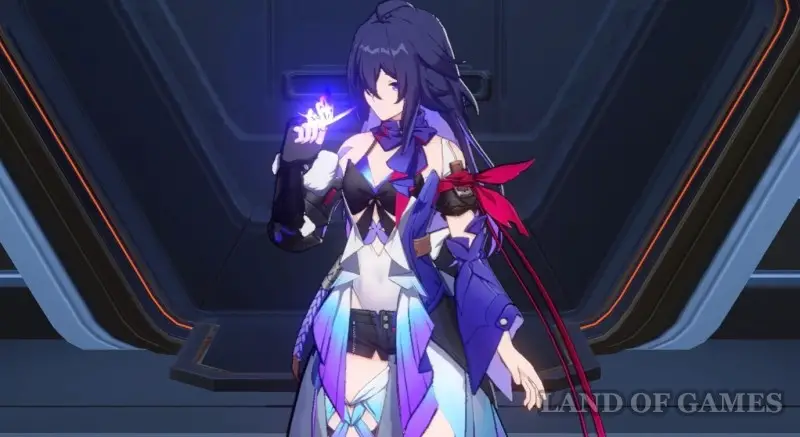 However, it was not without its minuses, some of which directly follow from its pluses:
In one move, it can do it alone « eat" up to three skill points, so she needs characters to support them that can generate them.
Has relatively low base health and defense parameters, so she will not live long without a good healer and/or shielder in the team.
When fighting enemies that are superior to her level and do not have quantum vulnerability, she almost completely loses her potential, as she is not able to defeat the enemy with a single blow. This disadvantage can be partially leveled with the help of supports that can strengthen Zele or weaken opponents.
Sele's abilities
When using her basic attack, Strike, she deals quantum damage equal to 50~130% of her attack power to the enemy. It also restores 20 energy and pierces 30 stamina.
After casting Sheathed Blades, she deals 110~275% of her attack power as quantum damage to an enemy and increases her speed by 25%. The bonus is valid for two turns. She recovers 30 energy and pierces 60 stamina while doing so.
Using Butterfly Whirlwind, she goes into Power Mode and deals quantum damage to an enemy at the rate of 255~510% of her attack power.
As for the passive talent of the heroine – "Reappearance", he gives Zele one additional move after the destruction of the enemy with a basic blow, skill or ult. Plus, the character enters a boost mode that increases their damage by 40~100% for one turn.
We can't help but mention the Spectral Illusion technique, which makes the heroine invisible for 20 seconds. In this state, she cannot be detected by enemies in the open world. If you hit them from this mode, Zele will instantly get a boost.
Zele's Footprints
In addition to the above abilities, the heroine's leveling tree also includes other buffs that provide passive bonuses or permanent increases to characteristics. You can see them all in the picture below.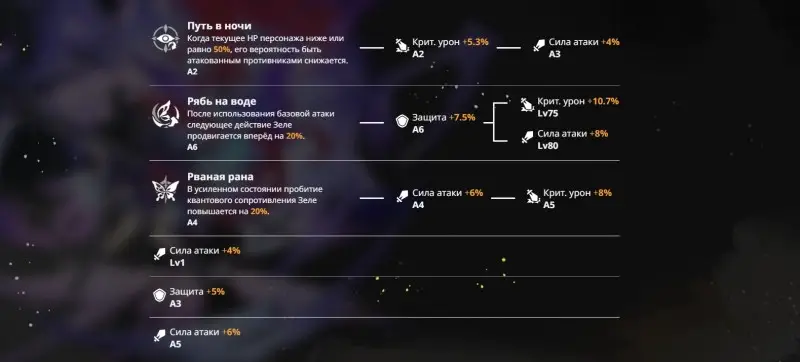 Zele's Eidolons
To unlock them, you need materials of the same name, given out when duplicates of the heroine drop out, which, of course, is random. And given the rarity of 5-star character drops, be prepared to spend a lot of money and time on it. Fortunately, even without eidolons, Zele can perfectly play the role of a damage dealer in a team.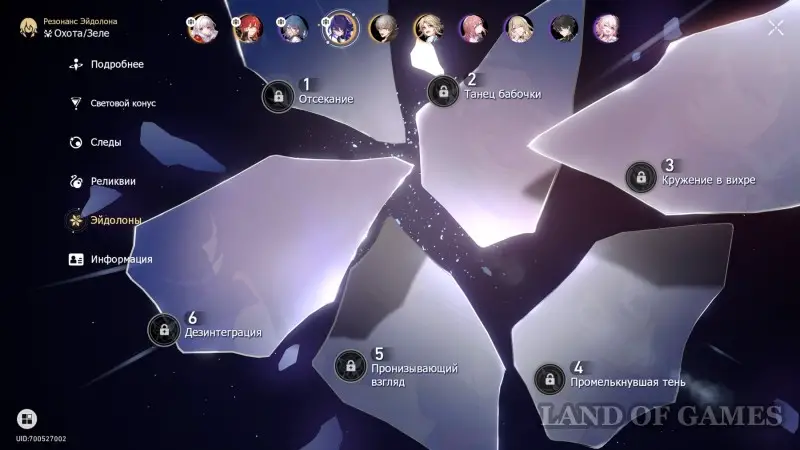 If you're still aiming for these buffs, then we advise you to take a closer look at E1 and E2, as the former will make it easier to crit. chance in the build, and the second will allow you not to look for the speed parameter in the stats of relics at all. Naturally, the best eidolon is E6, but it is very difficult to get to it.
Cleave – Increases critical hit chance by 15% after damaging an enemy with 80 or less health.
Butterfly Dance – The speed buff granted by the skill can stack up to two times.
Whirlwind – Skill Level increased by 2. Max level: 15th.
Flashing Shadow – after the destruction of the enemy, the heroine recovers 15 energy.
Piercing Gaze – increases the level of the ultimate by two, and the basic attack by one. The first level is increased to level 15, and the second level is increased to level 10.
Disintegration – after using the ult, the enemy is inflicted with the Whirlwind of Butterflies status for one turn, during which he receives additional quantum damage in the amount of 15% of the damage of superpower. The effect is removed when Zele dies.
How to play Zele
Although this deadly Butterfly belongs to the path of the Hunt, which specializes in dealing damage to single targets, in reality it reaches its full potential when fighting with several opponents. All thanks to her extremely useful passive talent.
Recall that after killing an opponent, Zele gets a boost and an additional move, which allows her to actually destroy two opponents in a row at once. Or you can kill one ordinary mob, and then attack the elite enemy, causing him increased damage. We add that an additional action is given when killing an enemy with a superpower. Thus, this heroine may well walk four times in just one round.
Kills made during extra turns do not count towards the talent, so you can only take Zele four turns at the most. However, if you are fighting waves of opponents, and Butterfly is the first in the action bar, then she will be able to perform one more turn after the destruction of the last mob from the previous group.
If we consider the ideal rotation for this heroine, then she will look like this:
Use your ultimate (if charged) on an enemy to instantly kill them and go into power mode. Choose a thicker enemy to avoid wasted damage.
Attack with a skill on the second enemy during an additional turn to increase your speed. It would be nice if you could kill him.
Attack the third (or unkilled second) enemy with a basic attack.
Attack with a skill on the fourth and (or third) enemy to extend the duration of the haste buff again. By this point, you'll likely have 70-80% energy for your ult, so you'll be able to use it the next round.
Note: Don't spam the skill all the time, otherwise you will quickly run out of skill points. Alternate them with basic attacks, which will often be enough to kill wounded mobs.
Trick: If you activate your ult during the attack animation that kills the enemy, and then superkill the second enemy, you can theoretically get double the boost (see the gif below).
If your ultimate isn't ready at the beginning of the fight, just deal with the opponents using the skill and the basic attack, and then use the ult as soon as it is charged to perform another extra move.
We also recommend that you use the heroine's Technique before the fight to immediately put her into a boosted mode, especially if the enemy is vulnerable to quantum damage and you don't have your ult ready yet. Of course, do not forget to buff the heroine with the skills of supports or weaken enemies. Then you are guaranteed to kill mobs with one attack.
The best builds for Zele
The best light cones
A weapon related to the path of the Hunt suits her. We advise you to pay attention to instances that increase the attack power, critical damage and the probability of inflicting a critical hit of the character. The table below shows the best options.
Name
Characteristics
Ability

In the Night (5 Stars)

HP: 48~1058

Attack Power: 26~582

Defense: 21~463

Increases the chance of a critical hit. hit by 18-30%. If the wearer's speed exceeds 100 units for every 10 additional points, the damage from his basic hit and skill increases by 6-10%, and the critical damage from the ult increases by 12-20%. The bonus can stack up to six times. Zele's signature, which comprehensively enhances her as a damage dealer. Plus, the passive will always work, since the heroine already has 115 speed in the base.

Death Dream (5 stars)

HP: 48~1058

Attack Power: 26~582

Defense: 21~463

Increases critical damage by 30-50%. If the basic hit or skill does not deal critical damage, then the chance of inflicting a crit. hit increases by 36-60% for one turn. The bonus is triggered every three turns. Allows you to significantly increase your crits, which will have a positive effect on Zele's damage. Given the passive bonus, we advise you to focus on increasing the critical damage of the heroine.

Galaxy Cruise (5 Stars)

HP: 43~ 952

Attack Damage: 24~529

Defense: 21~463

Increases critical strike chance by 8-16%. Grants an additional 8-16% to crit. chance when fighting enemies whose health is equal to or below 50%. After defeating an enemy, the bearer's attack power is increased by 20-40% for 2 turns. Its main advantage is that it's free, as you can buy it in Herta's shop while playing through the worlds of the Virtual Universe. With it, it will be easier for you to increase crit. chance to the desired value. In this case, you will often activate the passive, since Zele's abilities are just the same aimed at the rapid destruction of ordinary mobs.

More subscriptions (4 stars)

HP: 43~952

Attack Power: 21~476

Defense: 15~330

Increases basic hit and skill damage by 24-48%. This bonus will increase by an additional 24-48% if the wearer's energy reaches the maximum value. Increases the damage of a skill that already does a lot of damage. To maximize the use of the bonus, the ult should only be pressed after the skill has been used. Crits will have to be gained from relics.

Swordsmanship (4 stars)

HP: 43~952

Attack damage: 21~476

Protection: 15~330

When attacking one enemy several times, the damage for each subsequent hit increases by 8-16% and can be stacked up to five times. Also suitable for fighting bosses or elite enemies. Perfect for dealing with strong solo enemies, as their damage will increase over time. Crits will have to be gained from relics.

Silence Remains (4 Stars)

HP: 43~952

Attack Damage: 21~476

Defense: 15~330

Increases attack power by 16-32%. If there are 2 or fewer enemies on the battlefield, then the chance of inflicting a critical hit increases by 12-24%. Ideal for solo boss fights. Another cone that is suitable for battles with strong single enemies. However, unlike the previous one, it is more balanced in terms of stats, therefore, it simplifies the selection of relics.

Spring Streams (4 stars)

HP: 38~846

Attack Power: 21~476

Defense: 18~396

Increases speed by 8-12% and damage by 12-24% at the beginning of the battle. After taking damage, the bonus disappears and reappears at the end of the next turn. Zele's speed boost isn't very important, but her damage boost will be very useful. We recommend adding a Shielder to your squad to prevent her from taking damage.

Arrows (3 stars)

HP: 38~846

Attack Power : 14~317

Defense: 12~264

Increases your critical strike chance by 12-24% for 3 turns. A good starting option that gives Zele the critical chance that Zele needs. Otherwise inferior to the above cones.
Best relics
The best option among the usual relics mined in the caves of corrosion is the full set of "Genius of Diamond Stars", two parts of which increase quantum damage by 10%, and four parts allow you to ignore 10% of the enemy's defense in case of damage to him. If the enemy has a quantum vulnerability, then another 10% of protection is ignored. This bundle is obtained from Paths of Providence.
If you haven't been able to get a complete set with the stats you want yet, you can combine it with two pieces of Wild Wheat Shooter, which increase attack power by 12% and are obtained in the Way of the Wandering. At the beginning of the game, you can use this entire set at all, four elements of which increase the damage from the basic hit by 10%, and the speed by 6%.
Now let's move on to planar decorations, which are mined in the Virtual Universe. The list below shows the recommended options (numbers indicate the priority of choice):
Space Sealing Station – Increases attack power by 12%. Increases this stat by an additional 12% if the character's speed is equal to or greater than 120. A great option for Zele, as her passive will work most of the fight thanks to her skill.
Waist – the edge of the bandits – increases the penetration effect by 16%. Gain an additional 20% if the hero's speed is equal to or higher than 145 units. A very useful set that will strengthen Zele when fighting enemies with quantum vulnerability. This set will also be very useful if the squad has a Silver Wolf.
Frozen Salsotto – increases the chance of a critical strike by 8%. If this parameter is equal to or greater than 50%, then the damage from the ult increases by 15%. You can take it if you don't have enough crits.
As for relic stats, choose as follows:
Body: Critical Hit Chance or Critical Damage (depends on what you lack at the time; ideally should be 50-60%/110-150%)
Legs: Attack Power %
Planar Sphere: Quantum Damage
Connecting Rope: Attack Damage % or Penetration Effect
Additional Stats: Critical Hit Chance > critical damage > attack power % > speed.
Considering that critical damage can be increased by opening Zele's footprints, we advise you to try to increase the chance of critical hits with relics. Then comes the attack power, on which the amount of damage of the heroine directly depends.
The best commands for Zele
There is no one-size-fits-all Zele unit that can be used anytime, anywhere, as in the later stages you will encounter opponents that require different paths and elements to destroy. Still, putting the Butterfly against enemies that she is not able to kill quickly enough is not the best solution.
However, you can quite well assemble a powerful team that can quickly deal with many monsters. Most often, Armor will be present in it, since its ult increases attack and critical damage, and its skill allows you to advance an ally's turn. With a support like that, in theory, you can perform eight actions for Zele before the turn returns to the enemy.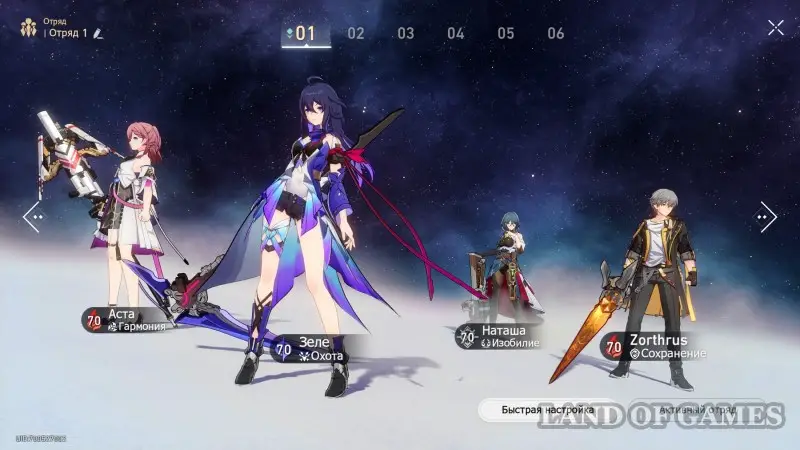 Other good supports for Zele should be to protect or heal her, or apply debuffs to opponents. Your main goal will be to keep this heroine alive and buff or debuff mobs so she can keep dealing massive damage by doing multiple actions in one round.
When choosing a support character, you should consider the vulnerabilities of the opponents you have to fight. Asta (Fire) increases speed and attack, Pela (Ice) reduces enemies' defense and dispels debuffs, Welt (Imaginary) slows enemies, Cheetah and March 7 (Ice) can freeze enemies and provide allies with shields, and Tingyun (Electric) – restores energy and increases attack.
However, if the squad has a Silver Wolf, then this condition can be skipped, since this hacker will be able to impose a quantum vulnerability on enemies.
If you're looking for a healer, Baylu is the perfect option, as she can resurrect one ally per fight if needed, giving Zele a second chance at victory. However, Natasha can also play the role of a healer quite well, especially if you need a character to accumulate skill points. The table below shows some of the best Zehle units.
Main-DD
Sub- DD
Sub-DD/Support
Support

Zele

< td class="center">

Armor (Silver Wolf)

Tingyun

< img class="aligncenter" src="/wp-content/uploads/2023/06/zele-v-honkai-star-rail-gajd-na-luchshie-bildy-0279d1c.jpg" alt="Zele in Honkai Star Rail : a guide to the best builds" />

Baylu (Natasha)

< p>

Zele

Welt

Asta

Cheetah

Zele

Asta

Pioneer (Fire)

Natasha

Zele

Clara

Silver Wolf

< td class="center">

Natasha

Zele

Pela

Tingyun

Hunter, Demon Slayer, and Star Hunter Arrows are obtained from the Hunt Bud Sepal or Synthesis.
Thief Instinct, Corrupted Ambition Conqueror's Will is obtained from the Legion of Antimatter, Missions and Enemies in the Virtual Universe or through Synthesis.
Warden's Sorrow – Dropped in the End of Permafrost Echo of War.
Imprints of Destiny – obtained in the Virtual Universe, issued with a battle pass and bought for inextinguishable ashes in the Pom Pom store. Sometimes rewarded in temporary events.

As for the priority of pumping abilities, we advise you to give priority to the skill. At the same time, the ult should not lag behind him by more than one level. Talent should be pumped in parallel with superpower. Grab your basic attack last, but don't forget about it completely, as Seele will often use normal attacks as well.

How to exalt character

At certain levels, you will need to level up the heroine, spending a large amount of resources and credits:

Ascension (level 30): x4000 credits and x5 thief instinct
Ascension (Level 40): Credits x8000 and Thief Instinct x10
Ascension (Level 50): Credits x16000, Corrupted Ambition x6 and Void Cast Iron x3
Ascension (Level 60) : 40,000 credits, 9 warped ambition, and 7 void iron
Ascension (level 70): 80,000 credits, conqueror's will x6, and 20 void iron
Ascension (level 80): 160,000 credits, will of the conqueror x9 and void iron x35

Void iron can be obtained from the stagnant shadow "Quantum Form", located in the Base zone of the space station "Gerta".