Tournament Deck Building Guide to get all the rewards.
Card Nights in Genshin Impact – Event Stage «Duel! To the heights of mastery!» in patch 3.7, in which the Traveler will test his strength in an unofficial competition with separate rules. Build decks from cards offered by organizers in different regions to battle heroes and claim prizes.
This guide will show you how to build decks for the Card Nights tournament and defeat all characters to receive rewards.
< h2>How to start the event
To participate in the mini-game, you must meet the following conditions:
raise your adventure rank to 32;
complete the stage Archon quests «Escape from Rito Island»;
complete the quest «Battlefield of dice, cards and cats»;
complete the introductory quest «The duel begins! First suspicions!«.
If missions «Akasha Pulse and Kalpa Flame», «Crimson Dawn are not completed. Chapter 1: What the Stars of This World Say» and «mortal world. Chapter 2: Fleeting Dreams», use the Quick Start button in the event menu.
The event May 25 at 12:00 Moscow time.
Quest Card Nights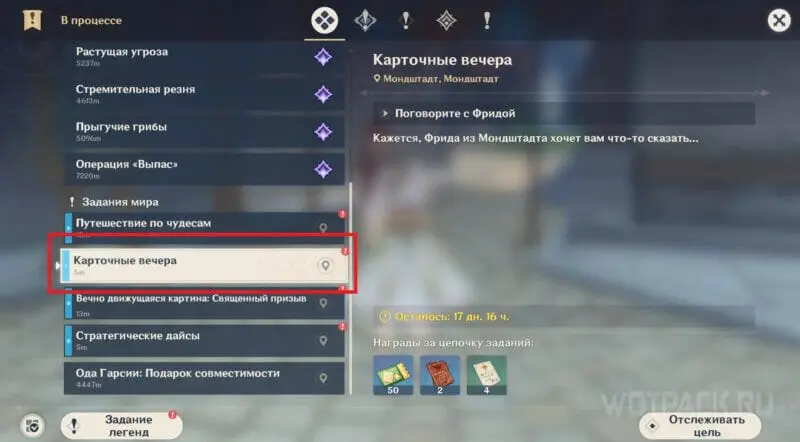 After completing the introductory quest, a special task will open. Follow his sign until you reach Friede of Mondstadt, who is standing next to the other NPCs from this event. Talk to her to start the duel.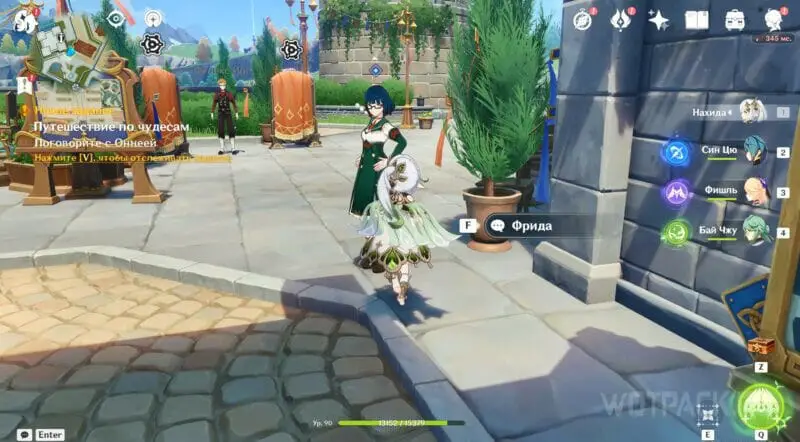 Genshin Impact Card Nights guide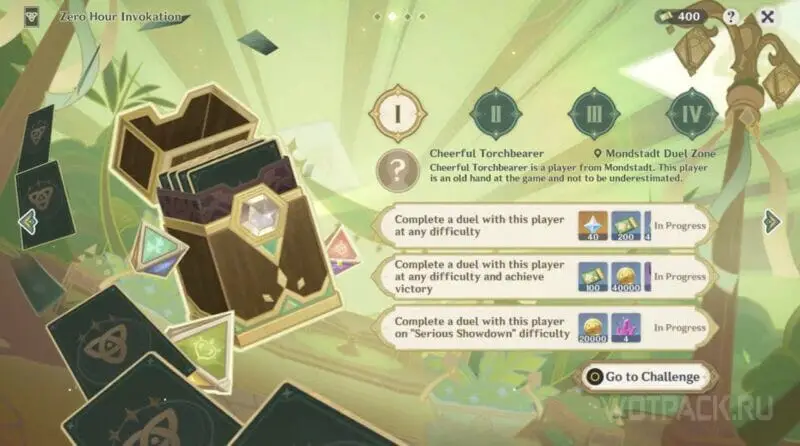 In total, players will have to fight four opponents in a card duel, each of which will be waiting in the capital of the region.
To take part in the competition, talk to the organizer of the tournament in the kingdom.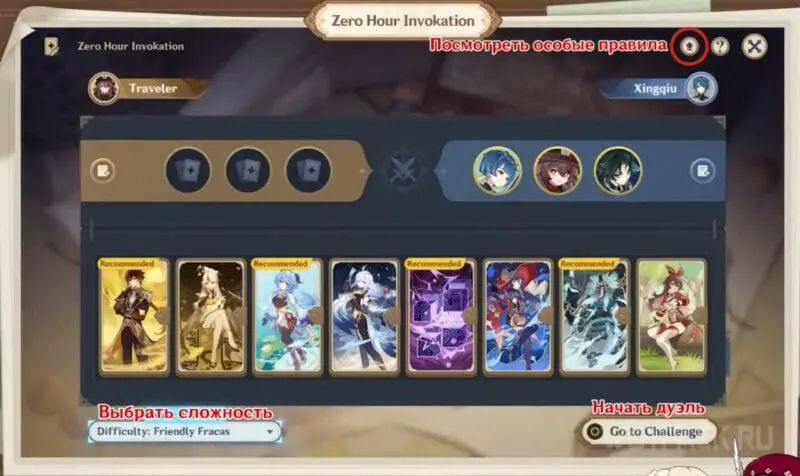 At the beginning of the challenge, 8 incomplete decks are given out. Three of them must be chosen to make one deck suitable for a duel. In the test menu, you can select the difficulty, «Friendly duel» or «Serious fight». To see the special rules, click on the icon next to the question icon.
When selected, recommended cards will be highlighted, which will simplify deck building.
Special Rule Example: «Universal Help» – you don't need to roll dice in the throw phase, instead you immediately get 8 universal dice.
Event video preview :
Duel with the Jolly Torchbearer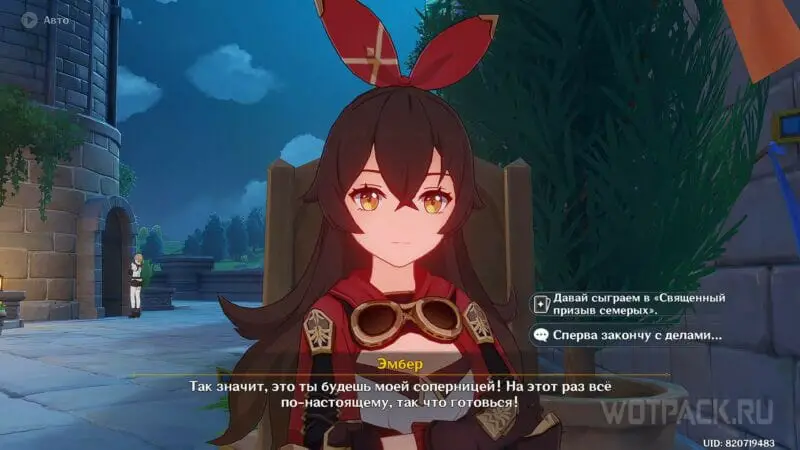 In the first duel, you will face Ember. Her deck contains cards with herself, Klee, and Barbara, which makes her team completely balanced in defense and attack. In battle, a special rule applies, which gives all characters 2 units. energy in the first phase, as well as universal dice in the throw phase.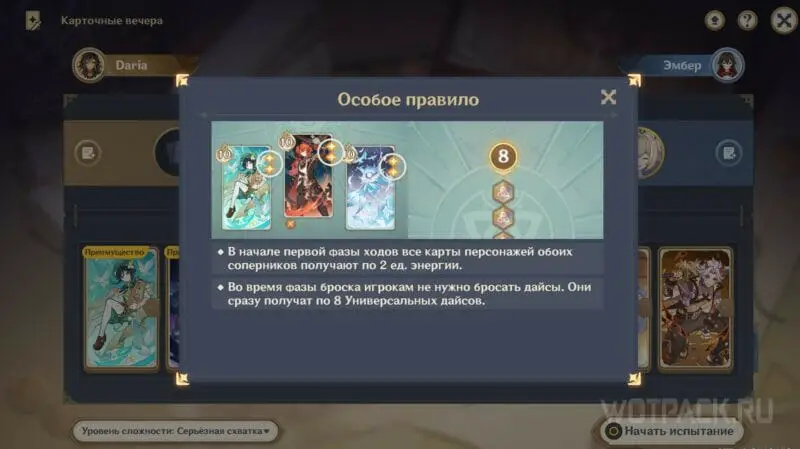 How to build a deck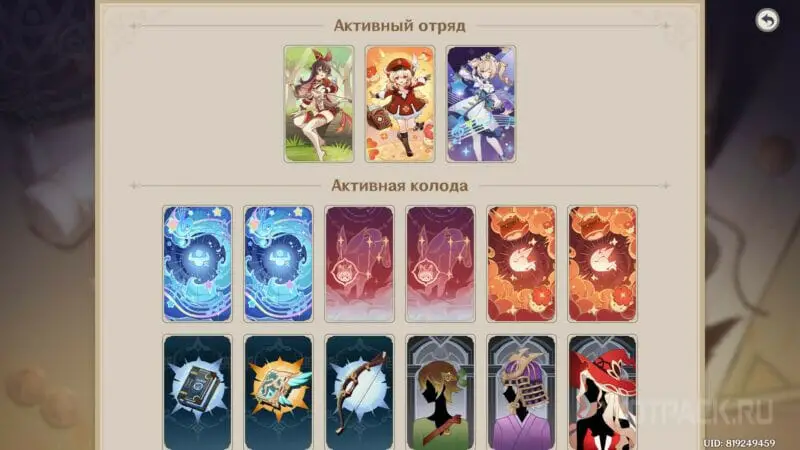 Since the Ember team has good defense and is also capable of dealing a lot of damage, it is necessary to build a strong deck that will destroy the HP of enemy cards before the enemy heals them.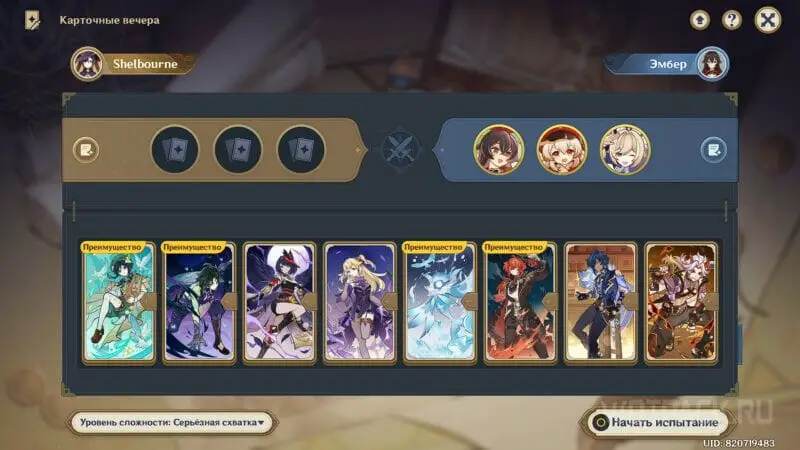 The following combinations of heroes will be the strongest:
| Character 1 | Character 2 | Character 3 | Features |
| --- | --- | --- | --- |
| Dilyuk | Rhodium | Venti | Dilyuk in this deck plays the role of the main damage dealer that deals damage to Hydro status from oceanid mimics. Venti will provide support by reducing dice consumption as well as triggering the Dispel reaction. |
| Keiya | Fischl | Rhodia | Deck through reactions with Hydro, Cryo and Electro, which will provide constant piercing damage, as well as additional control from Freeze. Fischl and Oceanid can deal additional damage in the final phase. |
| Xiao | Fischl | Venti | A deck with Xiao's main DD via Fischl's Electro Status Dispel. Venti will reduce the consumption of dice when changing the active character, which is useful when updating Raven Fischl. |
In a separate article, you can learn about the best decks in the TCG.< /p>
You can choose other combinations, based on how used to playing different cards.
How to win a duel
Recommended to start dueling right away on the level "Strong Fight" difficulty to get all the rewards for winning. Note that during the first round, the support card buff is in effectCard Nights: Maximum Aggression.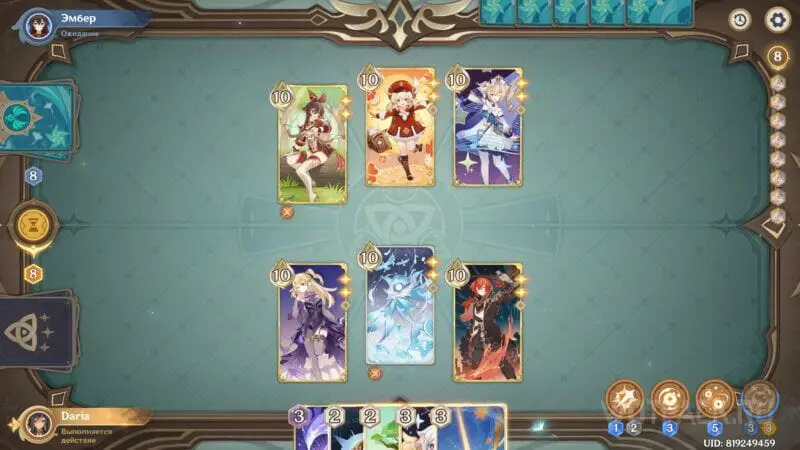 After choosing characters, she disappears, and instead of her, all heroes receive 2 units. energy. It is most profitable to start the battle with heroes whose elemental explosion costs 2 units, so you can immediately activate it and knock down a lot of health points for the enemy.
Recommendations for battle strategy:
When fighting, try to remove Barbara as soon as possible, as she powerfully heals the entire enemy team, and also deals significant damage to the Pyro status from other cards.
If possible, Klee also needs to be killed as quickly as possible, as she deals the main damage in the team.
Watch out for Klee's Rumble and Sparks skill, which deals Pyro damage to the character who uses the skill. Combined with Barbara's Hydro, this ability can deal a lot of damage.
The enemy will always start with Ember and use an AoE ult. With her second attack, she summons Baron Bunny, who activates a shield.
Tips on using cards, including random ones:
Unlike an enemy deck, a friendly deck is difficult to build with good defense, so try to use support or food cards to restore HP as soon as possible to increase the chance of survival
Be careful with cards that change dice – since in this duel they are all universal initially, in some cases this will only interfere with the game.
If you get the right cards to reduce the cost of changing characters, then use them to be able to once again carry out an attack or use the desired buff.
Rewards for winning the first duel:
Source Stones x40.
Summon Coupons x300.
Blight x60.000.
Hero XP x2.
Magic Ore gain x4.
Rewards
In total, for all duels with characters, you can earn:
160 source stones;
1200 Summon Coupons;
40,000 Pestilence;
8 Books of Hero Experience;
16 Enchantment Magic Ore.
We hope our guide helped you understand the rules of card duels in the Card Nights mini-game. Add this article to bookmarks so you don't miss the detailed guide for each battle, and write in the comments, if anything is still unclear. Read the walkthrough of other challenges of the Duel event! To the heights of card art and follow the Genshin Impact guides on our website.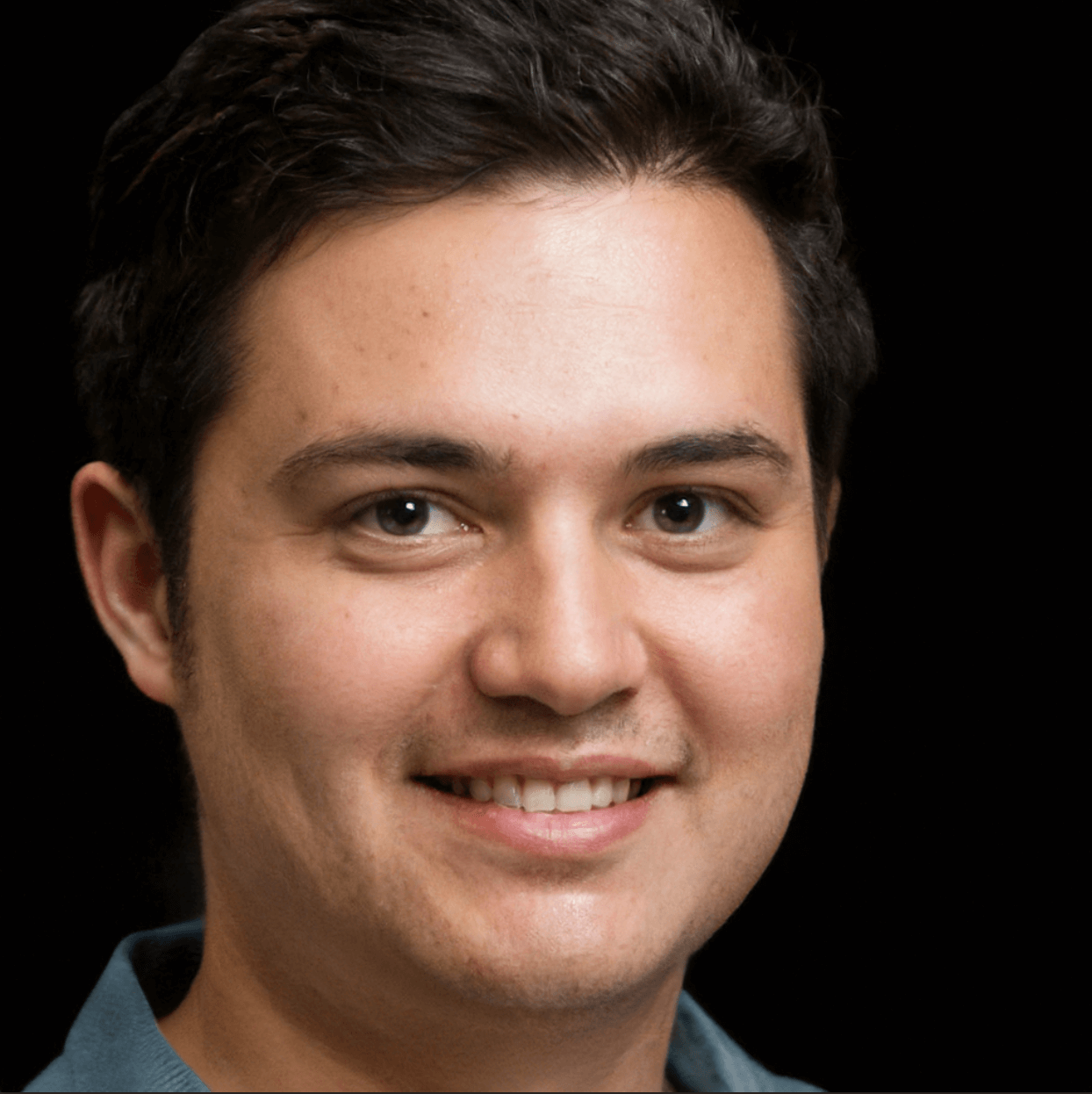 I like to play mobile games. Especially, Mobile Legends Bang Bang and COD Mobile.  I share my game experience. Sometimes I publish guides and tips from other players. So if you'd like to be published on Gameloid, please contact me.