How tall is a freelance mercenary from the Sumeru Desert. Daehya's age and when is her birthday.
Daehya – a playable five-star character in Genshin Impact. The heroine owns a two-handed sword and Pyro the eye of a god, and lives in the desert region of Sumeru. In addition, she belongs to the Hermits, is a brave and brave warrior, as well as a skilled bodyguard. In the ranks of the free mercenaries, Daehya bears the honorary title of "Flaming Mane".
Among the comrades in the detachment, the heroine enjoys great authority: the Hermits respect her, and the enemies fear her. Despite this lifestyle, the girl carefully monitors her beauty, is fond of makeup and always tries to look neat. Such a multifaceted personality attracted the attention of the players from her first appearance in the story, and many wanted to know more about her: how tall is Daehya, when was she born and how old is she.
Dehya's height
According to conjectures users, Daehya's height is ~170cm. This information is not reliable, since such data is not provided in the game. However, when compared with other characters, it becomes obvious that the hermit turned out to be one of the tallest female heroines.
On the image
How old is Daehye
Presumably, Daehya's age is ≈ 20-25 years old. She is clearly not a child or teenager, because during her stay in the ranks of free mercenaries she managed to become a famous and respected warrior. Also, the very appearance of the heroine hints that she is a young woman.
When is Daehya's birthday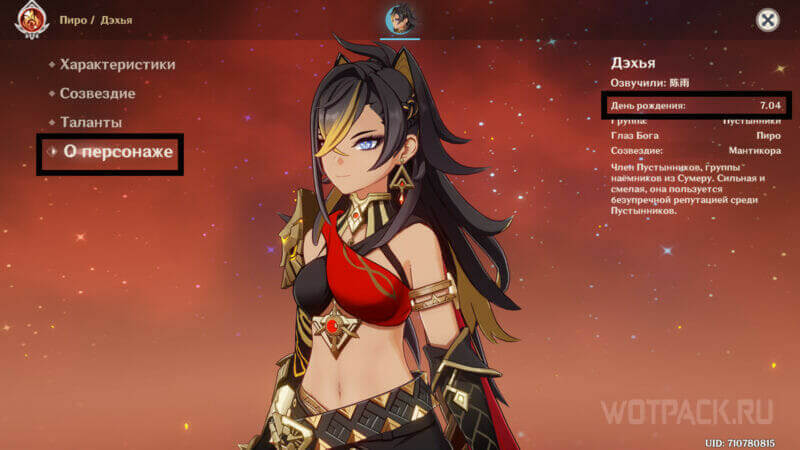 Daehya's birthday is April 7, her zodiac sign is Aries. Each player can verify this by independently looking at the information in the "About the character" section. You can open it through the heroine's profile, if she is on the account, or through the general character gallery in the Paimon menu.
On this occasion, on April 7, a congratulatory note from Daehya will be sent to the in-game mail. Along with the letter, she, like all heroes, will send the Traveler some useful resources and her signature dish – Tajin of golden flame. If you miss the message and do not pick it up on the indicated day, it will disappear, so do not forget to log into the game and check your mail.
We hope this article helped you find out Daehya's birthday, how tall she is and how old she is years. Leave in the comments your opinion about the heroine and read the Daehyu build, as well as a separate article on the height and age of all Genshin Impact characters on our website.