So I have seen lots of beginners building their teams really wide. Awakening multiple heroes and thus ruining their progress.
First of all. You will get your first Legendary at 50 pulls. That is like an hour or less of gameplay. You should reroll as long as you get good or great DPS legendary as first your DPS. There is beginner's guide for rerolling, but basically you just start on a new server and play the game until you pull your first legendary. Tomorrow (Friday, Oct 7th) there is a double Legendary event, where you get a second legendary when you pull legendary for one time. That is the perfect moment to reroll.
Best Hero for Start Game – Reroll in Infinite Magicraid
Legendary characters to look at:
God tier
Awesome DPS
Dario
Serena
Xia
(Margarita E1)
Can carry you through campaign
Margarita
Yoko
Walter
Mutu
Sana
Horus (Buff coming with event)
Epics to look at
These epics are all supports and are pretty much must have for Hell campaign for F2P players. Holder and Reeves are fine, but I would not bother with them. Just reroll until you get Legendary from that list, because they are much-much better than Holder or Reeves.
Now that you have pulled Legendary from that list, you will build that single Legendary to A5 (Awaken 5 Star) and you don't upgrade or use resources to any other unit. When you get your first A5, you most likely have already pulled a couple more legendary characters or have enough shards to pull them. Now you start building your second DPS to A5 who hopefully is also from that list.
Once you get your second DPS to A5 you should start building your supports. Bring them to A2/A3 one by one. At this point, you should not be a beginner anymore, and you have a better understanding of the game.
Tier List of Infinite Magicraid
There are so many tier lists created at the moment, from various bloggers and communities. I recommend doing this: rely on the opinion of one particular blogger or community, or cross-check this or that hero against all the Tier Lists of Infinite Magicraid you find. I'll help you with that. Here I'll post all the tee lists for the game that I can find. If you'd like, you can add in the comments the Infinite Magicraid Tier Lists you find.
Best Tier List what I find
I give this Tier List with great pleasure since I use it myself. In it, you can find a very detailed rating of the heroes, where their qualities are best, as well as the best way to pump them through the talent tree. I recommend this Tier List in every way.
SS Tier
Lucifer
Luna
Melia
Hezonja
Sigmund
Katherine
S Tier
Ben Austin
Ulcaster
Lukea
Hoff
Ariel
Xia
Luz
Yoko
Walter
Gru
Megan
Maeve
Besmok
Phocas
Margarita
Okmin
Fiona
Dario
Agatha
Aisha
Space
Valentin
Slivelle
Holder
A Tier
Brynhild
Nita
Nordak
Madlaina
Melchio
Soli
Melina
Alahan
Sana
Horus
Nasakhma
Serena
Taff
Elleena
Elaina
Gramndi
Mae
Turf
Carrie
Asindo
Eric
Mutu
Timi
Anna
Nid Rold
Oboro
Frey
Maya
B Tier
Vera
Greta
Natalie
Naseal
Slackdo
Guhanna
Eilat
Jennifer
Gunner
Schilder
Hisaro
Amalic
Zyra
Lam
Zachzulu
Karid
Gustave
Sinton
Gerina
Ellic
Hal9000
Wim
Teres
Naya
Reeves
Justy
Verto
Bakkins
Ross
Ruen
Lutz
Malassa
Ofner
Pacchino
Liz
Leuf
Roselea
Lia
Deschanel
Aisi
Longbeard
Iguli
Vedar
Biseden
Winnex
Guna
Egea
Wolsey
Lomas
Hardac
Moo
Lester
Vero
Eden
Sadora
Magis
Muller
Visley
Sylvester
C Tier
Shtar
Blade
Kristian
Reliant
Astic
Maphka
Stan
Dale
Sylvan
Feist
Norma
Mobis
Mondschka
Kaedo
Fegan
Rumble
Maguire
Mori
D Tier
Another Tier Lists of Infinite Magicraid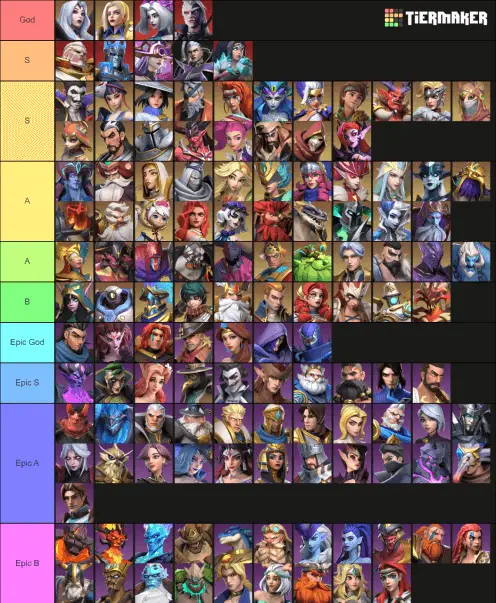 Useful Epic Heroes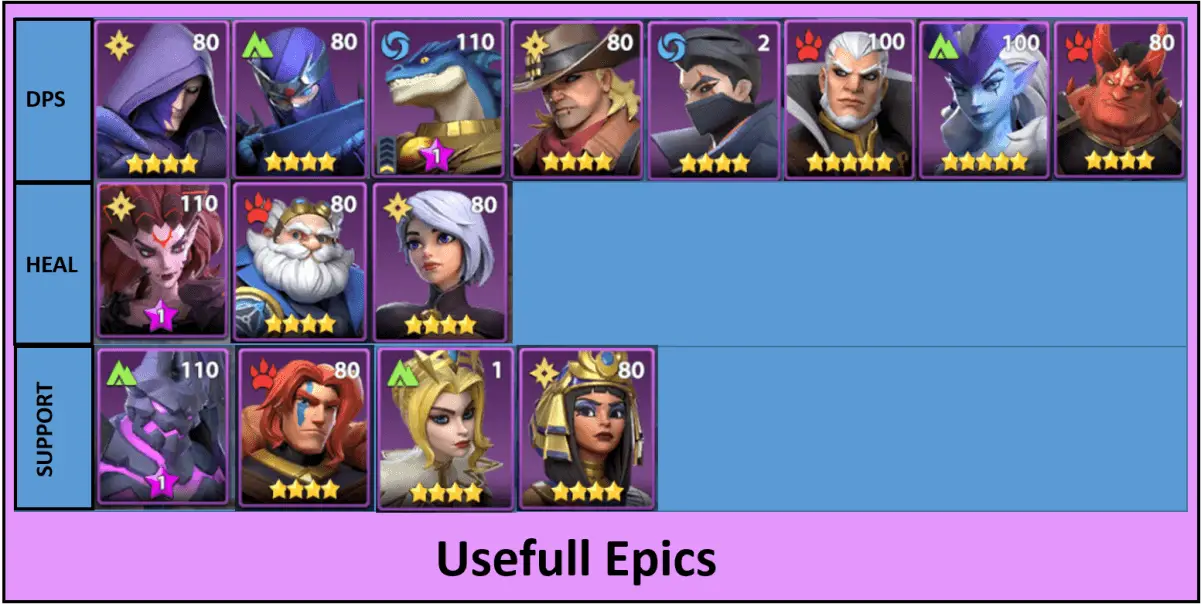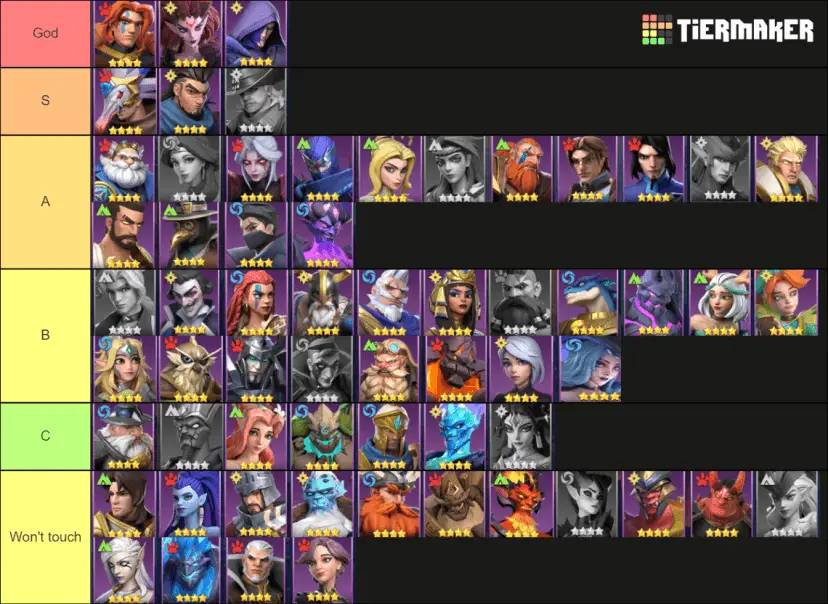 Tier List of Legendary Heroes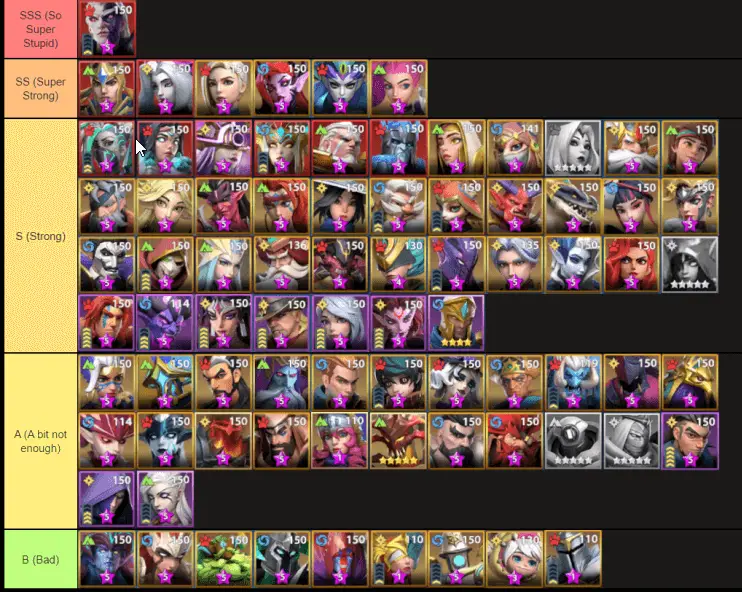 Tier List of Guild Boss for Infinite Magicraid