Pyro set guide from Li Yue. We will tell you where to find a set, which characters to put and how to choose a command for such artifacts.
The Lava Walker in Genshin Impact is a set of 4-5 ⭐ artifacts from the Li Yue region. Full set bonus increases damage against enemies affected by Pyro and increases Pyro resistance. At first glance, the characteristics are irrelevant, however, with a competent selection of a squad, the set demonstrates itself no worse than its counterparts.
In the manual, we will tell you in detail where to get a set of artifacts and who will suit it, as well as how to use it.
Where to find the Lava Walker artifact set in Genshin Impact
The set is obtained from the Wuwang Hidden Palace dungeon, located on the slope of the same name, on the northern part of Li Yue under the Oceanid boss and Qingze village.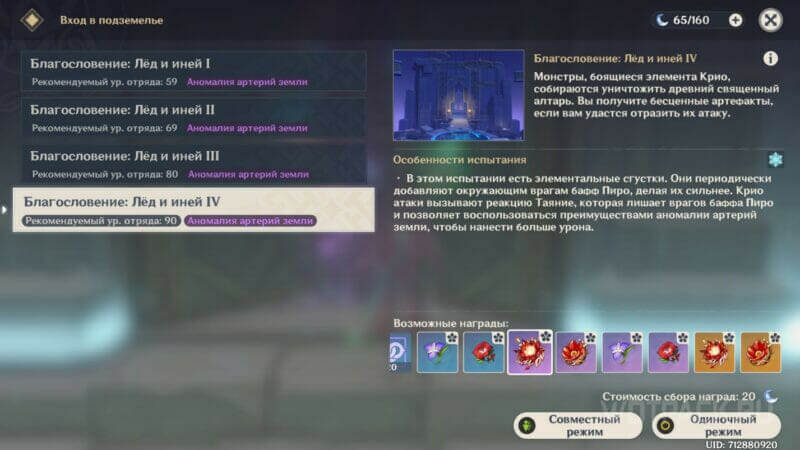 Starting from level Blessing: Ice and Rime I, available as a 4⭐ set reward. The chance to get a 5⭐ artifact is unlocked with Blessing: Ice and Frost III, and a guaranteed drop from Blessing: Ice and Frost IV. Adventure Rank Required: 30 najti-567d38b.jpg" alt="Genshin Impact Lava Walker: Suitable for and Where to Find" />
At rank 45 in Alchemy, the Mystic Offering opens in the tabs. Through it, you can recycle three any 5⭐ artifacts into one 5⭐ sets that include Lava Walker.
How Lava Walker works in Genshin Impact
Half of the set increases the wearer's Pyro resistance, reducing damage of this element. The full set increases Pyro's damage dealt by 35% if the enemy is affected by this element at the time of the damage. When using a set, you should take into account the limitation of the triggering condition and monitor the scale of the enemy's elemental state. If the status fails, the bonus will not activate.
Set Bonuses
2 parts: Increases Pyro resistance by 40%.
4 parts: Increases damage against enemies, affected by Pyro by 35%.
Statistics
Basic stats, with the exception of flower and feather, are different. The table shows all the possible characteristics for each item:
Слот
Artifact
Available_main_stats
Flower of Life

Lava Walker's Resolve

HP
Deathfeather

Lava Walker Rescue

Attack Power
The Sands of Time -gde-najti-4c72b3a.png" alt="Genshin Impact Lava Walker: Suitable for and Where to Find" />

Lava Walker's Torment

< li style="text-align: left">HP %
Defense %
Attack %
Energy Restore %
Elemental Mastery

Space Cup

< img class="aligncenter" src="/wp-content/uploads/2023/03/stupajushhij-po-lave-v-genshin-impact-komu-podhodit-i-gde-najti-8634f5c.png" alt="Stepping />

Lava Walker Enlightenment

HP %
Defend %
Attack Power %
Elemental Mastery
Elemental or Physical Damage Bonus %

Crown of Insight

Wisdom of the Lava Walker

HP %
Protection %
Attack Power %
Elemental Mastery
Crit . chance or damage %
Heal bonus %
Genshin Impact Lava Walker
The set should be used in its fullset on Pyro characters. Efficiency will be revealed in mono Pyro commands, that is, without heroes of other elements that will bring down the elemental status. The exceptions are Anemo and Geo characters. For example, a Sunfire (Sunfire) assembly with Genie and Bennet is suitable for the set, in which the Anemo slot is successfully replaced by Kazuha, Venty or Sucrose. You can also take Zhong Li because of the shield and the lack of interactions with the elements.
Lava Walker is placed and works exclusively on characters that act as a damage dealer in the squad:
Dehya. The set is required when building in burst damage through a mono Pyro command. Consider the required energy recovery. The elemental skill in combination with Bennet's ultimate and the character's Anemo inflate is closed by the support of the third Pyro hero and Dehya's elemental explosion.
Kli. Being a catalyst and having large-scale attacks with E-patches and ults, he is the best caster of Pyro.
Yan Fei. Similarly, this set will increase the heroine's overall damage from all buttons.
Dilyuk. With an elemental skill and an elemental explosion, Pyro massively inflicts. A full set will increase damage.
Xiang Ling. It will do, but collecting the Emblem of Severed Fate on the heroine is much more profitable in terms of stat balance and game comfort.
Eimiya. Auto-attack infusion deals regular Pyro damage while maintaining the set bonus.
Hu Tao. First, put the Pyro status on the enemy with a different character for greater effectiveness. Thanks to the elemental skill, it deals instant damage to the required element.
Ember. Thanks to the ult, elemental skill and charged auto-attacks, it maintains the necessary status. Worth using if there is an opportunity to assemble into a damage dealer.
Tomas. The hero has a high variability from shielding to playing through Budding. Assembly in dd is no exception, then the set will be an ideal option.
Rosary. An exception among characters of other elements, as it works great in units from Reverse Melt. In a squad with Xiang Ling, Bennet and a second Cryo or instead of Anemo, she is capable of delivering damage no less than the heroes listed above.
The set is underrated due to the 2-piece bonus. A full set gives a very large increase in damage, requiring only compliance with the conditions and the correct selection of the team. The main thing is to use the character who can beat on someone else's Pyro status or independently maintain it. For this reason, the set can be used on heroes that are Pyro Reactors.
Which artifacts to combine the Lava Walker set with in Genshin Impact
Using half of the set makes almost no sense, since it only increases the specific defensive characteristic. This option is only useful for reducing the character's burning damage or in dungeons with a lot of Pyro opponents. In the Abyss, the list of enemies changes regularly, and it's not worth it to purposefully farm a set for it.
Lava Walker is best revealed as a full set, because this is the only way its damage effect works. Therefore, you should strive to have all 4 pieces on the character in order to really strengthen the hero, and not be limited to 2 pieces: this set is not suitable for combining with others.
We hope our guide helped you figure out who to put the Walker on lava. If you have any questions about the set or characteristics, write about it in the comments. Stay tuned for other artifact guides on our site.