What is the best hero in RAID: Shadow Legends? This post about it – RAID Shadow Legends Tier List of Champions. All images are clickable. To enlarge – click on the pic. It is clear that the best heroes in the game – legendary, but among the epic and rare ones you can also find decent specimens. Remember, that some rare heroes need for fusion 1 epic hero – Relickeeper (you can find it in the Portal)
Tier List of Champions. Best and Weak Heroes (Updated 04.11.2019)
Legend. Note that the same characters are beautiful in the campaign, but may be useless in the arena:
SS – the best heroes.
S – great heroes.
A – the beginning and middle of the game.
B – at the beginning of the game, then the feed.
C – Viable.
D – feed.
Images are clickable.
Banner-Lords (8 legendary, 6 epic, 9 rare champions)

High Elves (7 legendary, 9 epic, 6 rare champions)
Sacred Order (7 legendary, 13 epic, 12 rare champions)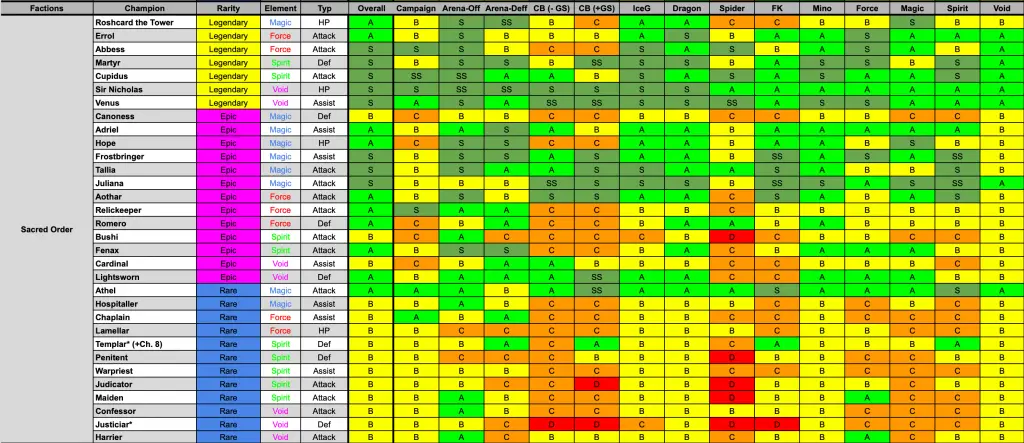 Barbarians (3 legendary, 6 epic, 10 rare champions)

Ogryn-Tribes (5 legendary, 7 epic, 9 rare champions)

Lizardmen (3 legendary, 4 epic, 10 rare champions)

Skinwalker (4 legendary, 6 epic, 6 rare champions)

Orcs (3 legendary, 8 epic, 10 rare champions)

Demonspawn (4 legendary, 6 epic, 9 rare champions)

Undead Hordes (5 legendary, 7 epic, 10 rare champions)

Dark Elves (7 legendary, 7 epic, 11 rare champions)

Knight Revenant (3 legendary, 7 epic, 9 rare champions)

Dwarves (4 legendary, 4 epic, 12 rare champions)