Curiosity farming routes in the desert region of Gavireh Lajaward.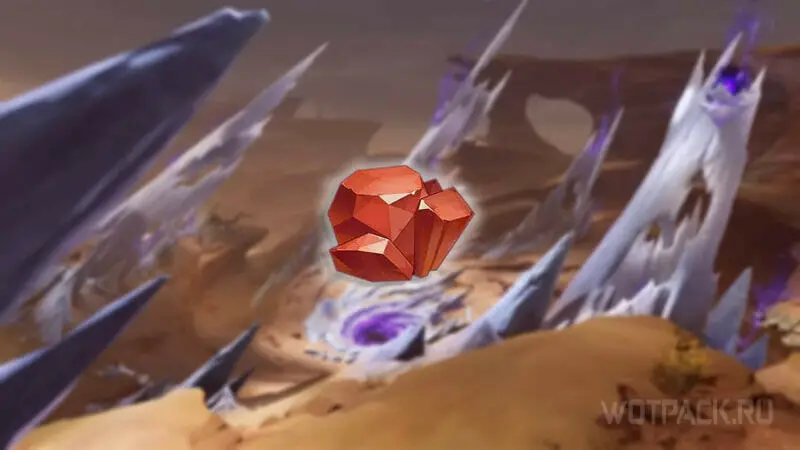 Sangweet in Genshin Impact is a curiosity of Sumeru, a gem created from a bunch of elemental energy, common in the desert part of the Dendro region. The material will be needed for the ascension of game characters, and also, possibly, in the crafting of items.
In this guide, we will show convenient farming routes for Sangwit and talk about ways to purchase material from in-game merchants.
What it looks like Sangvit
In the world, the Sangweet vein looks like a small brown stone interspersed with red precious ore.
Preparing to farm Sangweet
To make it easier to find and collect material, we recommend assembling a squad in advance of heroes whose skills will help you track down the curiosity or destroy the deposit faster. You can also use special dishes for farming to save the amount of stamina required when moving around in the open world.
Featured Characters
1
3
2

Kli

Yan Fei

Qi Qi

Mika

Goro

Tignari

Passive talents show curiosities on the minimap: Kli and Mika in Mondstadt, Yan Fei and Qi Qi in Li Yue, Goro in Inazuma, Tignari in Sumeru. strong>

Nahida

Passive talent "Make sense of all things"allows you to collect resources nearby by long pressing Yeshka. Does not work on Scarabs, Crystal Marrow.

Venti

Colles

Ember

Stamina while flying consumes 20 % less than. This effect does not stack with passive talents that grant the same bonus.

Kazuha

Razor

Keya

Heizo

Squad member's stamina consumption while sprinting is reduced by 20%. The effect does not stack with similar bonuses.

Kokomi

Bei Dou

Decrease the stamina consumption of characters while swimming by 20% . The bonus does not stack with similar effects.

Mona

Ayaka

A special sprint allows you to easily move through the water, which is much more convenient than just swimming.

Kandakia

Xiao

Reduces stamina consumption while climbing by 20%. Effect does not stack with similar passives.

Saiu

When holding elemental skill for a long time Yuhu Art: Fuying Dash, Sayu transforms into Fufu's wind wheel, allowing him to travel long distances much faster.

Wanderer

Hanega's elemental skill: Song of the Wind allows you to climb for resources located on rocks and trees, as well as fly over gorges.

Rosary

Passive Talent < strong>Night Path Increases party members' movement speed by 10% at night from 6:00 PM to 6:00 AM.

Dehya

Passive talent Solar Path increases the movement speed of party members by 10% during the day from 6:00 to 18:00.< /td>

2 Anemo Characters

Due to Anemo Resonance "Nimble Wind"you can reduce stamina costs by 15% and increase movement speed by 10%.
We should also mention all the two-handed characters. Thanks to more powerful attacks from the hand, the heroes break ore veins faster than others. Bei Dou, Dilyuk, Dori, Dehya, Itto, Kaveh, Noelle, Razor, Sayu, Xin Yan, Chun Yun, and Eola will help to cope with the task.
The powerful elemental skills of Zhong Li and Razor are also capable of quite quickly destroy the Sangwita deposit.
Ning Guang's passive skill will help to detect any ore. The ability marks nearby veins on the mini-map, and the Catalyst's Geo attacks will help you collect a resource almost as quickly as any two-handed one.
Due to the elemental nature of the ore for fast gathering of material in the field you can also use any Geo or Cryo attacks.
Food
In order to significantly reduce stamina consumption while moving around the open world while farming Sangwit, we recommend that you advance stock up on the appropriate dishes.
Dish
Composition
Effect

Archon's Solyanka
⭐⭐⭐

Bow x4
Carrot x4
Potato x4
Reduces the stamina cost of all team members when flying and sprinting by 15%-20% for 900 seconds

Creamy stew
⭐⭐

Snapdragon x1
Raw meat x2
Sour cream x2
Reduces costs endurance of all team members while flying and sprinting by 15%-20% for 900 seconds

Lotus Egg Soup
⭐⭐

Sugar x1
Lotus cup x1
Egg x1
Reduces 15%-20% stamina cost for all team members while flying and sprinting for 900 seconds

Smoked chicken
⭐⭐

Cabbage x1
Smoked poultry x1
Onion x1
Instantly restores 40 -60 stamina

Gift of the Mountain Noodles< br />⭐⭐

Flour x2
Mushroom x3
Raw meat x2
Instantly restores 40-60 stamina
Apart from use food from the «adventure» We highly recommend raising your stamina limit to the maximum.
Sangweet cooldown
Sangweet respawn time is 2 real days (48 hours)after collection. We recommend marking on the map the most «fat» farm points to collect a curiosity by cooldown. You can also ask your friends for help to visit their world to collect resources in cooperative mode.
Where to find Sangweet in Genshin Impact
You can find Sangweet in the northern part of the deserts of the Sumeru region, and especially in the area of ​​Mount Temir.
We will be adding detailed routes to collect resource April 12 after the release of patch 3.6. Bookmark this page for updates.
Where to buy Sangweet
At the time of update 3.6, Sangweet cannot be bought in any game store. Perhaps in the future, merchants will be added to the game, in the assortment of which this ore will appear. In this case, we will supplement this item with information with the location of the stores.
What Sangweet is for
It is expected that Sangweet as a curiosity will be used not only for pumping game heroes, but also as a material for forging.
Character Ascension
In patch 3.6, Sangweet is not used for character elevation. Probably, such heroes will appear later. 168 resource units are required for full pumping, so we recommend stocking up on the required amount of material in advance.
Will it be used in forging?
According to preliminary information, Sangwit, despite Note that it is not marked as an ore in the game files (like the Amethyst Chunk, common only in Inazuma), will be used as a component to create the Magic Enhancement Ore. Combining 3 resources, Elemental Resin and Pestilence will create 6 ore for weapon upgrades.
We will update this usage after the release of update 3.6.
Hopefully this guide helped find and collect Sangwit in Genshin Impact. If you have any questions during the search for a resource, you can leave them in the comments. Follow the release of other guides and walkthroughs in special sections of our website.