We talk about the function of monitoring a card duel. How to turn it on or where to watch.
Duel spectating in Genshin Impact is a special feature in the card game Sacred Call of the Seven that allows you to watch other people's card battles. This process will allow you to monitor the game of friends or players in joint mode, which will make your time spent more eventful.
In the article we will tell you more about watching duels and how to enable or disable viewing of your battles.
How to set up access to viewing duels
The function can be configured at the very beginning of the duel. Click the gear icon in the top right corner to go to settings. Allow viewing to the friends you want to allow to watch the card game.
During the duel, a list of spectators will appear. In it, you can remove some of the spectators if you wish.
How to prevent other players from watching the duel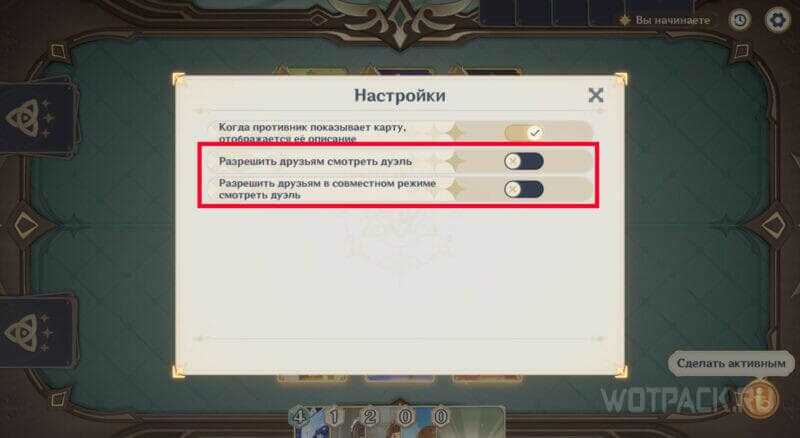 Automatically, duel observation is allowed in the settings. For those who do not want other players to watch their games, there is an option to disable this feature. Go to settings by clicking on the gear and uncheck the corresponding box. You can prevent both friends and teammates from viewing in co-op mode.
How to watch duels of other players
To watch duels other players, take the following actions. Go to the friends menu and select a specific friend to follow their duel in the Holy Summoning of the Seven. You can view the game both from a friend's point of view and in judge mode, where the decks and dice of both participants are visible. However, if a friend is in co-op, you need to enter their world to follow the duel.
We hope this guide helped you understand how to block access to a duel in Genshin Impact. If something remains unclear, then ask your questions in the comments. Read on for a general guide on Holy Summoning with 7 to win duels easily, and check out other Genshin Impact articles.